The main prospect in this game was Brazilian big man
Vitor Faverani
, and unfortunately we seemed to have landed on a very poor outing. Faverani turned the ball over seven times in just 18 minutes, scoring 10 points but settling excessively for playing outside in a game that quickly became a blowout by the second quarter.
Faverani's physical tools are undeniable. Showing great size at 6-10 or 6-11, he has a great frame, an nice wingspan and very good athleticism. He's bulked up pretty well since the last time we saw him, and showed great leaping ability and nice overall mobility. Offensively he mostly tried to shoot flat-footed jumpers from outside, even making a few thanks to his nice touch, while in the post he displayed a good looking left-handed jump-hook but mostly looked disinterested in making his presence inside.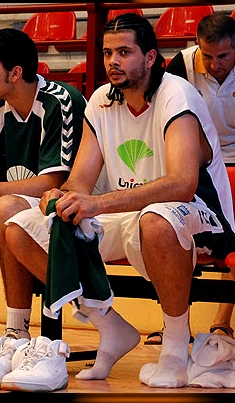 Faverani's fundamentals on defense are pretty poor, even if he has very good tools to get the job done. He looked pretty lethargic for the most part though, doing everything at his own deliberate pace and not showing any real sense of urgency. His body language looked poor both in warm-ups and around his teammates, while the intel from off the court speaks of much more serious issues.
Faverani remains a great talent but looks highly unlikely to achieve his potential looking at the career path he appears to be on these days. He's been able to put up good numbers in the Spanish second division (LEB Gold) and is even seeing some occasional playing time in the Euroleague as well with Unicaja, but the biggest improvement he needs to make—regarding his intangibles—looks like just as much a problem as ever.
He's the type of talent someone is bound to gamble on in the second round, either this year or next when he becomes automatically eligible for the draft.