Many future stars took part in this important national team competition over the past week in Poland, Greece and Croatia. There is a lot at stake as 18 teams are competing for 11 available spots in the Final, which will be held this summer from July 9th-18 in Zaragoza, Spain. We decided to make sure you are all updated about the progress of some future NBA draft prospects, along with acquainting you with some new ones as well. There were many more excellent players at this competition, but we decided to focus on these 11.
Uros Tripkovic
Serbia and Montenegro - 6'5" - Partizan Belgrade
Stats: 15 points (52.5% FG, 26.1% 3P), 4.4 assists, 3 rebounds, 1 steal, 1 block, 3 turnovers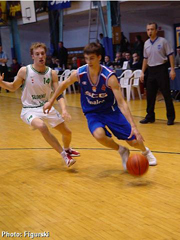 FIBA Europe
It's not easy to stand out on a team loaded with so much talent as the S&M national teams always are, but Tripkovic managed to turn some heads with his nifty ball handling skills, good court vision, and his ability to control the game. 6-5 PG's are always going to stir a bit of interest from NBA scouts, if Tripkovic can develop a consistent outside shot, he is going to be a first round draft pick sometime soon. In the last game of the week against Turkey, he scored 30 points (10/15 FG, 1/4 3P, 7/8 FT) to go along with 4 assists, 4 rebounds and 2 steals. Against Poland, he had 10 assists but only shot 1/7 from behind the arc. Tripkovic is still playing mostly for the junior team on Partizan Belgrade but he has made 9 appearances so far with the senior team and has been practicing with them for some time now.
Souarata Ciss
France - 6'5" - INSEP Academy
Stats: in 20 minutes per game: 17.4 points (69% FG, 36% 3P), 4.6 rebounds, 2 steals, 0.2 assists, 2.4 turnovers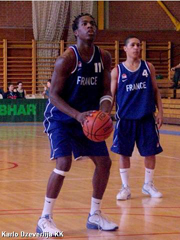 FIBA Europe
Yet another exciting Frenchman is budding in the INSEP academy, which is responsible for developing players such as
Tony Parker
,
Boris Diaw
,
Ronny Turiaf
,
Jerome Moiso
and
Johan Petro
who recently moved on to Pau Orthez. INSEP in French stands for the National Institute for Sport and Physical Education and these kids play in the second divison of France against grown men, something that surely helps their development. The French are known for their excellent athleticism, Ciss is no exception and he plays good defense to compliment his talent for scoring. He needs to work on his ball handling skills, along with getting his teammates involved more, but if he keeps working hard he's got a good future ahead of him. The French coaches decided to use their bench very liberally so everyone on this team got lots of playing time. They finished first in their group.
Manuchar Markoishvili
Georgia - 6'6" - Benneton Treviso
Stats: 18.8 points (53% FG, 30% 3P), 5.2 rebounds, 3.6 assists, 4 steals, 1.2 blocks, 4.4 turnovers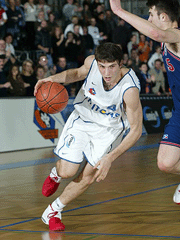 FIBA Europe
This young Georgian star has already been on the radar for some time now, despite the fact that he's only 17. He plays for Benneton Treviso-one of the top teams in the world, and still manages to get on the court, averaging 9 minutes in the games he was eligible. His coach has been quoted saying: I don't know why, but I trust him. He has been playing some meaningful minutes in the Euroleague as well starting last season already, with his best game coming against Virtus Bologna as he scored 15 points with 4 rebounds and 5 assists in 27 minutes. Markoishvili helped Georgia to a surprising 3-2 record in a very tough group with every game ending up being a nail biter. His most impressive game was in a win versus Croatia where he scored 31 points (13/18) with six rebounds and six steals.
Manu is a very mature player that makes good decisions, has a very high basketball IQ and shows the kind of fearlessness that both fans and coaches love. He needs to become a more consistent outside shooter and cut down on the turnovers, but he is without a doubt one of the best and most experienced players in the world for his age group. He is now on loan in Germany at a team called MBC and won the FIBA Europe Cup with them just last week, scoring 13 points in the finals.
Marco Belinelli
Italy - 6'5" - Skipper Bologna
(Photo courtesy of the official Marko Bellenili website: http://sport.supereva.it/marcobelinelli/)
Stats: 26.4 points (44% FG, 31% 3P), 3.4 rebounds, 2.4 assists, 3.6 steals, 3.2 turnovers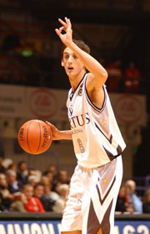 Marco Belinelli
's Website
Belinelli lead this round of the tournament in scoring, with over 26 points per game, but took the
Allen Iverson
route to accomplishing that with 130 shots in 5 games. This was expected of him, though. There were certain points in games here where he was just unstoppable, scoring huge baskets when his team needed them most. Marco is a good athlete, has been getting consistent minutes in both the Italian and the Euroleague, and can play both guard positions. The biggest knock against him is his wiry frame, he only weighs about 180 pounds. He will need to bulk up, but he is certainly a very interesting player to look out for.
Andris Biedrins
Latvia - 7'0" - Skonta Riga
Stats: 21.8 points (48.7% FG, 49% FT) 14.4 rebounds, 2.6 assists, 3.8 steals, 4.4 blocks, 4.8 turnovers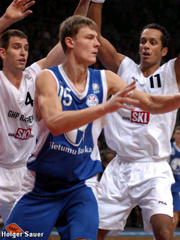 FIBA Europe
There were some NBA scouts on hand to watch Biedrins (who just turned 18) play in this tournament. Biedrins gave them plenty to chew on, showing everyone who the best player at the competition is after Aleksandrov. He had to put the team on his back and almost single-handedly lead them to three wins and two losses, with both losses secured after he fouled out. His high number of turnovers and not so impressive shooting percentage is a direct result of that. Biedrins did his best Kirilenko impression with some ridiculous numbers like 8 blocks, 7 steals and 20 rebounds for example. His shooting in general needs work, especially from the free throw line, but there will be no shortage of GM's in the lottery lining up to take a long look at this skilled 7 footer when he makes it over to Chicago in June.
Johan Petro
France - 7'1" - Pau Orthez
(Petro standing next to
Andris Biedrins
)
Stats: In 23 minutes per game- 9.4 points (36.6% FG, 71% FT), 7.4 rebounds, 2 assists, 2.2 turnovers, 2.6 steals, 1.2 blocks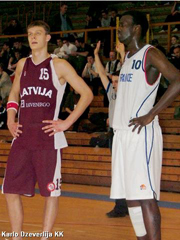 FIBA Europe
Didn't really dominate the way some may have expected, some of this due to a lack of minutes in the final three games, but showed flashes (mainly against the Italians) of why many people consider him a lottery prospect sometime down the road, with his superb athleticism and excellent size. His game in general is still extremely raw, and it looks like he might be a few years away. On offense he is somewhat limited, basing almost everything on his athleticism and not always trying particularly hard to make his presence felt. It's not hard to see why he's considered a top prospect, though.
Martynas Andriuskevicius
Lithuania - 7'2" - Zalgiris
Stats: 14.3 points (54.5% FG, 72% FT, 0% 3P), 9.3 rebounds, 3 blocks, 3.8 turnovers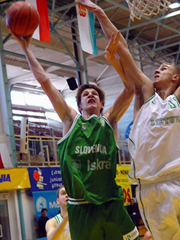 Eurobasket.lt
Showed flashes of being a dominant center at times and struggled at others, getting in foul trouble in the first two games and not using his size enough to punish the opposition by drifting outside in others. After starting off a bit slow against the top two teams in the group (Serbia & Montenegro and Turkey) he improved in the next two games (against Poland and Slovenia) and did a much better job of making his presence felt. With his size and skills there is no doubt that he's a future lottery prospect, but right now his game is raw. He is expected to join the senior team next year so look for him to begin to bulk up and polish his game a bit more against a stronger level of competition then he is facing playing in the second league in Lithuania.
Dragan Labovic
Serbia and Montenegro - 6'9" - KK Reflex - Written by Davor Ninic
Stats: In 16 minutes per game- 9.8 points (56% FG, 73% FT), 4.5 rebounds, 1.8 steals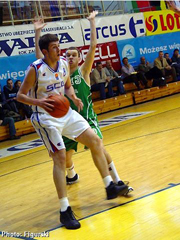 FIBA Europe
16 year old
Dragan Labovic
"grew up" with the small team of KK Zdravlje from Leskovac, Serbia's heartland. He eventually moved up to the country's capital, to play with KK Refleks, a much larger and more renowned team (recently signed former NBA leaguer,
Tyrone Nesby
), but he left his mark in KK Zdravlje's history before leaving.
In 2002, Zdravlje's cadets won the Serbian championship tournament, held in their hometown of Leskovac, without losing a single game all season long. Participating in that tournament for KK Refleks' "young category" team was
Nemanja Aleksandrov
. However, it was Labovic who won the tourney's "best scorer" award, as well as raising the championship trophy. This to date remains KK Zdravlje's biggest accomplishment.
Fate would later reunite Labovic and Aleksandrov on two different fronts. Labovic transferred to the larger KK Refleks, which had been Nemanja's team all along. To this date they remain together, playing for KK Refleks Workers, which is the main club's affiliate, usually developing younger players. The 2nd time they'd play together was for the Serbian and Montenegrin Cadet national team, which had won the gold at the European Championships in 2003. Aleksandrov was named that tourney's MVP, but Labovic and another prospect,
Milenko Tepic
, were the ones that carried the team in the final game vs Turkey. Labovic scored 27 points en route to an 83-68 victory. After that game, Labovic said he "wasn't playing attention to [scout's] presence, because I know that if we continue playing great and winning, they won't go away. Those same scouts described his game as having excellent footwork in the paint, a solid looking jump shot, as well as being in great physical shape. He is a big man that can shoot free throws, and has very good court vision. He defends physically.
Labovic made his ULEB Cup debut this season, scoring 4 points and grabbing 2 rebounds in a single minute of play. He also played 2 games in the regional Adriatic League, averaging 5 points and a rebound in 4 minutes of play. He is currently coached by Vlado Djurovic, who is somewhat of an expert in developing young players. He was the coach that first gave extensive minutes to future NBA leaguers, European stars, and NBA prospects such as
Drazen Petrovic
, Aleksandar Pavlovic, Arijan Komazec, Nebojsa Ilic, Aleksandar Trifunovic, Slavko Vranjes, and
Ivan Koljevic
.
In the tournament itself, Labovic didn't really get a chance to showcase his plethora of talent. Other then being one of the youngest players on the best team in the tournament, he also suffered a minor injury, distorting his ankle, so he was unable to play in the tournament's final game. He ended up averaging 10ppg and 4.5rpg in 16 minutes per game, which is still pretty solid.
Dusan Sakota
Greece - 6'11" - Panathanikos
Stats: 19.6 points (64% FG, 37% 3P), 7 rebounds, 2 assists, 1.8 steals, 2.6 turnovers
FIBA Europe
The 4th best scorer in the tournament. The Greeks were the only team other then Serbia and Montenegro that did not lose a game. Sakota has basketball in his blood as his father Dragan coaches for his team's biggest rivals, Olympiacos. His brother is also a basketball player in the Greek league. Sakota has a beautiful shooting stroke and unlimited range, and also moves pretty well for a player his size. His family is good friends with
Peja Stojakovic
and he has spent time working with him on his shot. He will probably need to bulk up and become tougher, play with more intensity, work on his ball handling and develop more of a complementary interior game to become a legit NBA prospect, but he's got the talent to do that even though he has his work cut out for him. The fact that he's playing for one of the best teams in Greece and barely getting off the bench isn't helping him much, though.
Ersan Ilyasova
Turkey - 6'9" - Yesilyurt
Stats: In 25 minutes per game- 17.4 points (62.5% FG, 44% 3P, 79% FT), 9 rebounds, 1.6 turnovers
FIBA Europe
The age of this much disputed Uzbeki/Turkish prodigy has finally been settled by FIBA, ruling that he is indeed 16 years old and able to play for the Turkish national team. Now that he is free to play for Turkey without having to worry, Ilyasova was able to shine. He proved himself as one of the most talented offensive players around- showing some good athleticism to go along with a fantastic long range stroke. He handles the ball very well for a player his size and there is little doubt that his future position is at the 3 spot. In the game against the Serbs his defense was exposed, as he fouled out in only 17 minutes. He needs to work on this aspect, but there is a lot to look forward to with this kid.
Nemanja Aleksandrov
Serbia and Montenegro - 6'11" - KK Reflex
Stats: 17.4 points (64% FG, 78% FT), 10.6 rebounds, 1.8 blocks, 1.6 turnovers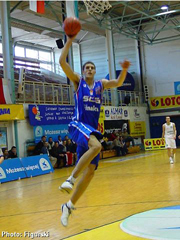 FIBA Europe
The best player on the best team in the tournament. The only person that can stop him from being the #1 pick in next year's draft is David Stern. We aren't going to go into too much detail about what kind of player he is, our very own Luis Fernandez did that very well right HERE but we can say that Nemanja showed that it's true and then some. Aleksandrov didn't have to really do all that much as the Serbians won three of the five games by 24 points or more (and sometimes a lot more- like beating the Slovenians by 60 points). As the tallest player on the team Aleksandrov didn't get the chance to play out on the perimeter too much, but he did his job on the inside unselfishly-- rebounding and defending well. He probably could have scored 30 points per game if he wanted, but he did not need to. He took what the defense gave him and did not force bad shots, finishing 3rd in the tournament in field goal percentage and with a miniscule turnover ratio compared with some of the other star players. The scary thing is, he's only turning 17 next week! Look out for a detailed article on Nemanja later this month.