The drive from IUPUI's Indianapolis campus is 1,170 miles from the San Antonio Spurs AT&T Center. It's the kind of drive that could be broken down into two fairly lengthy days of travel, or jam packed into a marathon of gas guzzling and road side munchies. For Spurs rookie
George Hill
, his first season in the NBA has been a combination of both the smooth drive and express lane joyriding. While able to avoid the pressures of being looked on as the savior of a franchise (ala
Derrick Rose
), Hill finds himself thrust in the middle of a postseason run; one San Antonio fans hope will extends beyond tonight. The former Jaguar has kept an open mind throughout the season, despite dealing with a laundry list of changes to the game he excels at, and even in the midst of a tough series with the Dallas Mavericks-- can appreciate where he is.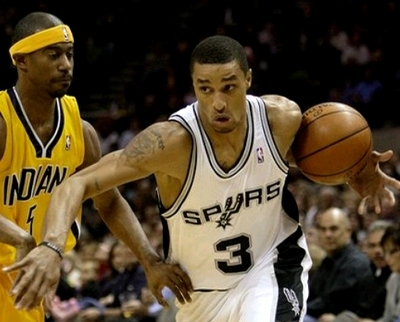 "It's a very nice experience, being in the NBA for the first time and getting to appear in the playoffs," he says. "I think it's a really good experience as a young player. Getting there for the first time and playing there for the first time are both important."
Hill's early transition to the League wasn't an easy one. After being selected 26th overall, a choice that surprised most pundits, Hill struggled during his stint in the NBA's summer league in Las Vegas. In his three games of action, the rookie shot just 2-25 from the floor, while fouling out of two games. The Rocky Mountain Revue in Salt Lake City wasn't much kinder—Hill shot 16-41 from the field in four games. It was a rocky introduction to life as a professional, but Hill has never been one to let himself get thrown by adversity, something his former college coach Ron Hunter can still speak to.
"One of the complements that George receives all the time is that he isn't overwhelmed by things," says Hunter. "One of the things that I told him from the very beginning, even while we were still recruiting him, basketball at the end of the day is just a game. Sometimes people want to make it more than it actually is. You have to pass, you have to rebound and you have to score. Yes, he is going to a higher level of basketball, but really, the game doesn't change."
Hill proved his former mentor's words to be true when he turned what could have been a major deterrent, into a big time motivator.
"I didn't have the kind of summer league showing that I wanted to have and it pushed me even harder to try and get better," he says. "I wanted to be able to help my team out right away, but it was a big difference to start off. I think moving to a new position, trying to be a point guard rather than a combo was tough too. There were a lot of things that kind of got in the way of me playing my best right away."
Perhaps the single greatest adjustment that Hill has found himself making all season long has been the switch from focal point of the offense at IUPUI, to more often than not the fifth option on the floor for the Spurs. During his junior season, Hill averaged 21.5 points while shouldering 26.5% of his team's offensive possessions, playing almost every minute of the game. In his first year with San Antonio, it has been a much different story: 5.7 points on less than 5 shot attempts and 16 minutes per game.
Hill isn't afraid of admitting that the adjustment from star to sub has been difficult, but also feels that the change in his role on the floor has taught him a lot more about the game. Certainly his overall statistics can attest to the rookie's improved play, but it is his shooting that has left some who saw him in college, scratching their heads. After shooting 54.5 percent from the floor and 45 percent from beyond the arc in his last year with IUPUI, Hill's numbers have dropped to 40.3 and 32.9 percent respectively.
"I think the range is different, that plays a big part of it," Hill says. "I think part of it too is not being able to get into that rhythm. As the go to guy last year, I was taking a lot of shots so I was always in that shooting rhythm, this year I might only get a couple of shots here and there."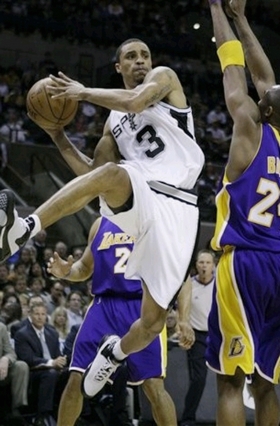 Part of it also stems from the obvious jump in caliber of defenders that Hill is facing this season. While it is easy to point to the fact that players are bigger, longer, faster and stronger at the professional level, Hill is quick to also point out the increase in intelligence as well.
"You have players who have been in the league for a long time and understand all those little tricks and subtleties to being a good defender. In college you have a lot of beginners, who might not get that," he says.
There has been plenty that Hill has been able to carry over from the Summit League and still continue to excel at for the Spurs. He has continued to do an excellent job of getting to the free throw line as well as rebound the basketball exceptionally well for a smaller guard. While the latter is helped by Hill's freakishly long 6-9 wingspan (he stands just 6-2 in shoes), he credits his success in both these aspects of the game to his aggressiveness. This has also made him a dangerous defender, something he was always good at in college, but has actually improved on in his rookie campaign.
The questions surround Hill's game once the offseason arrives will center on his position in the future. He has seen time at both the point guard and shooting guard positions, but with
Tony Parker
continuing to establish himself as a legitimate superstar, it would seem more playing time would be waiting at the off guard spot. Hill has said he isn't entirely sure what the future holds for him as far as his ultimate position, but that he will be sitting down with head coach Gregg Popovich to discuss where he stands after the season is over.
For now the focus is on earning a win in game five of the Spurs series with Dallas. Despite the ups and downs of the season and the sometimes difficult adjustments that he has had to make, Hill says he has never once questioned his decision to go pro with a year of college eligibility remaining.
"I'm happy with my decision and it has never crossed my mind to go back," he says. "I'm just very happy I got put in the situation I did, I'm playing for a championship caliber team and a great organization."
Sounds like a pretty smooth ride.