The Portsmouth Invitational Tournamen is over and one of the names on everyone's minds is
Nate Williams
. Who? Don't worry, not many people know who that is. His name is
Nate Williams
and he goes to a small school in Atlanta called Georgia State from the Atlantic Sun conference. He has been playing there for the past three years, after transferring from Junior College at High Land Community College in Illinois, as a native of Chicago. He was recruited by their current coach, Michael Perry, who we had a chance to have a nice chat with on Thursday.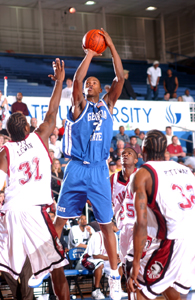 From what we've managed to gather from Coach Perry, as well as from other sources who have watched him play this season and last, Nate is a true sleeper who has a decent chance of being drafted this year and sticking with an NBA team. This to me is what makes the NBA draft so intriguing, it has this aura of mystique around it, you never know where the next impact player is going to come from. Is
Nate Williams
that guy? We'll provide the info, you decide for yourself.
To being with, he is tall- 6'11" to be exact- which makes him one of the tallest players currently projected in our second round. Nate runs the floor very well and has very good quickness for a player his size. He is extremely active, especially on the offensive glass, and he has no problem taking contact around the basket and being physical. In spite of the fact that he was mostly a post player in college, he can also face the basket and operate from the perimeter, he has an adequate handle, and he can put the ball on the floor and take it strong to the basket. He has great shooting form, but will rarely ever shoot from beyond 15-16 feet out, even though he can (1/2 on threes this year). He has a good mid-range game, though, something that will help him as an NBA power forward if he's given the chance. His coach says that he is a great player to have on the team, always smiling, very receptive to coaching and he works extremely hard. He's a tough player, a trademark of Chicago players. Nate is also a fantastic free throw shooter, which is very surprising for an NCAA center. He is ranked 26th in the nation, shooting over 86% this year.
He has a tendency to step up when it counts the most, you could say that he's clutch, or you could also say he has a problem motivating himself for the small games. It depends on your perspective. His three best games in a Georgia St. uniform came in GSU's biggest games of the year. In an upset victory against St. Joe's his first season, Nate went 8-11 from the field and 11-12 from the free throw line for a total of 27 points and 13 rebounds. Against in-state SEC rivals Georgia just a few weeks prior, he had 25 points and 10 rebounds. Last December his team faced Auburn, again from the SEC, and Nate had a career high 28 points with 12 rebounds to help Georgia State pull off the upset. In the next two games, though, he scored a combined 13 points with 8 rebounds. That's a classic example of Nate's biggest problem; he doesn't always show up mentally for each and every game. He has a real problem with consistency, and you just wonder how good he would be if he was always giving 100% every game.
18
This leads us to the inevitable unflattering part of this report. Nate needs to add some serious bulk to his frame to make it in the NBA. He is only 225 pounds right now, and he'll have problems defensively and especially rebounding if he doesn't hit the gym. Coach Perry says that part of this can be attributed to the fact that Georgia St. is not a big school with a full meal plan, but he expects him to grow into his frame more as his body matures. He will certainly benefit from working full time with a professional strength and conditioning coach. Nate had some academic and discipline problems in high school which forced him to start off at a community college, but he managed to turn things around and become a Division I student athlete. Early this season he was suspended for 6 games for an unspecified incident not related to basketball, and then came back for a career night against Auburn which we just mentioned above. He has some maturing to do, but everyone I talked to insisted that he is a very good kid. What he needs to focus on whether he makes the NBA or not, is improving defensively, becoming a better rebounder and getting bigger and stronger.
Combine the above with the fact that he plays in the Atlantic Sun conference (sent UCF to the NCAA tournament), which doesn't get much respect, press or TV time, and it isn't hard to realize why most people have no idea who
Nate Williams
is. That is starting to change, though, after being named to our list of players to look out for at Portsmouth. He certainly did not disappoint. In the first game he scored 24 points (10/15 shooting) with 9 rebounds (7 offensive) and 4 steals. In the second game he had 14 points (7/13), 4 rebounds 1 block and 1 steal. His team lost both games and will not move on to the next round, but Nate has almost certainly earned himself an invitation with his impressive play to the final and most important camp-- the Moody Bible pre-draft camp in Chicago. Keep an eye out for this guy as he continues his quest to fulfill his dream of making it to the NBA.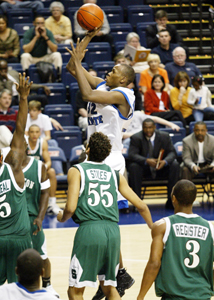 Feedback on this article can be sent to Jonathan Givony.
Pictures courtesy of Charlie Taylor, Georgia St. University (www.GeorgiaStateSports.com)