In a league that prides itself in developing players, no one player has shown as much improvement this season as NBA D-League All-Star
James White
of the Anaheim Arsenal. The 6'7" White is second in the league in scoring with 25.8 points per game and has scored 20 or more points in 21 consecutive games. White will be one of four players participating in the D-League's
Slam-Dunk Contest
on Friday night, as well as the
D-League All-Star game
on Saturday afternoon (NBA TV, 4 PM EST).
"Coach [Sam] Vincent put me in a role as being one of the primary scorers on the team", said White. "I'm getting shots up and just looking for my shot more, which I've really never been able to do on any other team I played for."
The trust placed upon him by Vincent has paid off for White and the Arsenal, as he has connected on 55.5% of his shots and 40% from behind the arc.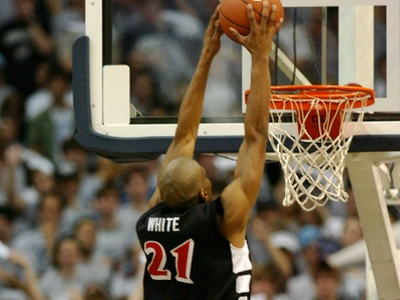 Assistant Coach
Paul Mokeski
agrees, "Every game I look up, he's got 30 points."
White's biggest development, however, has been his attitude and approach to the game. He has a bad reputation, and whether it is deserving or not, it has stuck to him.
When White entered the NBA draft out of Cincinnati, he was the 31st pick overall. Yet in this year's D-League draft, this first round talent saw 24 players picked ahead of him. And there was some concern in the Anaheim war room of taking him at all.
"He had a reputation of being kind of volatile," says Mokeski. A reputation that Mokeski hasn't seen this season. "I really like James. He works hard and he's a professional"
White wasn't even supposed to play in the D-League this season. After winning a championship in Turkey with Fenerbahce Ulker last season and an NBA championship with the Spurs the year before, White expected to be signed by an NBA team for this season. When that fell through, he signed to play in China. However when he arrived in China, he wasn't paid, and decided to return back to the United States to pursue a career in the NBA.
The trip to China was not a lost cause, as his Dad gave him a book to read, "Mind Gym" by Gary Mack and David Casstevens.
"It's a book that talks about focusing and visualizing and things like that," says White. "I've been incorporating it into my game. I'm staying focused and looking at the plays before they happen. It's really helped me slow the game down."
White has always been, and will always be, an emotional player. He just needs to refine his emotions on the court and the book has helped him see that.
"Everybody thinks I have a bad attitude or I'm a bad guy because I show emotion. But that's what fuels me to play, my emotion."
He also now understands that he needs to control his emotion on the court. Earlier in the season, White would often contest calls the referees made, but he realizes that they are just doing their job and he needs to stay focused.
"I'm trying to calm down and leave the refs alone. The last three or four weeks I've really been working at it."
His efforts have not gone unnoticed by Coach Mokeski. "The non-reactions he has now to the bad calls are a big difference. It's not the big blown up reaction, it's just a little reaction and that's been a huge difference. It's really helped his game."
So now White just waits for the rest of the basketball world to see how he has developed this season. "I've figured out the scoring part at this level, so I'm going to pick it up on defense a little, get more rebounds, do more stuff other than scoring."
With all the raw talent and athleticism that made White the 31st pick overall in 2006, he should be getting a look at the NBA before the end of the year. If that comes, White will be ready.
"I can't do the same thing for them (NBA) that I do here (in the D-League), but in practice, I can show them that I can play. Whatever role they ask me to play, I'll play that role."
"In Europe, I was more like an energy guy. It was a different role I played. But that's what they asked me to play."
So while White waits for the call-up, he continues to work on his attitude all thanks to a little "Mind Gym."
White will be participating in the D-League All-Star game on Saturday at 4 PM Eastern on NBATV, as well as the Slam Dunk contest.