James McAdoo, 6-9, Junior, PF, North Carolina
---
Latest DX Scouting Reports:
-Kristaps Porzingis
-Walter Tavares
-Johnny O'Bryant
-Sim Bhullar
-Dario Saric
-Mitch McGary
-Melvin Ejim
-Damien Inglis
-Khem Birch
-Jordan Clarkson
-Devyn Marble
-DeAndre Daniels
-Spencer Dinwiddie
-Adreian Payne
-Jordan Adams
-Isaiah Austin
-LaQuinton Ross
[url=-Jabari Brown
-Jerami Grant
-James Young
-Kyle Anderson
-Patric Young
-Russ Smith
-Dwight Powell
-Gary Harris
-Lamar Patterson
-Jarnell Stokes
-Jahii Carson
-Nick Johnson
-Cleanthony Early
-P.J. Hairston
-Zach LaVine
-Artem Klimenko
-Keith Appling
-Tyler Ennis
-Markel Brown
-Jordan McRae
-Rodney Hood
-Doug McDermott
-Juvonte Reddic
-Jordan Bachynski
-Andrew Wiggins
-Elfrid Payton
-Aaron Craft
-Marcus Smart
-C.J. Wilcox
---
Josh Riddell
After a freshman season playing a backup role behind a loaded North Carolina frontline, James McAdoo had immense expectations placed on his shoulders when he returned for his subsequent seasons. McAdoo was named to the All-ACC Second team in both his sophomore and junior seasons, but never seemed to be able to make the leap to the next level and dominate a collegiate game on a regular basis. He now heads to the NBA draft a year early, as a projected second round pick trying to find the right system to help him develop into a valuable rotation player.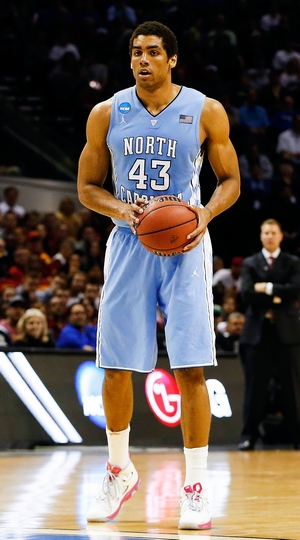 McAdoo's biggest assets as he moves toward the draft process are still his physical tools. At 6'9", he may have average size for the power forward position but his excellent frame, 7'1" wingspan, and strong athleticism help him compensate for this issue. He is a high energy player, often flying around the court to make hustle plays like fighting for loose balls, taking charges and keeping rebounds alive.
Offensively, McAdoo does multiple things adequately but nothing exceptionally well, which is part of the reason he struggled in the go-to role he inherited as a sophomore and junior as part of young UNC squads that failed to get out of the first weekend of the NCAA Tournament. Despite playing a relatively heavy usage role in each of the past two seasons, he struggled badly with his efficiency, posting a true shooting percentage of 46 and 49% in his sophomore and junior seasons respectively, which ranked dead last among all current Top-100 prospects both years.
One of his best skills is his quickness, allowing him to beat opposing big men down the floor in transition. His quick first step also helps him explode past defenders when he catches on the perimeter, usually needing one dribble after his first step to get to the rim. McAdoo is a solid finisher around the rim when someone else creates a shot for him, converting 59.3% of his non-post-up around the basket half-court attempts, according to Synergy Sports, while showing an ability to finish through contact, as he had 22 And-1 chances last season.
What hurts McAdoo's pro prospects has been his inability to become any sort of threat as a mid-range jump shooter, and his struggles seemingly understanding that. According to Synergy Sports Technology, McAdoo converted just 22% of the 51 jump shots he took last season, easily one of the worst marks in this draft. The year before, he attempted 96 jumpers, and hit just 28%. His form is salvageable, with his follow-through being the area that needs the most improvement. His first step should allow him to beat slower defenders off the dribble, but without a usable jump shot, defenses will just sag off him, leaving him no room to drive.
Along the same lines, McAdoo could grow into a dangerous pick and roll player if he consistently hit a mid-range jump shot. With his agility, he can roll to the rim with ease but defenses will adapt to take this away if he isn't a threat to shoot jump shots. McAdoo will be a one-dimensional player and easy to guard if he cannot add this to his repertoire quickly.
McAdoo also showed some flashes of promise in the post but not enough to prove to NBA teams that he will be able to regularly score at the next level. He didn't show much in the way of advanced footwork or a power game, but was able to maneuver around players with his quickness and length. He was a willing post passer, recognizing when a double team was coming and finding the open teammate for an easy shot. To be an effective post scorer in the NBA, something he was unable to emerge as in college (39% FG% as a junior, 35% as a sophomore) he will need to improve his footwork to score against defenders of similar physical tools and athleticism.
Defensively, McAdoo can be a versatile defender, as his combination of size and length can help him defend post players, while his foot speed allows him to defend guards for short stretches in switches. He could develop into a great defender out of the pick and roll, as he will be able to execute multiple coverages. He still has some room to add some bulk to his frame, which will help him against stronger power forwards.
McAdoo has been a below average rebounder his entire collegiate career, which ended with him grabbing only 5.2 defensive rebounds per 40 minutes pace adjusted,
second worst among power fowards in our top 100 rankings
. He's also an average offensive rebounder, pulling down
3.3 per 40 minutes pace adjusted
. His energy and length should seemingly help him become a more productive rebounder in the right system, but this never translated to the college level for one reason or another.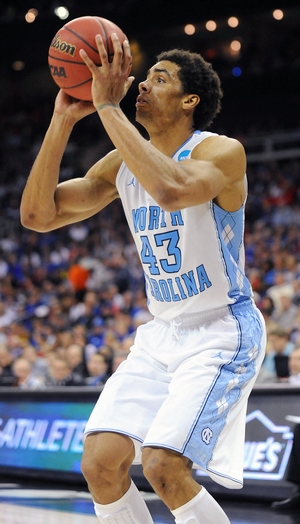 Once projected as a lottery pick, McAdoo's basketball skills and overall productivity have yet to catch up to his potential and physical tools. He won't have the physical advantage he did in college, so he will need to find new ways to impact the game. McAdoo should hear his name called on draft day due to his athleticism and reputation by a team hoping they can mold him into a NBA player, but he needs to improve in some key areas to stick.