-Notes on the bracket are located below.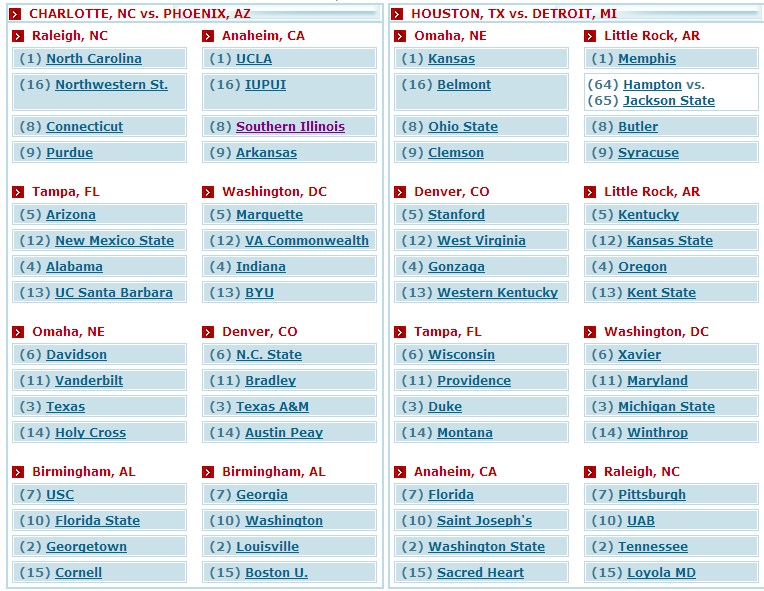 OFF AND RUNNING!!!
-Exhibition games have already begun, so the season is underway....sort of. I realize the games do not count on teams' records and the results aren't considered by the selection committee, but exhibition college basketball is better than no college basketball.
NOTES ON THE BRACKET
-When it comes to preseason rankings, I have what I call the One-Third Theory. A third of the teams are going to be much better than expected, a third of the teams are going to be worse than expected, and only a third are going to be about what we expected. It's really impossible to say who's #5 and who's #45 before any games have been played. That's why this bracket, and any other preseason rankings, shouldn't be taken all that seriously. The preseason rankings are oftentimes the most critiqued, but yet most quickly forgotten rankings during the season. They never turn out to be an indicator of where most of the teams actually end up. Look at where Butler and LSU were ranked to begin the year last year and look where they were ranked when it ended.
-With first/second round games in Raleigh and a regional in Charlotte, the ACC will once again be a battle for a preferable geographic placement. It's possible that North Carolina or Duke wouldn't have to leave the state until the Final Four if one of those teams could earn a #1 seed.
-Some may be surprised to see Davidson as a #6 seed. That's not a mistake. They return all five starters from a team that won 29 games a year ago and nearly upset Maryland in the first round of the NCAA Tournament. They should be able to post quite a few wins again this year, and crack the Top 25 once the season begins.
-I realize that Villanova is in the preseason Top 25, but they did lose a good deal of talent from last year's team and I'm uncertain as to how good they will be. That's why you don't see them in the bracket just yet.
-OTHERS CONSIDERED: George Mason, Missouri, Villanova, Auburn, Wake Forest, New Mexico, Rhode Island, Utah State, Saint Mary's and Houston. All of those teams appear to be good enough to earn an at-large bid this year.
NOVEMBER BASKETBALL MATTERS!!
-In terms of national interest, college basketball doesn't really hit a fever pitch until about late January/early February. However, the committee looks at everything that happens during a season, including games that are played in November. Butler earned a #5 seed, and it was largely because of some big wins early in the year. I can't stress enough that when the season tips off on November 5th this year that those games do matter. In terms of the RPI, a game in November is calculated the same as a conference tournament game in March. The committee does consider what a team does down the stretch, but they are also evaluating a team's entire body of work.
I can't think of another sport that has a regular season quite like college basketball. In football, half the teams are eliminated from the national championship picture before the year even starts. In the NBA and MLB, they play so many games that there really aren't that many (if any) high stakes regular season games. On top of that, they don't eliminate all that many teams. Only 20% of the college basketball teams make the NCAA Tournament, and only 34 out of 340 are going to receive at-larges. Having said that, no one is really ever mathematically eliminated because all conferences but the Ivy League have a tournament to determine the league champion, so every game means something.
CONFERENCE PREVIEWS
The
MISSOURI VALLEY CONFERENCE PREVIEW
has been posted. I'll be posting the SEC, ACC, Big Ten, Big east and Pac Ten previews between now and the start of the season, so check my blog section every day for those. Here is an archive of all the other previews.
CLICK HERE FOR PREVIOUS CONFERENCE PREVIEWS