-The bracket projections reflect all games played through December 23rd, and were selected and seeded using the same criteria that the selection committee uses. This is not a prediction of the future as much as it is a checkpoint for where teams currently stand. That is why some of the selections and seedings may seem a bit unusual.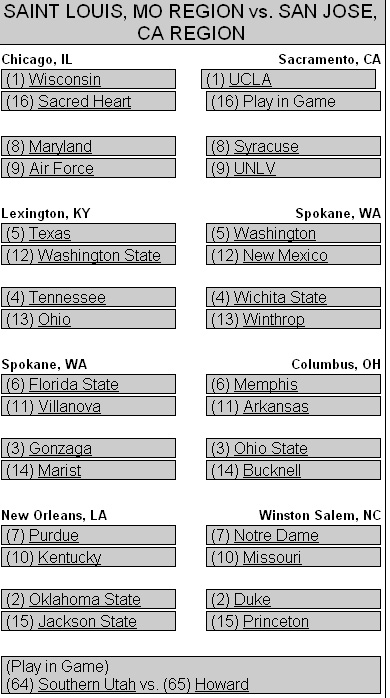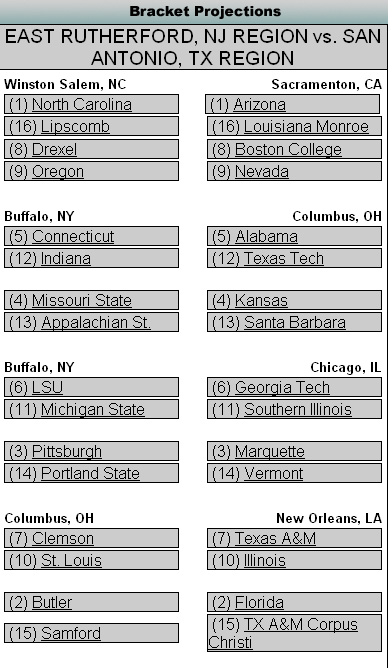 Notes on the Bracket
-The first/second round site with Ohio State, Bucknell, Memphis and Arkansas should be LEXINGTON, not COLUMBUS. I accidentally typed in the wrong city while putting this together.
-The two most common criticisms and/or complaints that I get are:
"You've got (blank team) way too low. They're going to be much better than that!!"
and
"You've got (blank team) way too high. No way they're going to end up with a seed that good!!!"
I say it every week, but for some reason it just doesn't seem to be getting through to everyone. This is NOT a prediction of March. It is a CHECKPOINT, for the way things currently are. If people do not realize that, I can see how they'd look at some of these brackets prior to February and think they look strange. With that in mind, I'm going to write about some of the things that I think will likely change between now and the end of the season.
#1 SEEDS
-I Believe there are four or five teams that I would refer to as "Titan Teams." That is, I believe that they are on a somewhat higher level than everyone else, and even now are playing the kind of basketball we see teams playing deep in the tournament. Those teams are North Carolina, UCLA, Arizona, Ohio State and Florida. I realize that Ohio State was clobbered by Florida the other night, and really doesn't have a big time win yet, but they still look to me like a Final Four caliber team. The loss to Florida was far more insult than injury. They've probably already forgotten about it by now and since they play in a conference as strong as the Big Ten it won't be long before their high quality wins begin to pile up. I currently have Wisconsin as a #1 seed this week, but again, that's based on what has happened already and not what I think will happen between now and the end.
OTHER PROBABLE CHANGES
-I've had Wichita State high these past few weeks, and I wouldn't be at all surprised to see them make the pod system, but I don't believe it will be as a #1 or #2 seed. They've lost their last two games, and even though they were without one of their starters, they were playing bubble caliber teams at best. Their losses came to New Mexico and USC. Granted they will get some leeway, but pod teams should be able to beat bubble teams even if they aren't at full strength. Also, the Missouri Valley is a brutal conference when it comes to winning on the road. The chances of them running through the regular season aren't real good. They are a good team and I expect them to end up with a solid seed. I just don't believe they are a top ten team.
-I believe Washington, LSU, Michigan State, Texas A&M, Alabama, Illinois and Kentucky to be among the teams that end up with better seeds than where they are in this bracket. In most cases, those teams have either not played anyone yet, or played a few big games and failed to win them. They are all good teams though, and all have ample opportunities at quality wins between now and the end, and I expect that to boost their profiles immensely, which would result in an improved seed. But, again, their current projected seed is based on what has happened already, not what I think will happen later on.
-I don't see Butler staying as a #2. For starters, they just don't have anymore chances at big wins other than the Bracket Buster. The Horizon League is also very competitive and it's not easy to win on the road in that conference, especially if you're the biggest home game for your opponent all season. That will be the case with Butler, and although I think they'll win the league and be very secure as far as making the NCAA Tournament, I don't see them ending up as a #2. However, with current wins against Notre Dame, Indiana, Gonzaga, Tennessee and Purdue, how can I not have them as a #2 right now??
-Perhaps the strangest thing in this bracket is Louisiana Monroe as the projected champion of the Sun Belt. They are 1-0 in conference play, and the two best teams (North Texas and Western Kentucky) each have a loss and are lower in the standings. The way I do it is that the projected champion must be in first place or tied for it via the loss column. I'd be shocked if LA Monroe wound up finishing first in that league, but then again, the team that finishes first doesn't always win the conference tournament and earn an automatic bid.
I still believe it's possible for Western Kentucky to get an at-large, but they'd pretty much need to run the table to do it. I believe they are good enough to win out, but I'm not going to go as far to say that I EXPECT them to do it.
OTHERS CONSIDERED. All of these teams have some credentials that would indicate that they are NCAA caliber teams right now. A very strong case can be made for some of them that at this moment they are more deserving than some of the last teams in. However, a strong case can also be made for all the teams that were included in the bracket. The data is still pretty inconclusive right now, but it will become more clear as the season progresses.
Georgia
SMU
West Virginia
Kansas State
USC
Providence
Loyola, IL
De Paul
Old Dominion
Dayton
New Mexico State
Georgetown
San Diego State
Virginia Tech
South Carolina
Bradley
Davidson
Santa Clara
Western Kentucky
Pretty much all of these teams are off to a good start, and all but Western Kentucky have some chances to get some big wins between now and the end, so if they are good enough to be in the tournament, they'll get their chance.
ATLANTIC TEN WOES
-As a Xavier fan, I've followed the Atlantic Ten very closely for several years. In 2003 the conference sent three teams to the NCAA Tournament. In 2004, they got four teams in, and two of those teams (Xavier and Saint Joseph's) advanced to the Elite Eight and nearly went to the Final Four.
It's been all down hill from there.
The following year, George Washington was the only team that made the NCAA Tournament, and had it not been for the automatic bid they may have not even gotten the one team. The following year, GW received a #8 seed and Xavier got in via the automatic bid, but received a #14 seed. The only reason the league got two teams is because someone other than George Washington won the conference tournament.
When the better teams from Conference USA were swallowed up by the Big East, many in the Atlantic Ten felt that they were next in line to become the best non-BCS conference. Charlotte and Saint Louis joined the league (which increased it to fourteen teams) and many believed that this was just the upgrade the conference needed. However, the league has been on a downward spiral for the past three years, and it appears to be continuing. The best non-BCS conference is not the Atlantic Ten, but the Missouri Valley. It's really not even close. This past week was a reminder of that.
The four best teams in the Atlantic Ten (Xavier, Dayton, Massachusetts and Saint Louis) were all in action this past week. Dayton was playing Pittsburgh, U Mass was at Kentucky, and Saint Louis was hosting North Carolina. It was a big chance for them to really make a statement. All three of those teams were not only beaten, they were blown to Kingdom Come. It isn't that they played hard and lost, it's that they didn't even look like they belonged on the same floor as their opponents, and they probably didn't. Xavier, the other top team, lost AT HOME to Bucknell, who currently has a losing record.
I know a lot of people who follow the Atlantic Ten read this site and wonder why I don't talk about them more since I'm a Xavier fan. Well, that's the reason. This is a site that focuses primarily on what teams are in the NCAA Tournament picture and what games will likely end up being important to the selection process, and the Atlantic Ten just doesn't seem to have many of those. Saint Louis does have a very good win against Missouri State and Xavier has a nice win against Villanova (they have little to nothing else), but other than that no one from the Atlantic Ten has done anything to indicate that they are NCAA Tournament caliber teams.