-The following bracket is not an attempt to guess what it will look like on Selection Sunday at the end of this week, but rather a checkpoint of what it would look like if today was Selection Sunday. The criteria used to select and seed the teams is the exact same criteria used by the NCAA Selection Committee.
-Bracket reflects games played through Friday, March 10th.
-Be sure and check out the article below for an explanation of the bracket. A summary of tonight's action, along with a thorough look at the bubble is also included below.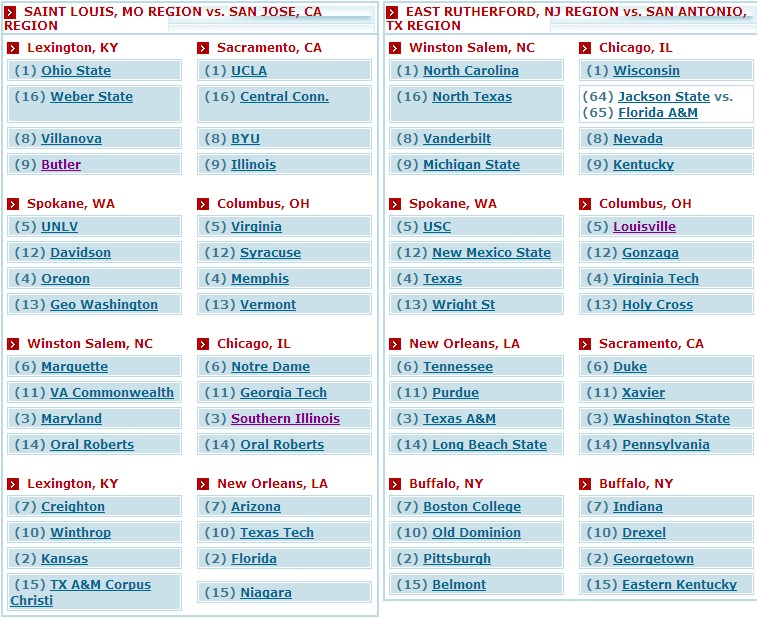 NOTES ON THE BRACKET
-For a rundown of all of today's conference tournament action
CLICK HERE
-The bracket will be updated throughout the day, so be sure to check in periodically to see how things develop.
CHAMPIONSHIP WEEK NOTEBOOK
-9:50pm,est. Crazy finishes all over place!!! Florida A&M won on a last second tip in against Delaware ?State to pick up the automatic bid out of the MEAC. The game was fairly close all the way through the second half, and was one of the more exciting endings of the day up until that point. This is the second year in a row that Delaware State has been the dominant team in that league, but lost on a last second shot in the championship game. FAMU will almost assuredly be playing in the play-in game this upcoming Tuesday.
Just a few minutes later, Akron and Miami were coming down to the wire, but Akron found themselves on the freethrow line with 6.6 seconds to go and a 52-50 lead. Instead of icing it, they missed the front end of a one-and-one. Miami got the rebound, drove the length of the floor, and banked in a three-point shot for the win...or so we thought. There was a huge controversy over whether or not the clock started on time. After what seemed to be about a half hour, they determined that the basket was good, but they would put 0.6 seconds back on the clock, presumably to be fair to Akron. They were unable to do anything in that time period, and Miami pulled off the upset. The Redhawks are likely looking at a #14 seed. They were just 13-14 on the year when the conference tournament began.
Jackson State defeated Mississippi Valley State in the SWAC Championship, but most expected them to win anyway despite being the #2 seed. Chances are they'll be facing Florida A&M in the play-in game.
The bracket has been updated to reflect the changes.
-6:55pm,est. Texas knocked off Oklahoma State to advance to the championship game where they'll face Kansas. I don' t believe the Cowboys have done enough to make the field. They do have some very impressive neutral floor wins, but no true road wins, and no one has ever been selected without winning at least one true road game. That doesn't mean it can't happen, but from my perspective it isn't likely to happen this year.
-6:12pm, est. North Carolina State's postseason dreams, which were virtually dead about four days ago, are still very much alive. They will face a top notch North Carolian team tomorrow, but it's a team that they did beat at one point earlier this season. They need to win that game in order to make the NCAA Tournament.
Arkansas is another team that is on the bubble and may need to win their game. They have a strong case for an at-large, but are by no means a lock at this point. The selection committee's job, which is a hard job to begin with, just got a little bit harder considering there are two teams from major conferences playing on the last day of championship week that may need to win their games to get in. The good news is that those games are early in the afternoon.
Another great match-up is set up for the Big Ten Championship as Ohio State meets Wisconsin. The winner is almost assured a #1 seed, and it's very possible that both teams could get one regardless of what the outcome is.
Oklahoma State trails Texas right now, and I believe their NCAA Tournament hopes will die if they don't manage to win this game.
-3:43pm, est. Ohio State has eliminated Purdue from the Big Ten Tournament. A win would have locked Purdue in, but they still have a pretty strong case. Their win against Iowa yesterday may have been enough to sustain their bid. Still, they're closer to the bubble than they'd like to be and could end up being bumped out.
North Carolina also advanced to the ACC Championship with a decisive win over Boston College. That's probably enough to lock up a #1 seed for them.
Arkansas's tournament hopes are still very much alive. They're right on the bubble as it is, but if they can somehow pull off a win tomorrow in the SEC Championship they'll clinch the automatic bid. They took down Mississippi State without too much trouble.
No bracket movement as of yet, though.
2:09pm, est: Albany has defeated Vermont to win the America East Championship. Vermont trailed by one point with the ball with 30 seconds to play, but could not get a shot off in all that time. Albany takes their place as a #14 seed in the bracket.
-I intend to look at some teams a little closer, so the bracket is subject to change throughout the day. I feel confident about most of the seeds, although I can see some teams moving up or down a little bit due to poor road play. Indiana and Michigan State are two of the teams that come to mind as teams I might move.
NOTES ON THE BRACKET
-The #1 seeds are also complicated. Three of my four #1 seeds are still playing, so they can pretty much play their way in if they win their conference tournaments. Two other teams that have strong cases for a #1 seed are Florida and Georgetown. Georgetown is 14-1 in their last 15 games and has some very high quality wins in that stretch. They will face Pittsburgh tonight with a chance to pick up yet another quality win. Florida is an outstanding team as well, but they didn't finish the season quite as strong as the Hoyas did. Nevertheless, if they win the SEC Tournament one would think they have a very good shot at a #1 seed.
THE BUBBLE WATCH
-The bubble is crazy this year. My last four teams in are Georgia Tech, Syracuse, Purdue and Xavier. Purdue is still playing, and if they can manage to knock off Ohio State today they will no longer be on the bubble. The thing is that there are several teams right behind those last four that are still playing. Arkansas will face Mississippi State today in a very high stakes game. Kansas State faces Kansas with a chance to add a huge quality win to their profile and get themselves in. In the other Big Twelve game, Oklahoma State is facing Texas. If they defeat the Longhorns they're libel to get a very good look.
-Nevada's loss to Utah State last night means that one less bubble team is getting in. At the time I'm writing this, Houston has an early lead against Memphis, which would narrow the bubble even more. In this case, Xavier would be the team that would get knocked out.
-Some of the teams I have out have very strong cases, and I may end up changing my mind after I look at them throughout the course of the day. For instance:
Florida State has wins against Florida, Duke, Maryland and Virginia Tech. Three of those came at home, but those wins are still more impressive than some of the teams on the bubble. All of their losses came against the RPI top 55 as well, so those could hardly be classified as bad losses.
Arkansas is the first team out, but they're still playing. A win today over Mississippi State would put them in the SEC Title game, and may be enough to get them into the field. The Razorbacks have neutral floor wins against Southern Illinois and Vanderbilt, and don't really have that many bad losses. They've also won their last four games, and a win against Mississippi State would mean four straight wins away from home.
Missouri State has a neutral floor win against Wisconsin, which is easily the best win anyone has either inside or outside of the bubble. The problem with them is that they didn't beat any other solid NCAA Tournament teams. They did hold their own for the most part and avoided bad losses, so the win against Wisconsin may be enough to get them in.
-I have taken Air Force and Stanford out of the field. Air Force has lost four straight, but that's not the only problem. They have just one win against the RPI top 50 and three losses outside the RPI top 100. They do have a road win against Stanford and a neutral floor win against Texas Tech, but they have just been limping down the stretch. Given that so many other teams are coming on strong, I wouldn't be at all surprised if they did not make the field.