The bracket projection reflects all games played through February 4th. The criteria used to select and seed the teams is the exact same criteria the selection committee uses.
This is not a prediciton of what the bracket will look like in March, but rather a checkpoint of where teams would be seeded if today were Selection Sunday.
The notes on the bracket are located below.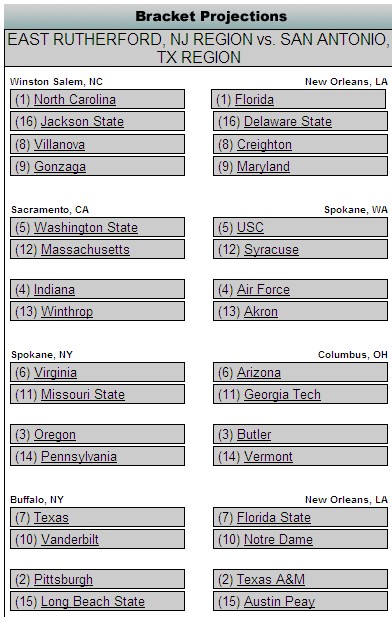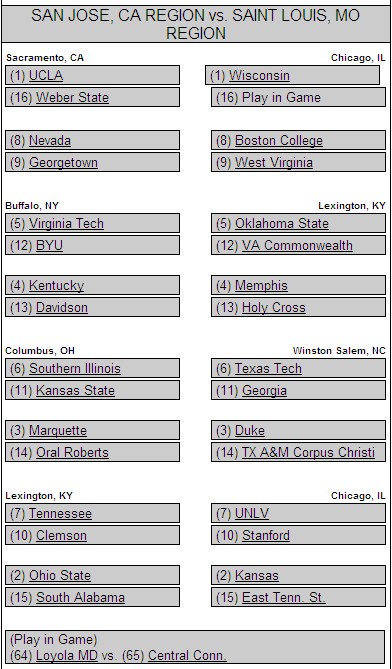 NOTES ON THE BRACKET
POD TEAMS
-Two of my four #1 seeds lost this past week. North Carolina fell on the road to North Carolina State, and Wisconsin lost to Indiana. When looking at their resumes as a whole, though, they still have the best overall bodies of work, which is why they remained at #1.
-Texas A&M got a huge win on the road at Kansas. Kansas is the highest ranked team to lose at home this season. In addition to their loss to TAMU, they fell to Oral Roberts early in the season. TAMU can contend for a #1 seed as well, but they'll probably have to win out or come close to it in order to get it.
-Duke lost their fourth conference game on Sunday when they fell at home to Florida State. They have three wins against the RPI top 25, but their win against Clemson is looking less and less impressive. They also have good wins against Gonzaga, Boston College and Georgetown, an RPI of 8, and an SOS of 5, which is why I have them at a #3. Even though they have five losses, none of them are all that bad.
-Memphis doesn't have a whole lot of big wins, but they're 19-3 on the year, have a decent RPI at 10, and are ranked pretty highly in the coaches' poll.
-Butler is still in good shape at a #3 seed, but they are the lowest ranked #3 seed on my S Curve. Still, if they win out they should be in a solid position to make the pod system and get a good geographic placement in either Columbus or Lexington. Their Bracket Buster game against Southern Illinois is another opportunity for them to get a solid win.
-Indiana and Kentucky are the two lowest ranked pod teams. They are having good years. Kentucky just won a nice road game against Arkansas, and Indiana knocked off Wisconsin earlier this week. However, they don't appear to be as strong as the other teams seeded #4 or better. It's just that when looking at my #5 seeds, none of them appear to have a better overall body of work.
-Air Force continues to look impressive. They will have a few other chances to get quality wins when they face BYU and UNLV later in the year.
TEAMS WHOSE RESUMES HAVE RISEN
-USC had a big weekend by defeating Oregon for a huge quality win. They've won five of their last six in one of the toughest conferences in the country, and have beaten Oregon twice. Their next game is at UCLA, so they'll have their hands full with that, but a loss won't hurt their resume at all, so they're in pretty good shape.
-Virginia has won five straight games, including back to back RPI top 25 wins at Clemson and at home against Duke. Had it not been for two surprising losses to Appalachian State (who isn't too bad) and Utah (who is very bad) in the San Juan Shootout they'd have a tremendous profile. Too much Puerto Rican Rum that weekend, I guess. Nevertheless, they still have a good resume and appear to be a good enough team to make it even better between now and the end.
-BYU has won four in a row, and defeated both Air Force and UNLV in that stretch. They are in this bracket as a #12 seed, but they are a little more solid than that. It's just that they cannot play on Sunday, and needed to be moved down from their original #11 seed in order to make the bracket fit. They have a really bad loss to Lamar, and if BYU ends up on the bubble that could give them some trouble, but if they keep playing the way they have been the last few weeks, the only game where they'll really have trouble is at Air Force. If they finish like that they should be fine. They're tied for first place with Air Force in the conference standings.
-Florida State has come to life all of a sudden. They've won five of their last six, and have beaten Virginia Tech, Maryland and Duke in that stretch. It doesn't seem to ever get any easier in the ACC. Their next game is against Clemson, who has dropped off quite a bit and desperately needs a big win, but as of now FSU's resume has really improved lately.
-Southern Illinois won a big game at Wichita State, which was impressive. Wichita State had been playing well, and had a tremendous opportunity to get a much needed quality win at home, but couldn't pull it off. SIU has won seven of their last eight, and are tied for first in the Missouri Valley.
-Creighton is right there with them. They've won five of their last six, and three of those came on the road. They did have a close call against a sub par Drake team over the weekend, but were able to hold on and win.
-Vanderbilt's stock continues to climb. They are in this bracket as a #10 seed, but they could easily end up being seeded much better than that. They had two bad losses early to Wake Forest and Furman, but have more than made up for it, which usually means those losses will be deemphasized by the committee. They've won five out of six in the ACC, and have notable wins against Georgia Tech, Tennessee, Alabama, Kentucky and Georgia.
-Kansas State is in the bracket as a #12 seed. They're in a three way tie for second place in the Big Twelve, and just one game behind Texas A&M. They also got a big road win against Texas over the weekend, and have another good win against USC on a neutral floor. They're currently on a seven game winning streak. That could end because their next game is at Kansas, but they're really playing well right now.
TEAMS WHO HAVE FALLEN
-Clemson has lost five of their last six since beginning the season 17-0. They also only have three wins against the RPI top 50, but one was a road win against Florida State. Without that they may not even be in this projection.
-Georgia Tech won against Clemson rather convincingly over the weekend. Had they lost, they probably wouldn't be in this bracket. They'd lost four in a row prior to that, and one of those losses came against Wake Forest, who is pretty bad. They're just 3-6 in conference play, and have an unimpressive RPI of 59. They do have five wins against the RPI top 25, though, which is generally a good sign that a team will get a bid. I'm awarding the Yellow Jackets the most inconsistent resume of the season.
-A team that isn't that far behind Georgia Tech is Tennessee. They've lost six of their last eight, including a blowout loss to Florida over the weekend. The thing about them is that none of the losses are particularly bad. Three of them were at Florida, at Ohio State, and at Kentucky, which don't really hurt a team's profile. Their next three games are at home against LSU, Kentucky and Vanderbilt. They really need to win at least two of those. Winning all three would be even better.
OTHERS CONSIDERED: Illinois, Michigan State, Arkansas, Alabama, Louisville, Xavier, Mississippi, Providence, Drexel, Northern Iowa, New Mexico State, George Washington, Wichita State, Michigan, Purdue, Bradley, Appalachian State
-Illinois has three wins against the RPI top 50, an RPI of 41, an SOS of 14, and no bad losses. That would seem to indicate that they should be in the field. It's just that when I look at them side by side with everyone else, they don't appear to be quite as good. They haven't played well on the road, and that has hurt them. Also, one of their RPI top 50 wins was against Bradley, who isn't exactly a tournament caliber team. Still, the Illini control their own destiny and will have plenty of chances to make a case for themselves between now and the end.
-Michigan State has lost three straight. None of the losses are all that damaging, but they really hadn't done much to indicate they were a rock solid team before dropping those games.
-Alabama's best win was a home game against Georgia that they barely won. They haven't played all that well on the road either. Their RPI is 26, and that generally means a spot in the field, but not necessarily. Another thing about Bama is that they have been battling injuries. If they can get healthy and start winning, the committee will consider it. As of now, they don't appear to have a body of work as good as anyone else in the field, though.
HIGHLIGHTED GAMES FOR MONDAY, FEBRUARY 5TH
-SYRACUSE AT CONNECTICUT (Big East). Syracuse is right on the bubble. They have some good wins, but have been inconsistent for most of the season and struggled against De Paul in their last game. They'd lost three in a row prior to that. Connecticut has been unimpressive all year and needs to win a few big games just to make the Big East Tournament.
-NORTHERN IOWA AT INDIANA STATE (Missouri Valley). Northern Iowa has lost five of their last eight and needs to win a few games in a row just to get back into the mix for a bid. It won't be easy tonight because Indiana State has been very tough to beat at home.
-GONZAGA AT LMU. Gonzaga has really been dominating this conference, as expected. LMU is just 8-14 on the year, and even though the fans will be up for it, they appear to be overmatched by the Zags.
-TEXAS AT TEXAS A&M. This is a huge rivalry in the Big Twelve, and it's also a highly important game. Texas is a solid team, but their RPI is still lacking somewhat. It should go up a little bit after this one even if they lose, but a win would really boost their resume. Texas A&M just got a huge road win against Kansas, is a solid pod system team, and could even end up a #1 seed if they win out. This is also a huge rivalry game, so expect a very intense game.
-NEW MEXICO STATE AT UTAH STATE. New Mexico State's next three games are on the road, and will go a long way in determining whether or not they are an NCAA Tournament team. Utah State is a very difficult place to play, so this is a real test for them. If they want to get any consideration, NMSU pretty much needs to win them all.