About Us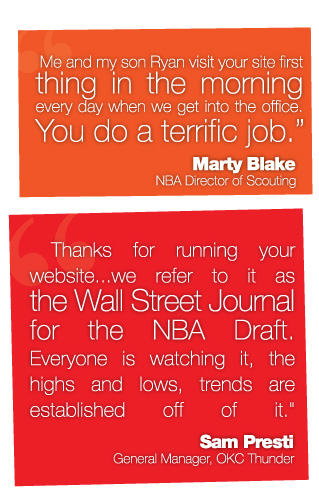 DraftExpress LLC is a professional scouting, statistics and analytics service that has been featured on NBATV, NBA.com, ESPN, Grantland, Sporting News Radio, the Washington Post, the LA Times, and the New York Times among other media outlets. Our NBA draft content has been syndicated by organizations such as Yahoo!, Rivals, HoopsHype, and more.
Our goal is to reach out to other basketball professionals across the globe, as well as players, fans and media, and familiarize them with the next group of athletes that will someday play in the NBA, Europe and Asia. We strive to provide people with an unbiased and meticulously researched evaluation of these prospects.
Our staff pours through hours of video every year, travels to games and tournaments around the globe, and maintains a constant dialogue with the brightest minds in the business, in order to assemble the most comprehensive pool of information possible.
We utilize the most modern scouting tools currently available anywhere in the world, often better than what NBA teams have at their disposal. We have become highly respected in the industry for the attention to detail, consistency, and quality we bring to our work.
Thank you for your support,
The DraftExpress Team:

Jonathan Givony - President
Matt Kamalsky - Director of Operations
Joseph Treutlein - Director of Scouting
Derek Bodner - College Basketball Scout
Kyle Nelson - College Basketball Scout
Walker Beeken - College Basketball Scout
Joey Whelan - Features Editor
Jim Hlavac
Richard Walker

Past/Current Contributors:

Paul Gearan (Rexer Analytics), Heather N. Allen (Rexer Analytics), Antonio Rodriguez (Digital+), Matt Modderno, David Mosley, Almantas Kiveris, Michael Jeffries, Wojciech Malinowski, Pooh Jeter, Jared Reiner, CJ Watson, Rod Benson, Drew Barnette, Rodger Bohn, Luis Fernandez, Kristian Hohnjec, Mike Schmidt, Jason Thomas