Somewhat overdue for a mention is the terrific play of 1987-born Slovenian forward
Emir Preldzic
this season, acting as somewhat of a go-to guy for an important Euroleague team like Fenerbahce-Ulker Istanbul, the reigning Turkish league champions.
Will Solomon
's departure to the NBA, coupled with season-long injuries to
Gordan Giricek
and
Omer Asik
, along with very underwhelming performances by American players
Marques Green
and
Devin Smith
created a situation where someone needed to step up. Not a bashful guy by any means, Preldzic has taken on quite a large share of his team's offense, sometimes acting as the #1 option, alongside power forward/rebounding machine
Mirsad Turkcan
.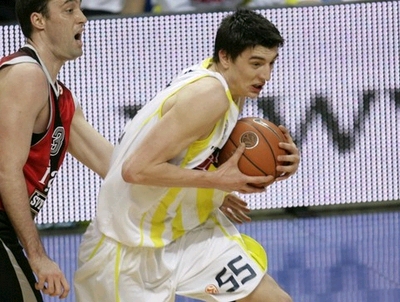 Quite amazingly for a player of his age, at his height (6-9), and particularly at this level, Preldzic is utilized almost exclusively in a point-forward type role. He regularly brings the ball up the floor, calls out the set plays, and gets the team into their offense, which often ends with the ball in his hands. Almost half of his possessions (according to Synergy Sports Technology's quantified player report) come from pick and roll situations, with another 20% coming from one on one/isolation type situations. Clearly he is Fenerbahce's most creative force, which tells you quite a bit about the skill-level this 21-year old possesses, but also might help explain why the team is just a combined 12-7 in the Euroleague and Turkish league, which is very down this season.
Preldzic plays a very European,
Theodoros Papaloukas
type-role for Fenerbahce, showing excellent ball-handling skills with either hand attacking his matchup, and showing excellent timing on his drives. His first step is somewhat underwhelming, but he makes up for that with the aggressiveness, high skill-level, and excellent feel for the game he brings to the table. His ability to change speeds is excellent, and like Papaloukas, he plays the game at a pace that is entirely unique to him. He likes to lull his man to sleep with a slow and deliberate dribble, and then blow-by him at the exact moment that he catches him off-balance.
Once in the lane, Preldzic is a bit limited in his ability to finish at the rim, as he lacks a degree of explosiveness and is not very strong either. He is a very crafty guy though, often coming up with some very tough finishes off the glass, but is not particularly efficient, as his 42.5% shooting from the field in the Euroleague and Turkish league combined would attest. Considering how much bigger, longer and more athletic big men are in the NBA, there are some legitimate question marks about how this part of his game will translate to the next level. The fact that he already manages to draw just under three free throws per game is not a great sign already.
Clearly his best attribute at the moment revolves around his passing ability. His four plus assists per game (quite a high number in Europe considering how stingy statisticians are) make him one of the better passers you'll find at his position on this side of the ocean, and accurately reflect his excellent basketball IQ and fundamentals. He does a great job finding open teammates off the dribble, particularly on the pick and roll, showing a great sense for passing the ball exactly to the spot underneath the basket that his big man will end up at after setting the screen, often with great flair. The game seems to come very easily for Preldzic, which is what makes the way he might develop over the next few years so intriguing. His high-risk/high-reward style of play almost makes him fairly turnover prone though -he coughs the ball up on nearly 20% of his possessions.
One thing he absolutely must improve on if he's to reach his full potential is his perimeter shooting. His stroke is extremely streaky at the moment, particularly with his feet set, where he's extremely unreliable. His release point is very inconsistent, as he has a tendency to shoot the ball on the way down or while leaning forward. He is actually a much better shooter off the dribble, being capable of making some really tough shots--almost just throwing the ball in the hoop--another indication of his excellent talent, but not very friendly to his 3-point shooting percentages (17/51 combined, or 33%) or his ability to help his team win games.
Defensively, Preldzic is mostly a mixed bag at this point. On one hand, his excellent size, intensity and feel for the game allow him to make a nice impact when he's focused, particularly in terms of contesting shots out on the perimeter. He gets in the passing lanes at a great rate and is also a fairly productive rebounder. His average lateral quickness makes him somewhat of a liability against quicker wing players, though, and he has a tendency to get lost off the ball and gamble excessively for steals, which makes his team's entire half-court defensive concept collapse. Teams love to post him up or force him through screens because of his lack of strength, and his average frame and 6-9 wingspan (measured at the Nike Hoop Summit) don't help him in this regard.
All in all, Preldzic is clearly a superb talent for high-level European basketball moving forward, and is someone NBA teams will seriously consider investing a draft pick on in the second round because of his somewhat rare combination of size, skills and versatility. He looks nowhere near a finished product at this point, and thus there is always the possibility that he continues to develop (particularly as a shooter) and becomes a nice asset down the road. As far as his long-term NBA potential, though, there appear to be some physical limitations and concerns regarding his style of play that may hold him back until he manages to improve.