The NBA Pre-Draft camp is the only official camp organized and run by the NBA. It is open to NCAA seniors, underclassmen, International players, and anyone else eligible for this year's draft. It will be conducted this year from May 27th-May 30th at Disney's Wide World of Sports Complex outside of Orlando, Florida, for the third (and possibly final) straight year, after traditionally being held at Moody Bible Institute in Chicago.
Superior facilities, costs and the NBA's relationship with Disney and its subsidiary ESPN (who televises many of the games on ESPNU) were some of the reasons it moved, to the chagrin of quite a few grumpy NBA executives.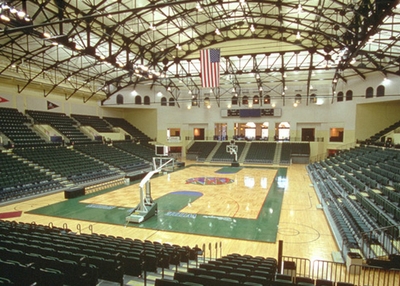 [c]The Milk House[/c]
64 players (give or take a few) fighting for some of the spots in the 20-60 range of the NBA draft will be participating in drills, scrimmages, official games, and the combine in Orlando. Also, around 17-20 "physical only" invitees will be in attendance, for measurements, a full physical, a fantastic media session, and some basic drills on the last day of the camp.
The players will also conduct Anthropometric/strength testing, have their blood and urine tested, meet with the players association, and do various other things immediately following the conclusion of the camp on the 31st.
The NBA has gone to great lengths over the past few years to ensure that as many players as possible participate, with mixed results.
Private workouts are no longer allowed
these days before the conclusion of the camp. The actual players invited, we should note, are largely decided democratically by a list that every NBA team submits with the players they would like to see at the camp.
All 30 NBA teams will be represented by virtually their entire front office and coaching staffs, creating a who's who of former star players, and making this a can't miss networking opportunity for those trying to break into the business. Numerous national media types, international coaches and GMs, and many other basketball personalities will also be present. DraftExpress will be attending the event for the fifth straight year.
2008 NBA Pre-Draft Camp Schedule
Tuesday, May 27
6:00 PM Drills at Disney's The Milk House
Wednesday, May 28
9:00 AM Drills at The Milk House
11:00 AM Game
5:00 PM Game
6:30 PM Game
Thursday, May 29
9:00 AM Drills at The Milk House
11:00 AM Game
2:00 PM Media Availability
5:00 PM Game
6:30 PM Game
Friday, May 30
9:15 AM First game of tripleheader
11:15 AM Second game
1:15 PM Third game
Analysis of Last Year's Roster
-Only 62 players were invited. 6 teams are made up of 10 or 11 players each. Of those 62, the rosters were comprised of:
•
9 NCAA Underclassmen
- Yes, you are reading that right. Nine. For comparison, there are 69 underclassmen on the NBA's official early-entry list. What does that mean? That most likely the NBA will do its absolute best to weed out those players who are just "testing the waters" of the draft for the heck of it, and that they'll usually instead prefer to invite those seniors and automatically eligible internationals who are fighting for their lives. That number would have been higher last year, though, had underclassmen like
Wilson Chandler
,
Gabe Pruitt
,
Glen Davis
,
Devon Hardin
and
Marcus Williams
decided to participate. Ironically, only
Wilson Chandler
eventually got drafted in the first round.
Notables to participate:
Daequan Cook
,
Dominic McGuire
,
Taurean Green
,
Ramon Sessions
)
•
5 Automatically Eligible 1985-born Internationals
- These are nice gets for the Pre-Draft camp typically, even if some of the more intriguing international prospects instead opt for the cozy confines of the RBK Eurocamp in Treviso, which is a little less dog-eat-dog for International players already battling jet-lag, new rules, a completely foreign style of play, and athletes like they rarely see back home. You can't argue with the results of the exposure these players got, though, as all three of the following got drafted, and
Ali Traore
very well could have joined them.
Notables to participate:
Sun Yue
,
Brad Newley
,
Renaldas Seibutis
•
1 Automatically Eligible NCAA Expatriate
- Players who leave college with NCAA eligibility remaining automatically become eligible for the following NBA draft as soon as they sign on to play basketball in any other league. Last year
Major Wingate
was booted off Tennessee and went to play in Turkey, but still was able to participate in the pre-draft camp. This year will likely see D-League champion
Mike Taylor
get a chance to finally play against players his age.
•
1 Non-Division I College Players
- We'll at times get to see an NAIA (
Robert Whaley
), JUCO (
Tedric Hill
) or Division II player (
Avis Wyatt
, last year). Sometimes, they even get drafted, like Whaley did.
•
46 NCAA Seniors
- Clearly this is where the bulk of the list comes from, as the NBA realizes that this is their last chance to evaluate many of these players outside of the cozy confines of their collegiate programs. Considering that there is a lot of depth to this year's NCAA senior class, and quite a few seniors decided to pull out of Portsmouth at the last minute, it will be very interesting to see how this number fares this time around.
Notables to participate:
Jared Dudley
,
Aaron Brooks
,
Carl Landry
,
Reyshawn Terry
,
Demetris Nichols
,
Herbert Hill
,
Aaron Gray
,
D.J. Strawberry
• Amongst those 46 seniors,
22 players from the 2007 Portsmouth Invitational Tournament
ended up making it.
Results
-Three 2007 Orlando Pre-Draft participants (
Daequan Cook
,
Jared Dudley
,
Aaron Brooks
) were drafted in the first round.
-17 pre-draft camp participants were drafted in the second round. (highest:
Carl Landry
#31,
Jermareo Davidson
#36,
Sun Yue
#40)
-4 pre-draft camp participants made the NBA as undrafted free agents (
Anthony Tolliver
,
Darryl Watkins
,
Mustafa Shakur
,
Coby Karl
)
-5 players who refused their invites, according to our research, landed in the 2nd round: (
Gabe Pruitt
,
Marcus Williams
,
Nick Fazekas
,
Glen Davis
,
Derrick Byars
)
-5 of the 9 underclassmen invited ended up pulling their name out of the draft. The other 4 were drafted.
-Not being invited to the Pre-Draft camp does not necessarily mean that a player will not be drafted.
Adam Haluska
is a great example from last year.
Daniel Ewing
,
Orien Greene
and
Lionel Chalmers
all took similar paths in years past.
Physical Only Invites
-19 players were invited last year.
-
Yi Jianlian
was the first player in memory, possibly ever, to decline an invite for a physical last year. This was just one in a long line of attempts to control the draft process, which backfired when the Milwaukee Bucks selected him fifth overall, despite his agent's disapproval.
-Of the players actually drafted, the NBA correctly pegged the first 16 players picked.
-The eventual #17 pick,
Sean Williams
, pulled out of playing in the camp at the last moment, possibly due to a promise from the Nets.
-The eventual #18 pick,
Marco Belinelli
, was invited to play, not to conduct a physical, and declined. He opted to play in the RBK Eurocamp in Treviso instead.
-The eventual #19 and #20 picks,
Javaris Crittenton
and
Jason Smith
, were invited for the "physical only."
-
Josh McRoberts
, who fell all the way to the 37th pick, was the lone "blunder" amongst the players invited. All in all, it's hard to argue that the NBA did anything but a phenomenal job picking the right players for this group.
Positional Analysis
-Using last year's roster as a guide, we selected
12 PGs or combo guards, 22 swingmen (2's or 3's), 18 power forwards, and 12 centers
to disperse amongst the 6 rosters.
Projected Rosters
TEAM ONE:
Ty Lawson
Jeremy Pargo
Bill Walker
Richard Roby
Jerel McNeal
Danny Green
Richard Hendrix
Kentrell Gransberry
Patrick Ewing
Jr
Nathan Jawai
Trent Plaisted
TEAM TWO:
Mario Chalmers
George Tsintsadze
J.R. Giddens
Gary Forbes
DeMarcus Nelson
Keith Brumbaugh
J.J. Hickson
Darnell Jackson
Othello Hunter
Jason Thompson
John Riek
TEAM THREE:
Lester Hudson
Mike Taylor
Shan Foster
Sonny Weems
Reggie Williams
Malik Hairston
Kyle Hines
D.J. White
James Mays
Aleks Maric
TEAM FOUR:
Jamont Gordon
Mike Green
Courtney Lee
Antonio Anderson
Bryce Taylor
Pat Calathes
Joey Dorsey
Robert Dozier
Frank Elegar
Robin Lopez
David Padgett
TEAM FIVE:
Mantas Kalnietis
Jamar Butler
Brandon Rush
Kyle Weaver
Joe Crawford
Ryan Anderson
James Gist
Luc Richard Mbah A Moute
Sasha Kaun
Peja Samardziski
C.J. Giles
TEAM SIX:
Anton Ponkrashov
Sean Singletary
Joe Alexander
Wayne Ellington
Mark Tyndale
Davon Jefferson
Josh Duncan
Derrick Caracter
DeVon Hardin
Maarty Leunen