If you've been reading DraftExpress for the past few years, there's a good chance you've come across one of our measurements analyses from the Nike Skills Academies, the Portsmouth Invitational Tournament, the Treviso EuroCamp, or the NBA Draft Combine. Every year we pour another five to seven hundred observations from those events into our already massive database in an effort to maintain an archive of all official prospect measurements we can get our hands on. We also calculate positional averages based on draft position, to facilitate comparing the measurements and testing results of current prospects to those of established NBA players, before authoring articles playing off those norms and the breadth of historical comparisons we can make.
Opinions on the importance of measurements vary greatly, as they are just a small piece of the puzzle that determines whether a player will end up being successful. Measurements are still widely anticipated both by NBA Draft fans and talent evaluators because they present a completely objective way of comparing prospects, at least in theory.
To this point, the measurements we've been able to acquire cover two key groups of players: high school prospects and players going through the draft process. At the start of every NBA season we hear about players who have grown or gained weight. Sometimes those changes are obvious, while other times they aren't.
Either way, because the measurements players post later in their careers aren't published officially en masse, we have no way of gauging how the measurements we collect hold up over time. While we are at least exposed to the occasional internally kept measurements of current NBA players, we see almost no athletic testing results, since many of the tests administered at the NBA Combine literally only exist in the pre-draft process.
For the first time, we've received measurements and athletic testing data on current pros, via the NBA D-League Elite Mini Camp, which brought in BAM for the first time to take in the sixth annual edition of the event, providing a fairly unique opportunity to analyze how the data we had already collected on those players has held up over time.
Of the 40 players invited to the event, 22 had previous official measurement data, mostly from Portsmouth or the NBA Draft Combine. The below is a look at the differentials in the measurements and athletic testing results of each of the players we have two sets of data for. Green text indicates a gain, while red text indicates a drop from their previous data, and equal signs are included to show how infrequently measurements were the same from the player's first and second measurements.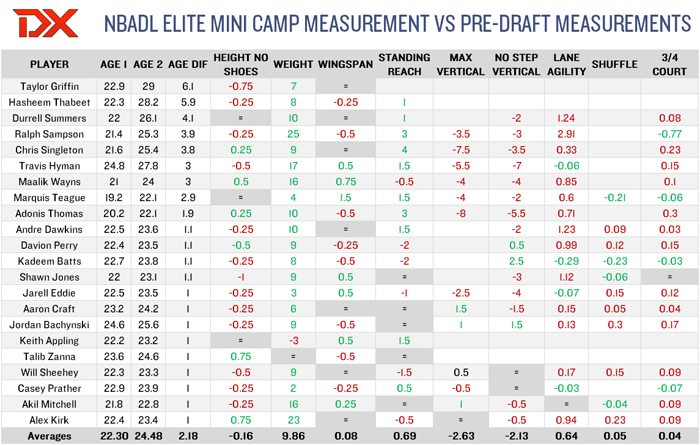 Observations
1.
The first thing that stands out about this group is the variety of positions and career histories represented, ranging from undrafted rookies to former lottery picks. Since there were 5-on-5 sessions played at the elite mini camp, this is to be expected as the organizers did a nice job balancing the invitee list.
2.
The most obvious trend to pick up on in looking at this summary is the weight these prospects gained from first time they were measured to the second. Every player but two gained weight as a pro, with 13 of the 22 players gaining 9 pounds or more since their first measurement. The need for additional weight and strength to compete at the professional level isn't a myth, so this should come as no surprise. Virtually everyone gains weight after the age of 22 as their body matures and fills out, and players typically show up to the NBA pre-draft setting in the best shape of their career after working out for weeks or months with a dedicated trainer in hopes of maximizing their draft stock. The D-League on the other hand is a physical grind with three to four games played per week and difficult travel schedules, where balanced nutrition and healthy eating aren't always feasible options.
3.
The other notable trend is the drop in athletic testing numbers on the whole. Some players saw more significant drops than others and on average players were only marginally slower in the shuffle and 3/4 court sprint than they were the first time they were tested. One could assume that this is due to the fact that some of the players have lost a half a step, but the more likely culprit is the fact that unlike the first time the players took these tests in the pre-draft process, none of them were actively training to perform in these tests. A lot of lip service is paid to the results of the NBA Combine's athletic testing, and while the tests do shed some light on the just how athletic these prospects are, the fact of the matter is that many of these players train specifically for each test during those two months and never attempt another lane agility drill the rest of their lives. There's an element of intrigue in seeing just how explosive some of the world's best athletes are on paper, but the possibility of drawing any significant conclusions from the agility tests and many of these player's leaping results is not always a realistic expectation.
4.
One other interesting trend is the huge gains a few players enjoyed in their standing reaches. Considering those gains came with significant drops in the vertical leaps and no discernable change in their height or wingspan, it makes one wonder if they sand-bagged the standing reach test during the pre-draft process in order to improve their maximum vertical reach mark, since their reach creates the baseline for that test. Perhaps more attention needs to be paid to this element of the athletic testing?
5.
Another point of interest is just how few players posted the same mark twice in terms of the height and wingspan measurements. Over the years our database has grown to the point where a change of a quarter or a half an inch can lead to a player falling into an entirely different group of comparisons on the margins of certain positions. It sometimes seems like every little bit matters when it comes to how players grade out size wise, and while 6'6 sounds better than 6'5.75, the fact of the matter is that these measurements aren't entirely consistent day to day let alone year to year and need to be taken with a grain of salt. Just like with every statistic, there is a huge amount of variance that goes into every test, to the point that we almost might be better off setting a margin of error into the output.
Player Observations
While these measurements were particularly interesting to us for comparison purposes, a number of players also turned in performances which we feel warrant mention.
-
Taylor Griffin
may be better known as
Blake Griffin
's brother, but he's put together a long career in the D-league since being drafted by the Suns and is a tremendous athlete in his own right. At 238 pounds and age 29, he registered a 35.5 inch max vertical jump. Ironically, that's the same mark his younger brother leapt at the 2009 NBA Draft Combine.
-
Hasheem Thabeet
didn't do vertical jump testing at the combine in 2009, electing not to, likely in fear of not testing well. While he got drafted 2nd overall regardless, we finally found out six years later what he might have done. He posted a 34 inch max vertical leap in Chicago, which allowed him to touch a mark 12'4 off the ground, the 3rd highest mark ever achieved in our database behind only
D.J. Stephens
and Shaquille O'Neal. Thabeet hasn't played in the NBA since his stint with Oklahoma City last season, but he averaged 4.5 blocks per-40 minutes for Grand Rapids in the D-League this year and clearly retains much of his athleticism at age 28.
-
Jarvis Threatt
was the only draft eligible player in attendance. His 43 inch max vertical sets the pace for the prospects at the 2015 NBA Draft Combine. Threatt is an explosive player at the point guard position who will certainly get looks in the 2nd round after a very strong season.
-
Kadeem Batts
earns mention here for being the only player to improve his marks from the pre-draft process across the board.