Even with one of their star players--
Andrei Kirilenko
--struggling to live up to expectations, the Utah Jazz were able to build off of last seasons strong finish to claim a spot near the top of the Western Conference. No one could have anticipated how ready the rest of the Utah roster was to step up and perform without Kirilenko stuffing the stat sheet every night. For example,
Deron Williams
solidified his reputation as one of the top point guards in the NBA,
Mehmet Okur
garnered All-Star recognition in the post, and
Carlos Boozer
has shaken off injuries and questions of character to be considered a fringe Most Valuable Player candidate.
Head Coach
Jerry Sloan
has done an outstanding job developing his players, and has really gotten the most of out of his roster. If Kirilenko can somehow regain his All-Star form moving forward in the playoffs, the Jazz could surprise a lot of people. The Jazz have nearly their entire rotation locked up for the next three years, so the core of this team won't be going anywhere for quite a while.
Roster and Financial Breakdown: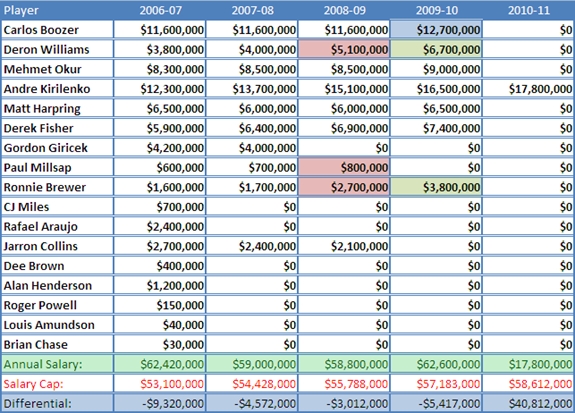 (Salary Cap projections were created taking the average increase over the past 5 seasons)
Record/ Overview:
43-20, 1st place Northwest Division, 4th seed Western Conference
When taking an in-depth look at Utah's team statistics from this season and last, it is easy to see why they have been so successful. The team has clearly improved its offensive efficiency, averaging nearly 10 points per game more this season. A large portion of this increase can be attributed to the development of
Deron Williams
. Williams has upped his scoring average by nearly 7 points, but it has been his ability to find open teammates and distribute the basketball that has helped take the Jazz to the next level.
While Williams has been more effective as a table-setter, credit must also be given to his teammates for knocking down their open looks. Veteran swingmen Der
rick Fisher
and
Matt Harpring
are notorious for knocking down their open looks, and they have been doing the little things the help this team win. Utah's interior players have also done their fair share of scoring this season.
Carlos Boozer
has been extremely aggressive from the field, averaging an efficient 20 points per game. Much like Boozer, rookie
Paul Millsap
, has shot over 50% from the floor, and has provided
Jerry Sloan
with valuable minutes off the bench.
While there are a lot of good things to say about the Jazz, there are still a number of holes that they could fill. The team is not as good defensively as it was last season, and an upgrade at shooting guard would give
Jerry Sloan
the flexibility to bring Der
rick Fisher
off the bench. These players may be present on the roster already however, as rookie
Ronnie Brewer
proved a quick learner by Sloan standards, and earned some minutes late in the year. C.J. Miles is another young prospect who showed enough during preseason and at times during the year to warrant a longer look.
Depth isn't a pressing concern for Utah, but it wouldn't hurt for them to add another legitimate center, though it should be noted that
Rafael Araujo
's homecoming has helped him to regain some confidence and gave the team quality minutes during the second half of the season. Fortunately, the team may have enough flexibility to address those holes before their core players hit free agency.
Current Assets:
There are a number of tradable players on the Jazz roster that the team could use to address any needs, but their recent success may deter them from doing so. There is some quality youth on this team that has been well-coached, even if they're under the radar from lack of playing time. Utah also has some key veterans at its disposal, which may be useful if the team decides that it must move pieces in order to change some unfavorable dynamics. The Jazz also have some draft picks stockpiled, including a protected future first-rounder owed to them by the Knicks.
Expiring Contracts:
The Jazz have five players expiring at the end of this season, but none of their contracts exceed 2.5 million dollars. Each player would have had some residual value had the Jazz decided to trade them, but it is entirely possible that the team could not find many suitors.
Rafael Araujo
, who has been a major disappointment to date, will be a free agent at the end of the season. The Jazz may consider bringing him back if he is willing to take a major pay cut. Araujo will probably never live up to his draft status, but he seemed to be re-invigorated by his home town return. Araujo is more naturally skilled than incumbent
Jarron Collins
, so it the team feels there's good value in bringing him back to build off of his late season "surge," there may be a future for him in Utah.
The two players with expiring contracts on the Jazz with the most residual value were C.J. Miles and
Dee Brown
. Miles, who is only two years removed from his high school graduation, spent some time in the D-League this season, and showed some improvement in his game. He fell into a shooting slump early this season after it appeared he was poised to have a solid year.
Brown, on the other hand, has struggled to see the floor. However, he's had his moments and certainly earned his roster spot through hard work and a positive attitude. As
Derek Fisher
ages, Brown could develop into an apt replacement if the money is right and the team takes the long view.
Total Cost: $4,797,219
Rotation Players:
If there is one thing the Jazz definitely have going for them, it's the fact that they have nearly their entire rotation locked up until the 2010 season. All four of
Carlos Boozer
,
Mehmet Okur
, Der
rick Fisher
, and
Matt Harpring
should be locked up for the next three seasons with Okur and Boozer holding player options for that final year.
Andrei Kirilenko
's contract runs through 2011 at a rate of around 15 million dollar per year, so his recent struggles are troublesome.
Expect Kirilenko to come back next season inspired to return to the form that made him one of the league's most formidable defenders. Kirilenko put time into his game last offseason, but apparently was focused on the wrong skills. Better communication and game planning by both parties is going to be needed to figure out where the disconnect is.
Carlos Boozer
and
Mehmet Okur
are playing under big contracts, but their production has been right on par with expectations. It wouldn't seem reasonable for either player to opt out at the end of the 2009 season because of the relative size of their contracts, so both players will have quite a bit of trade value going into the final year of their deals if the team felt it needed a change. Okur and Boozer will be 31 and 29 respectively when their deals expire, so the Jazz will likely look to resign them both unless they begin to decline unexpectedly.
The Jazz are paying top dollar for Der
rick Fisher
and
Matt Harpring
, but the leadership and veteran presence they provide is hard to question. While the duo isn't getting any younger, their production hasn't dropped off over the years, and if they are still producing at the end of their deals, it is possible both may be kept around, even if they're role is simply to be a presence off the bench and in the locker room. Both players have a future in the league wearing a suit and holding a clipboard.
Jarron Collins
and Gordon Giricek round out the Utah rotation, and while neither is a stellar player, their contracts are rather cap friendly. Giricek is due 4 million dollars next year when his deal expires. It is entirely possible that the Jazz will shop Giricek next season, as their need for him and his production tapered off this season. Collins will earn roughly two million dollar in each of the next two seasons. His contract is actually quite reasonable for a near 7-footer who can provide six fouls of the bench.
Total Cost: $51,441,384
Prospects:
The Jazz have four legitimate prospects on their roster:
Deron Williams
,
Paul Millsap
, C.J. Miles and
Ronnie Brewer
. Williams has been playing out of his mind this season and will command a pricy extension before he becomes a restricted free agent in 2010. The Jazz have a couple of years before they've got to worry about an extension for Williams however, and the current payroll projections sync up nicely with his and Brewer's potential new deals.
Paul Millsap
has been one of the pleasant surprises of his draft class. He has played extremely well given the expectations people had for him. The Jazz will almost certainly exercise the team option they have on him for the 2008-2009 season, and the Jazz should offer him a reasonable extension during or after that season.
Ronnie Brewer
hasn't really had the chance to put his skills on display this season, which isn't surprising considering how
Jerry Sloan
operates. Brewer will have to prove that he deserves to be on the floor before Sloan will give him minutes. Brewer is under the typical first rounder contract, so he won't be going anywhere for quite some time.
Miles is a more interesting case. The preps-to-pros wing has shown enough flashes of high level play that it is probable that he'll develop into a rotation level player at the least. Miles has good length and was coming on to some degree during summer league and preseason play, to the point where the team thought he may be a rotation player this season.
With
Matt Harpring
and
Derek Fisher
aging, there will be a need for younger players at the wing and at the point. The versatility of Brewer and
Dee Brown
should enable all three of these players, including Miles, to find roles on the future of this Jazz team. Gordon Giricek's imminent departure only further opens up time at the swing.
The NBA is all about the newest thing around the corner, but Miles and
Dee Brown
shouldn't cost much to retain and it's easy to project this trio taking over for Harpring, Fisher, and Giricek going forward. At the least, re-signing both players at this time would be extremely cost-effective and either could be moved in a heartbeat at the price they'll be slotted at. Worst case scenario, both players serve as filler to even out the money in a future trade. There are worse players to be had at similar money who occupy benches all around the league.
Total Cost: $5,969,440
Free Agency:
The Jazz have seen a decent amount of success bringing in free agents over the last few years. While the team will not have the cap space to make a major signing this offseason, the team could still be in the market for a number of players at the exception slots.
If the Jazz decide that they want
Derek Fisher
to come off the bench, they won't have an easy time finding a starting caliber shooting guard from outside.
Matt Barnes
could be available, but his contract demands may be too expensive.
Desmond Mason
,
Morris Peterson
,
James Posey
and
Jason Kapono
will also be on the market, but they may be tempted to stick with their current teams or follow the money to a team with cap space. The Jazz may opt to address their need at swingman in the draft, where there should be some solid prospects available.
The Jazz may target their low-level exception at a veteran post player. Possibilities include
Dale Davis
and
Austin Croshere
. The Jazz don't have a lot of holes to address, or a lot of money to spend. The highlight of their offseason will probably be the draft.
Draft:
The Jazz have both their first and second round selection in the upcoming draft, and could be looking to add depth in both the frontcourt and backcourt. Whoever the Jazz select likely won't be looked to for a major contribution right away, which isn't necessarily a bad thing. If
Ronnie Brewer
contributes next season, then it would be surprising to see the Jazz play any wing rookie next season.
The Jazz's pick is likely to be in the 20's, where there should be quite a few intriguing prospects available. If Utah wants someone that will earn minutes immediately like
Paul Millsap
,
Alando Tucker
of Wisconsin,
Aaron Gray
of Pitt, Aaron Afflalo of UCLA, and
Nick Fazekas
of Nevada could all be available. If it's a system player Coach Sloan demands, Boston College's
Jared Dudley
could be attractive since he played in a similar flex offense to what the Jazz typically run.
If the Jazz are looking for both a post and a swingman, they may select a player from the opposite position in the second.
Russell Carter
of Notre Dame would be a very solid pick is available, as would
Ron Lewis
of Ohio State or
Ivan Radenovic
of Arizona. For a team like the Jazz, their selections are entirely dependant on who is available come draft day. Since they are picking late for the first time in quite a while, they probably will be looking to select the best player available since they don't have any glaring holes that need immediate attention. If that's the strategy, they could afford to gamble on a project such as
Ante Tomic
or
Thaddeus Young
and hope he pans out when they need him in 2-3 years.