The Kings suffered through their worst season since the inception of the "Maloof Era" began. Second year head coach Eric Musselman's off-court troubles were an apt reflection of the team's general direction, as the team seemed to wander aimlessly all season long.
Two season's removed from an enticing series against the Spurs, Sacramento stalwart's
Mike Bibby
and
Brad Miller
had their worst season's since putting on a King uniform. Neither looked interested in playing winning basketball, which is somewhat understandable given the length of time they've been with the club and the palpable sense of decay the team has gone through during their watch.
Going forward, the Kings are going to have to utilize their few remaining assets to facilitate a quick transition toward a new direction. The team is strapped with some tough to move contracts tied to aging players who have little market value. Getting value for their few desirable commodities seems to be the only way the club is going be able to turn things around in a 2-3 year time frame.
Roster and Financial Breakdown: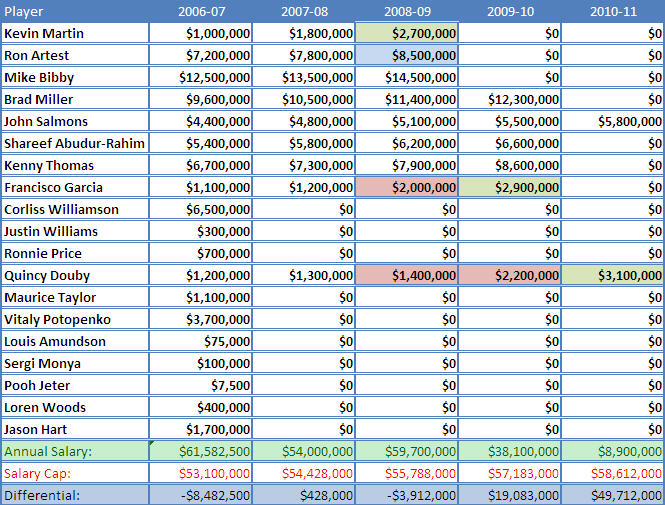 [c]Salary cap figures derived from the average increase over the past 5 seasons[/c]
Efficiency: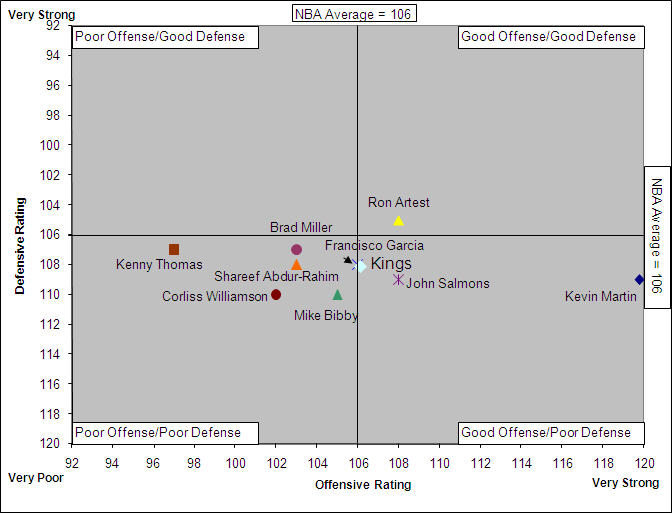 [c]courtesy of Paul Gearan and Heather Allen[/c]
Usage: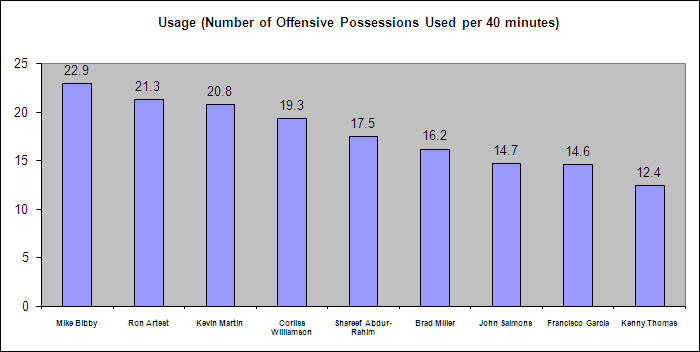 [c]courtesy of Paul Gearan and Heather Allen[/c]
Record/ Overview:
32-49, 5th place Pacific Division
Sacramento may have taken a sharp turn for the worse when it let coach
Rick Adelman
go. Adelman's offensive sets and defined rotation worked well for the Kings and brought them to the brink of championship success. Team roster changes disrupted the personnel mix necessary to effectively run Adelman's offense and the team needed a change of direction.
There were issued involved in the decision that go beyond pure basketball strategy and both parties were amenable to moving on, which was most likely best. Sacramento had a sustained run of success and needed to re-invent itself.
Unfortunately, the team committed substantial dollars to the contracts of role players who were meant to complement a different set of players. Shareef Abur-Rahim and
Kenny Thomas
almost completely fell off the map last season, while
Brad Miller
battled all kinds of aches and pains himself.
Kevin Martin
was the lone bright spot for the club as he continued his development into a top-level scoring guard.
Ron Artest
had a good statistical year, but rumblings of difficulties and potential trade rumors followed him around all season and have continued into the offseason.
Overall, the Kings are a collection of ill-fitting parts who have to re-build their team identity one personnel decision at a time. The 10th pick in the draft should help this process, if the team picks wisely, and should contribute to a foundation going forward.
Current Assets:
The Kings do have a few nice young assets that can contribute to the team's future going forward and there is still value in a couple of their key veterans. What the Kings can get back in return for these veterans will go a long way toward determining how quickly the new face of the team emerges.
Expiring Contracts-
The Kings don't have any expiring contracts coming off the books next season. The team shed 10 million in salary this past year, but is still nowhere close to being able to acquire an impact free agent.
Geoff Petrie
will have to work some of the old black magic if he hopes to add a major player.
Total Cost: $0
Rotation Players-
Kevin Martin
was the team's most consistent performer, played more games than anyone but
Mike Bibby
, and represents the team's future moving forward. Martin should be expecting a contract offer this offseason as he's got one more year left on his current rookie deal.
The Kings may be willing to sit back another year however and address some of their other issues since they've got the right to match any offer for Martin and probably won't get much of a "discount" from Martin's camp due to the team's instability.
Veteran guard
Mike Bibby
shot terribly all year and really looked disinterested in playing the game, despite professions to the contrary. Is the longest tenured King and has watched the team erode over the past 3 seasons, so its understandable if a change of scenery is in order.
Bibby is still young enough to garner some decent return value should he decide to opt out of his contract and accept a sign-and-trade to another team. Most expect Bibby to play out his contract because of it's unlikely he'd receive close to his current contract price on the open market.
However, if Bibby is interested in winning anytime soon and being a major part of the picture, he'd best be served opting out and moving on to the next stage in his career. When focused, Bibby can provide big-time scoring and solid playmaking for a team looking for a perimeter threat.
Ron Artest
is another veteran asset who might best be served by moving down the road. Artest seems to be the type of player that just can't exist in a normal environment. His quirky personality is designed for a city like LA or NY, where fans may be more understanding of his litany of odd statements and behavior.
Neither Bibby or Artest are going to fetch an established star in return, but they could add some quality young talent and possibly a draft pick. New York would probably part with
Channing Frye
and their draft pick for Artest, considering that Sacramento would have to take on another undesirable contract to make it work. The deal isn't world-beating, but Frye has potential as a 3rd scoring option and would probably be an apt replacement for the declining Miller.
Brad Miller
really looked poor last season and all the years of playing himself into shape and burning through his summers back home may have finally caught up with him. Miller is one of the most highly skilled big men in the league, but he showed no desire last season and mailed it in on the defensive end and with his rebounding even more than expected.
No one will trade for Miller at his current contract price and the Kings might have to buy him out if he doesn't want to serve as a mentor for the incoming youth.
Shareef Abdur-Rahim
should be better than he was last season. He didn't have much of a role offensively and was a good soldier about being cycled out of Musselman's system. Rahim didn't complain too vehemently and could play a role as the team's veteran forward either off the bench or as the starter, but the team has to get more from him if they entertain any ideas of trading him for value.
Kenny Thomas
and
John Salmons
are in a similar boat as Abdur-Rahim. Both have some solid skills, but underperformed relative to their contract value. The Kings are going to need a stable system and solid production from all of these players if they're going to move any of them.
Total Cost: $50,685,000
Prospects-
Francisco Garcia
got the most playing time of any of the team's young prospects, but didn't do enough to be considered a trade asset. Garcia looks like he'll eventually be a solid rotation player, but it's still uncertain if he's got enough to become a quality starter. Freeing up some roster space to get him more playing time should make this clear by the end of next season.
Quincy Douby
is another interesting player who doesn't have world-beating ability, but showed flashes of developing into a scoring threat. Douby can shoot off the dribble and can get a quality shot off at some difficult angles.
Kevin Martin
is a very good teammate for him to emulate, though no one expects him to reach that level. Douby has no trade value, but should get some more playing time next season to show what he's learned from year one to year two.
Justin Williams
is a very interesting prospect who may be a little off the radar for most. Williams per-minute statistics were pretty impressive and anyone who saw him play during the pre-draft process and into summer league should be aware at how superb an interior help defender he can be.
Williams has a ton of work to do on his bodily strength, but he's shown flashes of hitting the 10-12 foot jumper and can rebound and block shots at an NBA level. In another couple of season Williams may have built himself into a solid rotational big who can provide defensive help off the bench for a team.
For the second year in a row,
Ronnie Price
showed enough in the summer league to earn a roster spot only to be cycled out of the rotation during the regular season. Price is a scoring guard all the way and it'll be hard for him to take minutes away from Douby, Garcia, and Martin.
Total Cost: $3,282,874
Free Agency
The Kings aren't going to be a player in free agency for a while. They are over-commited financially to a number of mid-level type talents so adding another doesn't seem likely and certainly isn't a prudent business decision for a team looking to re-shuffle the deck.
Draft
The Kings have a number of options at with the 10th pick in the draft. There should be a number of potential impact players still available at that position.
Al Thornton
, Thadeus Young, and even
Jeff Green
could all slide to Sacramento any either could potentially replace
Ron Artest
if the team was so inclined to move him.
Amongst the bigs,
Spencer Hawes
and
Jason Smith
are considerations. Both would be an apt replacement for
Brad Miller
before Miller's killer contract expires. Hawes has a ton of potential as a low/high post player and could quickly develop on a team like Sacramento who has perimeter shooting and a willingness to allow young players to play.
There are a couple of point guard options available that could help the team as well, notably Law and Crittenton. Both players are sure to be available at the 10th spot and either could fill the void left by a departed
Mike Bibby
.