Last offseason brought Portland's rebuilding process full-circle, and their initial season with their current group of players featured numerous signs of progress for the recently struggling franchise.
Brandon Roy
lived up to his advanced billing, and ran away with the Rookie of the Year Award, while
LaMarcus Aldridge
showed enough promise to warrant consideration for the accolade as well. Unfortunately, Portland's roster didn't have the experience or polish to make a run at the playoffs.
This past season may not have turned out perfectly in Portland, but things took a swift turn for the better when the team ascended to the top of the lottery to win the first overall selection. With that stroke of luck, the Trailblazers expedited their rebuilding process more than they could ever have anticipated. Adding a franchise cornerstone like
Greg Oden
will give the club a chance to win on a nightly basis. While Oden's selection is essentially set in stone, Portland could be extremely active on draft day given that they have four selections in the second round.
Roster and Financial Breakdown: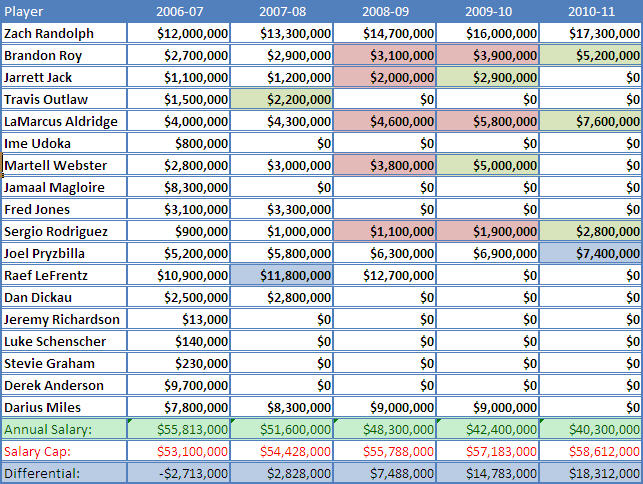 Efficiency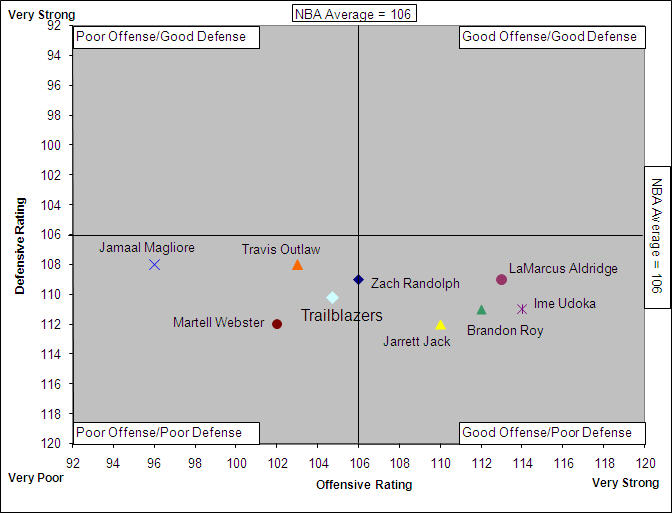 Usage: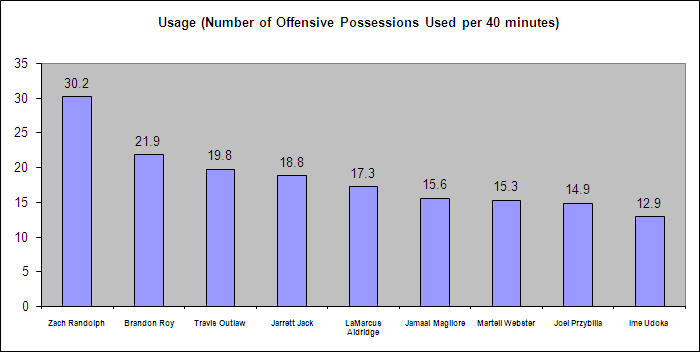 Record/ Overview:
32-50, 3rd place Northwest Division
The Trailblazers have some bad contracts on their books, but they are in position to be shedding them at the right time. While that time won't be until 2009, Portland will need to continue setting the foundation of what promises to be an extremely talented group of young players. As it stands right now, the Trailblazers will be adding a franchise player through the draft, and should the opportunity to surround him with great complementary talent when he will be hitting his stride.
Current Assets:
The Trailblazers have a number of assets that they could trade to add pieces to help them compete in the short-term, but they are building for the long-haul and will more than likely focus their trade efforts towards the draft. The team has a handful of notable youngsters beyond their rookie class including
Jarrett Jack
,
Travis Outlaw
, and
Martell Webster
, all of whom would receive interest on the open market. However, Portland may be reluctant to part with Webster and Outlaw considering their age, and Jack won't be heading anywhere unless it is in exchange for another point guard.
The two players that Portland could look to deal are
Dan Dickau
and
Fred Jones
, who will both see their contracts expire at the end of next season. Neither player would return the Trailblazers a huge dividend, but they could provide the team with greater cap relief in 2009. If the two aren't dealt for future cap space, they could also be packaged with one or more of Portland's second round draft selections to allow the team to move back into the first round.
Expiring Contracts:
Portland saw some of their past mistakes come off the books when the season ended, and will reap the rewards in the form of almost $20 million in cap relief. Moving forward, the Trailblazers probably won't be in a hurry to retain any of their pending free agents outside of
Ime Udoka
, who performed admirably in the absence of
Darius Miles
.
The two most important contracts that the team will shed this offseason are those of
Derek Anderson
and
Jamaal Magloire
. While Anderson's contract didn't count towards the luxury tax due to the amnesty provision, General Manager
Kevin Pritchard
will rest better knowing he won't have it hanging over his head next season. Magloire never lived up to expectations in Portland, and is the odd man out amongst the Trailblazers' overpaid big men.
The only other notable contract Portland will see expire is that of
Travis Outlaw
. In the last year of his rookie contract, Outlaw showed marked improvement in his game. The lanky small forward should find some suitors in restricted free agency, but questions about his jump shot and basketball IQ will probably keep him in Portland's price range. If Outlaw is resigned, the club could let
Ime Udoka
walk. His status as an unrestricted free agent may drive his price up enough to deter the team from retaining him if they have already invested in Outlaw.
Total Cost: $23,272,203
Rotation Players:
Portland's unreal amount of young potential didn't go a long way towards winning games this season. However, the club has a better rotation than it showed, and will only see it get stronger with the addition of
Greg Oden
.
Zach Randolph
posed as the team's franchise player this season, averaging a double-double and looking very good carrying the team's scoring load. Interest in Randolph has come to a head this offseason, but don't expect him to be going anywhere for anything less than a potential franchise point guard. He should mesh well with Oden, making him that much more attractive to keep around until the end of his contract in 2011.
Joining Randolph down low were Portland's two overpaid centers,
Raef LaFrentz
and Joel Pryzbilla. If nothing more, the pair will spell Oden with six fouls a piece and alleviate the young center's potential issues with foul trouble until their contracts expire in 2009 and 2010 respectively. Don't look for either player to be retained after they come off the books.
The forgotten member of Portland's roster,
Darius Miles
, missed the entire season after undergoing right knee surgery. While Miles may not return to form athletically, he will be a welcome addition to the Trailblazers questionable frontcourt. That's if he doesn't decide to retire, which will be terrific for Portland since his contract will come off the books as far as the salary cap is concerned. His contract may be a bit pricy, but he was finally starting to come around before he got hurt, even if the Portland might not want his terrible attitude back.
On the perimeter, Portland featured three players:
Jarrett Jack
,
Fred Jones
and
Dan Dickau
. Jack provided quality minutes at point guard all season, but could be dispatched in favor of a more dynamic player should Portland choose to explore than avenue this offseason. What Jack lacks in explosiveness, he makes up for in court savvy. The fact that he makes players around him better should get his option for next season picked up and could keep him in Portland when he becomes a restricted free agent in 2010. Dickau and Jones failed to impress, and will spend one more season with the team at the most.
Total Cost: $43,488,215
Prospects:
Portland has a bevy of young players, four of which they acquired in last year's draft.
LaMarcus Aldridge
and
Brandon Roy
played well as rookies, and will help form a truly exciting young nucleus alongside
Greg Oden
. Look for both players to be retained in 2010 when they will be restricted free agents.
Sergio Rodriguez
played very well off the bench as a rookie, and could make
Jarrett Jack
expendable if he improves his jumpshot and the club acquires another starting point guard this offseason. As a first round selection, Rodriguez will enjoy a few more seasons of development before becoming a restricted free agent. Portland's last 2006 draft pick,
Joel Freeland
, spent the season overseas and looked underwhelming, making his immediate future with the team unclear.
Rounding out Portland's group of prospects is former lottery pick
Martell Webster
. While Webster struggled to string together good games, he put up the occasional ridiculous stat-line. If Webster can improve the consistency of his focus-level and learn to create offense for himself, he could become a very good compliment to
Brandon Roy
on the outside. There are some serious question marks about that, though.
Total Cost: $10,249,360
Free Agency:
Portland probably won't be too active in free agency this offseason in anticipation of their spending spree in 2009. After making a decision between
Travis Outlaw
and
Ime Udoka
, the club may be one of the few teams not inclined to use their exceptions. Their depth chart is rather set in stone at this point, and they don't have the cap space to add a legitimate contributor. The team may go after another point guard like
Travis Diener
, or make a play at another restricted free agent, but will probably be more inclined to build around their already outstanding nucleus.
Draft:
Portland will make
Greg Oden
the first overall draft pick tonight, but won't spend much time celebrating.
Kevin Pritchard
will be working the phones all night, and will probably field a handful of offers for
Jarrett Jack
,
Zach Randolph
, and his stable of second-round picks. Should Pritchard choose to grab another first round selection, he will probably be looking to target
Morris Almond
or
Nick Young
, depending on how high the pick is. Both players would mesh well in Portland, especially Almond.
In the second round, Portland will be extremely busy. The team owns the 37th, 42nd, 52nd, and 53rd selections. Some of the team's targets at their first two spots might include
Dominic McGuire
,
Demetris Nichols
,
Ramon Sessions
,
Alando Tucker
,
D.J. Strawberry
and
Reyshawn Terry
. Barring an extremely probable trade, Portland will probably look to draft a European player at 52 and 53, and will look in the direction of
Yannick Bokolo
,
Zoran Erceg
,
Giorgos Printezis
and
Ali Traore
.
Renaldas Seibutis
is another possible candidate, and he and
Joao Gomes
or any of the Europeans listed above will come into play if Portland actually uses its first four selections. With a bevy of positions to choose from, Portland will come out of this draft with a new franchise player and a boatload of depth at the minimum.