The 76ers were forced to bring their rebuilding strategy full circle when they dealt disgruntled superstar
Allen Iverson
to the Denver Nuggets. While Andre Igoudala and
Andre Miller
were able to guide the team to a surprisingly respectable record without Iverson, there is no question that Philadelphia will need to make some changes moving forward. With very little in the way of cap space this offseason, the franchise will still have the opportunity to add some value with their three first round draft picks. The Sixers will have ample cap space next summer, and have the potential to turn things around as soon as the 2009. Next season's team will encounter some inevitable growing pains, but the experience Philadelphia's young nucleus will gain could pay significant dividends in the long-run.
Roster and Financial Breakdown: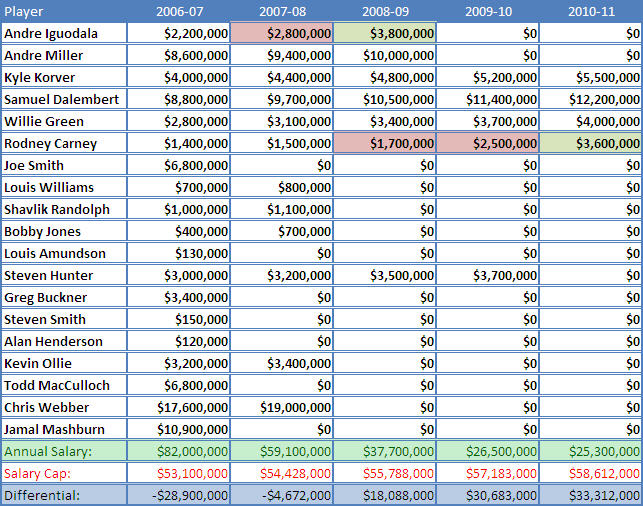 [c](Salary Cap projections were created taking the average increase over the past 5 seasons)[/c]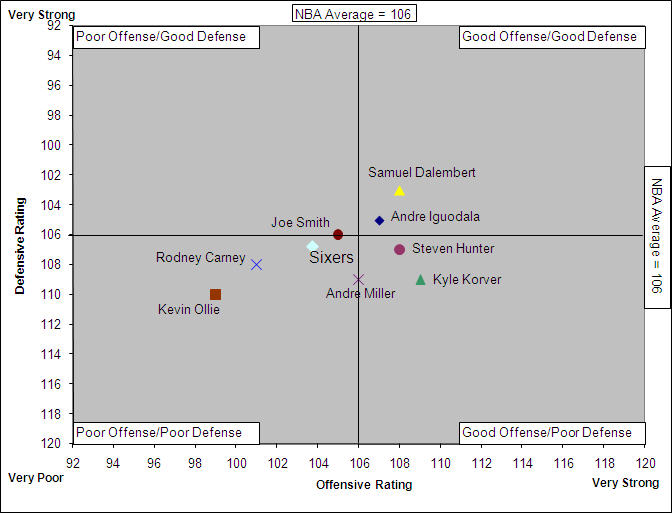 [c]courtesy of Paul Gearan and Heather Allen[/c]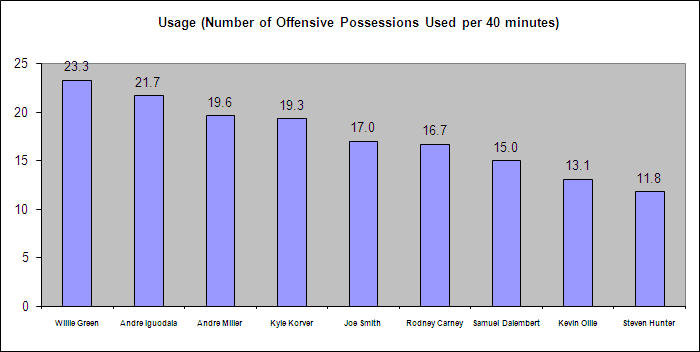 [c]courtesy of Paul Gearan and Heather Allen[/c]
Record/ Overview:
35-47, 3rd place Atlantic Division, 5.0 GB
The Denver Nuggets offer of
Andre Miller
,
Joe Smith
and two 2007 first round picks may not have been the best package offered to the 76ers for
Allen Iverson
, but it was the one that fit the best into General Manager Billy King's rebuilding plan. Miller's pass first mentality fit in perfectly on a team looking to develop their prospects. The biggest beneficiary of Miller's talents was Andre Igoudala, who became a legitimate threat to drop 20 points almost every night. While he still lacks consistency, Igoudala will have the chance to blossom in due time along with young big man
Samuel Dalembert
and the explosive duo of
Willie Green
and
Rodney Carney
.
Current Assets:
Philadelphia has some current assets that could get them some immediate help on the open market, but most of their players of value are also part of their long-term rebuilding plans.
Andre Igoudala could certainly help land the club the starting caliber power forward they desire, but he is the most productive player on their roster.
Rodney Carney
could fetch some interest from other teams, but his game still has a ways to go before he'd be able to return the 76ers a legitimate post threat.
Philadelphia will also have a handful of contracts expiring at the end of next season, including the $3.4M deal of
Kevin Ollie
. It wouldn't be surprising to see Philadelphia try to trade the veteran point guard this offseason to make room on the roster for more young talent. A player who could potentially replace Ollie is fellow 2008 free agent
Louis Williams
. Williams has had a tough time adjusting to the NBA game, but could be part of Philadelphia's full-fledged youth movement. Pivot
Shavlik Randolph
will also come off the books, but the 76ers may be too thin down low to consider parting with him. Given their investment in this draft, Philadelphia may be tempted to open up some minutes for their incoming rookies, but not at the expense of their pocketbook.
Expiring Contracts
The 76ers will shed quite a bit of dead weight off their payroll this offseason, but won't be in position to move under the salary cap just yet. The two contracts that the team is probably most happy to see expire are those of
Todd MacCulloch
and
Jamal Mashburn
. The pair took up a combined $17M of cap space this season, which is higher than the combined total of the two highest players that are actually on Philadelphia's roster. Overall, roughly 45% of the 76ers' payroll is dedicated to players who are no longer with the team. Fortunately for Philadelphia, the franchise will see all of these expensive deals come off the books by next offseason.
The 76ers have a few other contracts expiring, but no one who they will be in a hurry to keep around. Their most notable player looking to hit the free agent market this offseason is
Joe Smith
. While he didn't light the world on fire, Smith plays a position where the 76ers lack depth and played surprising well at the end of the season. If he wants to return to Philadelphia, he'll have to take a substantial pay cut.
Total Cost: $28,088,579
Rotation Players
Philadelphia's rotation is slightly below average by NBA standards, lacks depth, and has a gaping hole at power forward. On a more positive note, their starting backcourt is extremely solid. At point guard,
Andre Miller
has proven time and time again that he is one of the best distributors in the NBA. While he isn't going to take over a game with his scoring, he legitimately makes the players around him better. Philadelphia may try to resign him to a contract substantially below the one he is playing under right now when his contract expires in 2009, but that is largely dependant on who they can acquire in the draft.
Miller will be 33 when he hits free agency, and he may have lost a step by then, but his court savvy is far more important than his athleticism. Miller is joined in the backcourt by former Arizona Wildcat Andre Igoudala. The high-rising shooting guard made some great strides this season, and may receive a
Samuel Dalembert
-like extension as soon as this offseason. Fortunately for Philadelphia, Igoudala's extension wouldn't kick in until after the franchise goes on its big spending spree in the summer of 2008.
In the post, Philadelphia features only two veteran players. Centers
Samuel Dalembert
and
Steven Hunter
both showed improvement this season, and are playing in the early years of their lengthy contracts. Considering their ages and relative prices, both could remain with the team when their contracts expire in 2011 and 2010 respectively. On the other hand, Dalembert's deal could be a hugely valuable bargaining piece in the 2010 offseason.
The 76ers only rotate three other players with legitimate experience, both of whom play out on the perimeter.
Willie Green
came on strong this season, and provided solid minutes off the bench and as a starter. His contract is extremely affordable, and he could bring scoring punch off the bench for a playoff team looking for depth. Similarly,
Kyle Korver
will become a free agent in 2011, but he's become one of the league's best pure shooters and would be extremely hard to let go. Point guard
Kevin Ollie
is a strong candidate to have his oversized contract traded this summer, given his contract's pending expiration and his lack of production.
Total Cost: $32,656,382
Prospects
Head Coach
Maurice Cheeks
will be looking at an extremely young roster once again next season, and will look to some of his current prospects to step up with a number of rookies playing behind them. Two of the most likely candidates to see increased minutes are
Rodney Carney
and
Shavlik Randolph
. Carney may have to battle the 76ers' top draft selection for minutes, but he should garner some available playing time. If his shot becomes more consistent and he continues adjusting to the NBA, he could be due a big raise when he becomes a restricted free agent in 2010. Randolph will see his playing time increase solely due to Philadelphia's lack of depth down low. After missing most of the season with a broken ankle, Randolph may need to earn his minutes in training camp. He could be retained when his contract expires in 2008 if the 76ers haven't acquired a long-term answer at power forward by then.
The 76ers have three other prospects whose futures they will revaluate at the end of next season.
Bobby Jones
had a decent rookie season, but needs to improve his offense dramatically if he wants to stay in the NBA.
Louis Williams
put up huge numbers during a stint in the NBADL, but will need to translate some of that production to the point guard spot on the NBA level.
Louis Amundson
won the NBADL Rookie of the Year Award, and could be a great hustle player for the 76ers if he can learn to stay out of foul trouble. Depending on how these players perform, each of them will have a legitimate shot at staying with the team.
Total Cost: $3,703,465
Free Agency
Philadelphia will be over the cap this offseason, so they will only have their Mid-Level Exception to work with. With that being said, they may be reluctant to use it considering how much more they stand to gain by saving that money for the summer of 2008. The only way Philadelphia will get involved in the market is if there is a solid young power forward available at a bargain.
Amir Johnson
would be a prime candidate for the Sixers, as he would most likely only cost a fraction of the Mid-Level. Detroit may be keen on re-signing Johnson so it may not be feasible. However, the 76ers may choose to overlook the free agent market on the whole to focus all of their attentions towards this year's draft.
Draft
Philadelphia will have a total of four selections in this year's draft, including three in the first round. The 76ers have so many needs and will have multiple options available to them at each pick. With their first selection, the 12th overall, it has been speculated that the club will target the best forward available. The strongest candidates to be selected at this spot would be
Thaddeus Young
,
Jeff Green
, and
Al Thornton
. The team could also select the best pure power forward available which would probably mean choosing between Yi Jialian if he falls or
Josh McRoberts
if he works out well. Look for this pick to come as a surprise as the 76ers will be carefully evaluating who will be available at their other selections.
With their second selection, the 20th overall, the Sixers will reap the benefits of the
Allen Iverson
trade. Depending on who they pick at 12, the 76ers could be in the market for a point guard, swingman, or power forward. Don't be surprised if they take the best player available, as that player would likely fill one of their needs.
Javaris Crittenton
would be a great selection if he is still available, as would
Josh McRoberts
and
Jason Smith
.
Tiago Splitter
could also come into play, and the club could very well find themselves picking a player they have targeted at 12. One player to watch out for is
Dominic McGuire
, who the 76ers could look at with either one of their late first round picks.
Ideally, the 76ers would like to have addressed the power forward spot in some respect by this point in the draft. This isn't meant to imply that they will target a pure power forward, but they should have picked someone who can handle some minutes down low at this juncture. Phildelphia's last selection in the first round is that of the Dallas Mavericks. With their 30th overall selection the 76ers should be in the market for a swingman.
Derrick Byars
would be a logical selection, as would
Morris Almond
and
DaeQuan Cook
.
Jared Dudley
may be Philadelphia's ideal selection if he shows improved consistency on his jump shot in workouts.
With their final selection of the draft, the 38th overall, Philadelphia will likely target a player that they feel can earn minutes immediately. A player like
Herbert Hill
could step in right away and handle some limited minutes down low, as could
Glen Davis
. Davis would be a great pick for Philadelphia, as he could surprise a lot of people if he commits to improving his conditioning. Other possibilities include
Alando Tucker
and
Reyshawn Terry
, depending on what needs the club has already addressed. With so many picks and potential combinations of players, draft night will be an extremely important and likely stressful one for a team who needs to make the right moves to continue accelerating their rebuilding process.