The Knicks had somewhat of a "bounce-back" year under first year head coach and current GM Isaiah Thomas. Thomas was under a tremendous amount of scrutiny this past season after squandering millions in salary with seemingly listless moves for middling talent.
Owner James Dolan doesn't appear to pay strict attention to the daily operations of the team, but he came out of the woodwork and put a "win or else" type of mandate down which prompted Thomas to take the bench himself.
No one questions that Thomas has an ego comparable to the size of the Knicks payroll, but to his credit, he got a team of disjointed parts to play fairly well during quite a few stretches of the season.
In the end however, the team failed to make the playoffs yet again, and the team continues to search for a solution to its problems via bold statements about player acquisition and a continual disregard for the salary cap system that has hamstrung this franchise for the foreseeable future.
Roster and Financial Breakdown: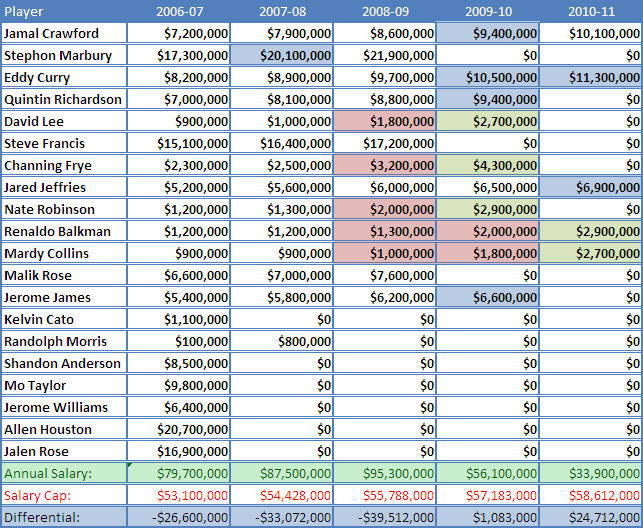 [c](Salary Cap projections were created taking the average increase over the past 5 seasons)[/c]
Efficiency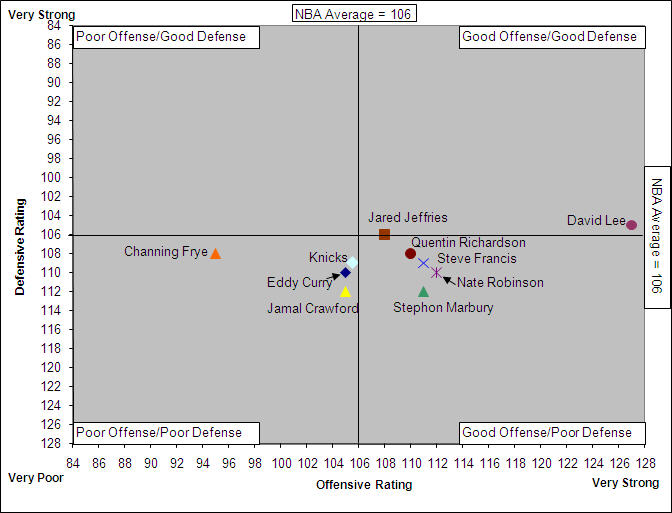 [c]courtesy of Paul Gearan and Heather Allen[/c]
Usage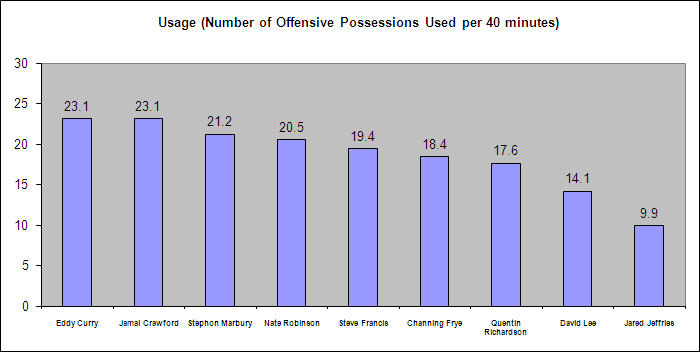 [c]courtesy of Paul Gearan and Heather Allen[/c]
Record/ Overview:
33-49, 4yh place Atlantic Division
Thomas made it his personal mission this season to get center Eddie Curry motivated and producing up to a level requisite to his talent. While Curry may never have the drive or passion to maximize his potential, he did have his best statistical season.
The Knicks were a fairly talented offensive team, but they couldn't play consistent defense and weren't efficient with their possessions in terms of turnovers and poor shot selection.
While Curry served as an offensive focal point for the team, his turnovers and lack of any semblance of court awareness continued to be one of the principle confounding elements to the Knicks attack.
Stephon Marbury
raised his level of play in the second half of the season and discovered some of the old "Starbury" magic that led him to be a dynamic individual capable of putting up numbers. However, those numbers still didn't translate into wins down the stretch and the team fell on its face when it had the chance to make a serious push for the playoffs late in the year.
Current Assets:
The Knicks youth continues to be one of the lone bright spots for this franchis, as Thomas has proven to be an astute talent evaluator despite lacking in the team building department.
David Lee
was an absolute revelation, pushing himself closer to the "
Shawn Marion
" plateau in terms of his ability to produce without having much called for him.
Renaldo Balkman
was also able to silence some of the critics that thought he was a waste of a draft pick, though his value at 20 is still subject to debate.
Expiring Contracts-
Predictably, the Knicks have no expiring contracts of any consequence going into next season and have very few short term deals of value to leverage in trade. The team does hold club options for
David Lee
,
Channing Frye
,
Nate Robinson
,
Renaldo Balkman
, and
Mardy Collins
for after the 07/08 season, but it seems unlikely they'd let any of those players walk away.
The Knicks would best be served by trying to package some of the young talent along with some of the overpriced veterans in order to facilitate a trade.
Total Cost: $0
Rotation Players-
Of all the Knicks rotation players, it was
David Lee
who was the most impressive. Ironic that Lee was also the player moved to the bench once Jared Jefferies returned to the lineup. Lee was a backboard beast all season and really brought a degree of energy to the court with him that no one else could match.
Curry turned in a number of explosive offensive games, but he turned the ball over at such an unacceptable rate, the team had to go away from him for large stretches of time. Curry is one of the most agile big men for his size, but shows no desire or intelligence on the defensive end. His rebounding and shot blocking were pathetic for a player of his size and skill, so the 30 point outbursts were tempered dramatically by his lack of command in the defensive interior.
Steve Francis
bounced back and did his best to fit into the team. His most productive days seem to be over however, as he just doesn't thrive as an off-ball contributor and his contract price makes him woefully over-priced as a 6th man. Still, Francis showed resilience in returning when everyone expected the Knicks to buy him out.
Quentin Richardson
battled health problems for much of the season, but began to rediscover his abilities in the post, something he was quite good at early in his career. Back troubles will limit any substantial trade offers for him, but Richardson could help contribute to this team next season if health permits.
Jamal Crawford
continues to show a positive attitude and a dedication toward improvement, but he is still a hit-or-miss proposition when it comes to his ability to read the court and make intelligent basketball plays. As spectacular as he is, Crawford must grasp the fundamentals of decision making before a winning team would consider him to have any value at the price he's paid.
Marbury is at something of a crossroads in his career as well. The
Larry Brown
experiment took Marbury most of the season to recover from and even when he did regain his scoring touch, it didn't translate to many wins. Marbury has always lacked the one thing a point guard needs-the ability to establish a rhythm and play with a consistent pace that others can play off of.
He wasn't a problem in the locker room and has always been fairly affable, but at this point in his career it is doubtful that he'll every contribute substantially to a winning organization.
Malik Rose
and
Jerome James
are only rotation players by virtue of their contracts, the same can practically be said about free agent acquisition Jared Jefferies. Though Jefferies played more minutes than the other two combined, none had a substantial impact on the team's wins and losses and Jefferies defensive versatility is hardly justification for his mid-level salary and meager production.
Considering the enormous contracts that each of these players has, it is doubtful any of the veterans on this team have any value on the open market.
Total Cost: $97,733,200
Prospects-
This is by far the team's greatest area of strength. The Knicks have done well with their draft picks the past few seasons and have collected an interesting group of role-players who should generate a lot of interest around the league.
The Knicks biggest dilemma will be whether or not to simply build around the youth and wait out the albatross contracts of the veterans that surround them or to trade the youth along with a contract to try and get a better veteran talent in return.
Considering the overall potential of the young players the Knicks possess it is doubtful the team will get a marquee player in return.
Channing Frye
took a step back from his explosive rookie season, but still has the best overall potential of all the Knicks youth and should be more productive on a team with more stability.
Frye has excellent shooting touch and is smart with the basketball. On a functional team with a tight rotation he should become an excellent offensive option from the high post, capable of executing plays.
Nate Robinson
has transitioned from potential point guard in the making to volatile bench scoring option for the Knicks. Robinson has abandoned the court savvy he showed early in his first season and embraced the role of designated gunner-a role a few other Knicks seem to share.
But Robinson is young and seems to be a good character guy, despite complaints about his mouth and the unfortunate incident against Denver. Again, on a team with more locker room chemistry, Robinson may exceed his current level of production.
Renaldo Balkman
way a revelation at times for a Knick fan base livid over the decision to pass up on point guard
Marcus Williams
. Balkman has his limitations, especially shooting, but he is a ball of energy and a quality playmaker who helps make his teammates better by playing aggressively and selflessly off of those around him.
Randolph Morris
and
Mardy Collins
will be interesting to watch next season. Both were productive college players, but neither projects to be a major NBA contributor. Each should get the chance to show their worth next season, though it is unfair to expect too much from players so early in their careers who are stuck on a team loaded with disjointed parts who will vie with them for minutes.
Total Cost: $7,723,560
Free Agency
The Knicks seem to be addicted making moves every offseason and as the cap figure has filled up and the trade market diminished, the Knicks have moved onto signing mid-level free agents. The team routinely overspends on these players seemingly just for the purposes of making a move. Jared Jefferies and
Jerome James
are the most recent two who have benefitted from the team's impatience.
Draft
This is the team's best chance to add a player of substance. Unfortunately for the Knicks, they didn't have the foresight to see how important the 2007 draft could be for franchise building and elected to grab Eddie Curry at the expense of their own pick. New York instead will select at the Bulls position and hope to acquire a potential impact player for the future, which is possible.
Thomas has already stated that he would "shock the world" with this years selection, so its not hard to imagine that he has his sights set on troubled, but talented center
Sean Williams
from BC. Williams is arguably a lottery level talent, and although he is a good kid by all accounts, his decision-making and self-discipline have to be in question after being kicked out of school following numerous warnings and team suspensions.
If the team doesn't go with Williams, there are a number of quality players who should be available.
Thaddeus Young
could be a nice understudy to
Quentin Richardson
, and plays a position that the team doesn't currently have a young talent at. Rudy Fernandez is an unlikely selection, but would add a lot to the team as it stands now since he's been a winner over the span of his short career.
There is no point guard prospect that wouldn't be a reach for the Knicks, but both
Taurean Green
and
Petteri Koponen
would certainly "shock" many Knicks fans on draft night as well.