The Hornets had a rough follow-up to their inaugural season in Oklahoma City. After a major offseason push to bring in highly touted complementary players for
Chris Paul
, the team was ravaged by injuries and fell short of the playoffs after being a favorite to contend going into the year.
Peja Stojakovic
went down extremely early in the year, only playing 13 games for the club. Losing his outside shooting was a major blow to the teams balance and subsequent injuries eventually buried the team in a hole that they couldn't escape from. Only rotation players
Tyson Chandler
,
Desmond Mason
, and
Rasual Butler
made it past the 70 game mark for the season, which sums up their season well.
However, a late season push for the playoffs showed that this team still has a lot of fight and going into next season the Hornets should be able to show the fans in New Orleans what made the team so intriguing just one season ago.
Roster and Financial Breakdown: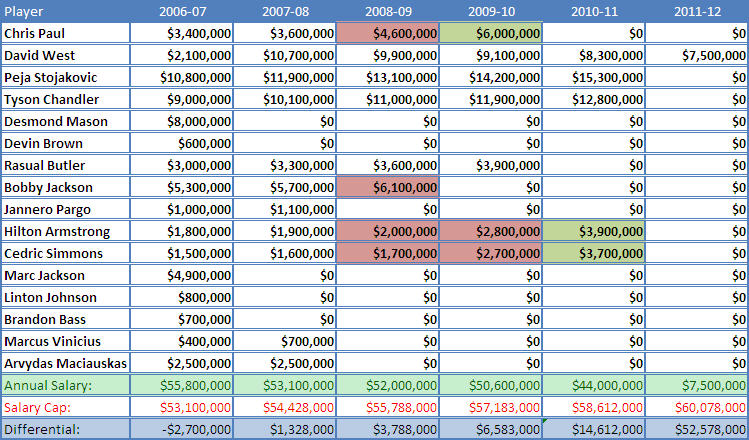 [c](Salary Cap projections were created taking the average increase over the past 5 seasons)[/c]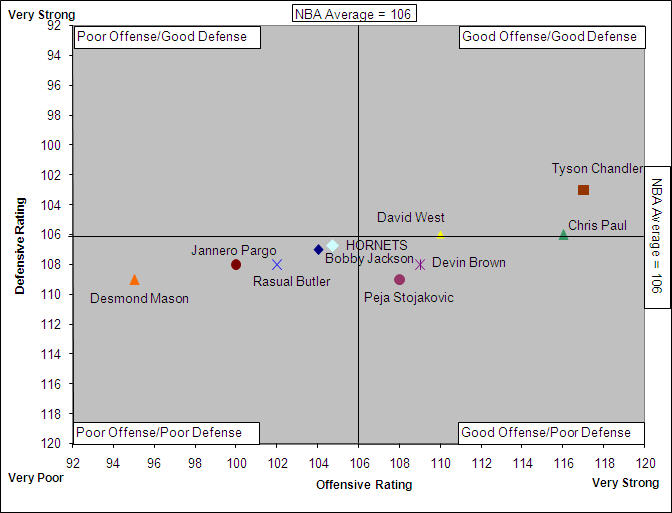 [c]Courtesy of Paul Gearan and Heather Allen[/c]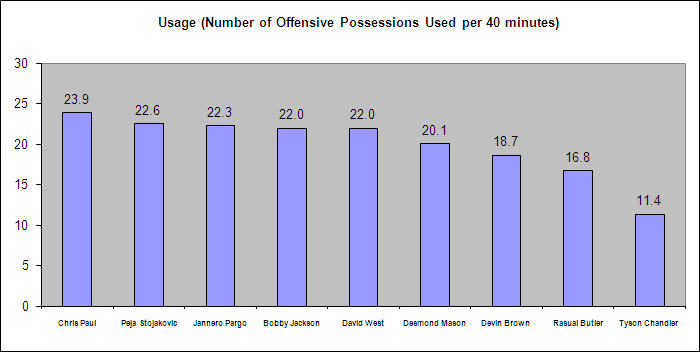 [c]Courtesy of Paul Gearan and Heather Allen[/c]
Record/ Overview:
39-43, 4th place Southwest Division
The Hornets season was derailed by injuries, so it's hard to fault the team for its non-playoff finish. Even without key free agent signee
Peja Stojakovic
returning from injury, the team did push hard for the playoffs toward season's end. The team went 13 and 8 after West returned before losing 6 games in a row to begin March, which essentially ended their playoff hopes.
The team made aggressive offseason moves to capitalize on the breakout performances of their two young franchise cornerstone players,
David West
and
Chris Paul
. Playoff veterans Stojakovic and
Bobby Jackson
were brought in to add a veteran presence to the club, while Chicago cast-off
Tyson Chandler
was obtained via trade to shore up the defensive interior.
While the two playoff veterans had a relatively underwhelming impact on the team, Chandler harnessed his full potential for the first time in his young career. Chandler started the year off slowly but exploded over the last two months of the season averaging a strong double-double over that span.
Current Assets:
The Hornets have a number of young players that may not have big time value now, but should help themselves in the upcoming couple of seasons. The Hornets are still a bit thin roster-wise, so the team can't really afford to move any of their starters without damaging the team's ability to compete.
Stojakovic and Jackson probably don't have as much value around the league as they once did, especially in the case of Peja. Injuries and age make these two players more valuable to New Orleans going forward than to anyone else in all likelihood.
Expiring Contracts-
The team doesn't have much in the way of expiring deals with only three players expiring after this season.
Chris Paul
,
Hilton Armstrong
, and
Cedric Simmons
all have club options but it would be surprising if the team didn't pick them up.
Arvydas Macijauskas
has a 2.5 million dollar salary slot coming off the books, while
Jannero Pargo
and "Marquinos" account for roughly another 2 million. Pargo probably has some value for teams with little scoring clout off the bench, but he is extremely inefficient offensively and virtually non-existent defensively so the team shouldn't expect much from him in terms of trade.
Total Cost: $4,267,456
Rotation Players-
Everything the Hornets do going forward will be with
Chris Paul
in mind. Paul missed time for the second year in a row, a byproduct of the tenacity with which he plays. Paul will probably have to scale back his full-tilt style a bit for health considerations, but as his jumper develops he'll probably find himself in fewer situations where he's crashing into everyone in his path.
Paul slumped slightly toward the end of the season, which was a contributing factor to the team's 6 game losing streak. Paul fights through pain and adversity as well as any player in the league, but for the long term health of the organization the team should invest heavily in a backup point guard of quality who can siphon off some of the responsibility Paul bears for his team.
David West
is probably the next most important piece to the New Orleans core. West isn't necessarily an All Star level talent at this stage and may never become one, but his ability to draw power forwards away from the basket with his shooting is extremely helpful to the rest of his teammates, especially
Tyson Chandler
.
West is an efficient offensive player and he holds his own defensively as well. Toward the end of the season he absolutely exploded scoring-wise, so if this is any indication of where his game is progressing he'll be even more valuable next season.
Tyson Chandler
really anchors the Hornets defensively and is masterful on the boards. His overall numbers weren't amazing but his late season performance has to give Hornets fans reason to be excited for the future. Chandler is never going to be an offensive juggernaut, but he's learned to put himself in better position to finish plays and that is all he'll need to do as long as
Chris Paul
is playmaking at the other end of the spectrum.
Peja is the only other core player that has a significant role on this team. His theoretical offensive production and veteran presence should serve to balance the team's offensive attack, which is definitely one of the contributing factors to the team's struggles last season.
Peja will need to get in much better shape as he approaches the middle stages of his career. Despite being a tremendous shooter, Stojakovic is a health risk because of his lack of conditioning. If the Hornets want to get the full value out of him they better appeal to his sense of mortality because a fully effective Peja makes the team much more substantial from a competitive standpoint.
Total Cost: $36,249,960
Prospects:
Both
Cedric Simmons
and
Hilton Armstrong
had very quiet rookie seasons, but that should be no reason for fans or management to be down on their ability to produce in the future.
Simmons is an extremely quiet kid who was projected as a three or four year developmental project. Simmons should be able to contribute rebounding and shotblocking next season as the backup to
Tyson Chandler
. Simmons is a hard worker who needs the close attention of the New Orleans coaching staff in order to give him some structure and guidance in his development going forward. If the Hornets spend the time to foster Simmons development he should become a very nice player in the future.
Armstrong is another big man who probably has less upside potential than Simmons, but is certainly capable of becoming a quality rotational big man in time. Armstrong's rebounding and overall tenacity leaves a little something to be desired, but he's very skilled and athletic, so in time he'll command a decent return on the open market.
Marcus Vinicius is a player who garnered the respect of a few scouts who watched him down in the D-League this past season. Vinicius came into training camp whoafully out of shape, which depressed much of the hype that surrounded him leading up to the pre-draft process.
Vinicius will need a solid summer league to rekindle some of the buzz that he had previously, but he's got the size and shooting ability that intrigues many professional teams looking for a versatile wing player.
Total Cost: $4,216,776
Free Agency
After a big-time scoring blast last season it is unlikely the team will look to sign anyone to the mid-level this season as the teams salary situation is very stable at the moment and their draft pick should be able to address their wing needs.
However, it is possible that the team resigns
Desmond Mason
to ensure some roster depth. Mason may command more than the Hornets are willing to pay for him though as he may be looking for a more significant role with a team.
If Mason is satisfied being a lockdown defensive guard or eventually a 6th man off the bench he'd be a good player to have around. He's got to take less chances on the defensive end however, as he rated surprisingly below average relative to his peers. Mason is known as a tough defender, so the numbers are most likely an aberration from his normal sound defensive work.
Draft
The Hornets probably benefitted from having an injury-plagued season. This draft is extremely deep and a lottery pick will help the team to add a potential starter to their young core of talent.
Al Thornton
,
Jeff Green
, and
Nick Young
could all be available to the team at the twelfth spot. Young makes the most sense in terms of his ability to play the 2-guard position, but Thornton and Green could be great off the bench for the next few season while waiting for Peja to ease into a backup role himself.
Rudy Fernandez has an outside shot at getting some consideration for this pick as well. Fernandez is somewhat of "best of both worlds" type of player because he is young and he has big time professional experience. Fernandez is a tough competitor and a hard worker to boot, so he has a chance to impress coach
Byron Scott
with his demeanor as well. The only problem is that he has a large buyout clause in his contract, although getting drafted in this slot could help him solve that problem as early as this summer.