This was a season to forget for the Milwaukee Bucks, as injuries ruined any chance they had at posting a respectable record. With
Michael Redd
,
Andrew Bogut
, and
Charlie Villanueva
all missing significant time, the team was forced to rely on reserves, yielding little success. On the bright side, the team did see the emergence of Mo Williams as a quality starting point, but that's really the only thing that went right for the club this season.
To make matters worse, they came away with only the sixth pick after sitting in the third position in the lottery. The club will certainly be able to add a solid contributor with the sixth pick, but their picks value pales in comparison to what they could have acquired had they moved into the top two. With Mo Williams entering free agency, the Bucks will have some tough decisions to make this summer. They will have the cap space to make a splash in the open market, but probably won't make an offer to more than one or two upper-echelon free agents. Hopefully, the team will remain healthy enough during next season to see their recent investments come to fruition.
Roster and Financial Breakdown: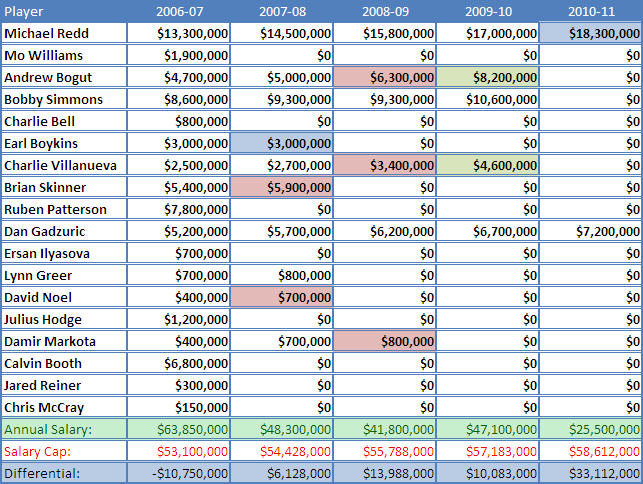 [c](Salary Cap projections were created taking the average increase over the past 5 seasons)[/c]
Efficiency: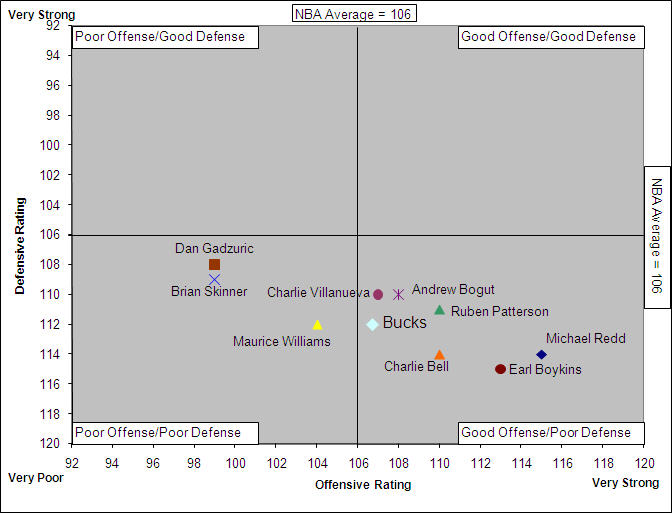 [c]courtesy of Paul Gearan and Heather Allen[/c]
Usage: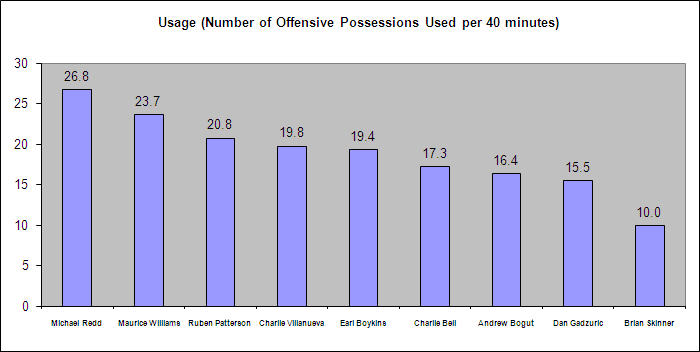 [c]courtesy of Paul Gearan and Heather Allen[/c]
Record/ Overview:
28-54, 5th place Central Division
Milwaukee didn't get a very good read on the talent they had on their roster in 2007, seeing most of their players miss a good portion of what could have been a promising season. Their major acquisition from two offseason's ago,
Bobby Simmons
, missed the entire season with an injury, compounding already dire talent and chemistry issues. Head Coach
Larry Krystkowiak
will have an uphill battle in his first full year as head coach, but should watch his team have little trouble improving on their record from last season. The Bucks have the opportunity to add a quality player with their high draft pick, and could improve enough to sneak into the playoffs in the Eastern Conference.
Current Assets:
Milwaukee has tradable assets, but the problem is that the team hasn't gotten to see their individual merits or ability to mesh as a group.
Andrew Bogut
and
Charlie Villanueva
would bring the team a solid return, but neither of the players seems likely to be shopped.
Earl Boykins
is another potential bargain chip if he doesn't opt out, but isn't the same commodity he was a few seasons ago and appears to be leaning towards hitting free agency.
Szymon Szewczyk is a largely unknown commodity considering he hasn't crossed the Atlantic since Milwaukee drafted him in 2003. While his stock may not be high, his rights are certainly an expendable asset that could be moved in a trade of any kind. The problem is that he was drafted four years ago and he's still yet to establish himself as anything more than a marginal prospect even in Europe.
With Mo Williams hitting the free agent market, Milwaukee is in position to add
Chauncey Billups
, and his decision will have a huge impact on the way General Manager Larry Harris views his roster.
Expiring Contracts-
The Bucks have a ton of expiring contracts, and won't be looking to retain the vast majority of them. The three largest deals they will shed are those of
Ruben Patterson
,
Calvin Booth
, and
Brian Skinner
. Patterson had a solid season, but that was largely a byproduct of the injury to
Bobby Simmons
. His recent problems with the law certainly haven't increased his value to the Bucks franchise. Booth and Skinner were both overpaid for their production, and aren't effective enough in the post to be worth retaining. The expiration of these deals will allow Milwaukee to finally move forward with only a couple of other bad contracts on their books.
Earl Boykins
has a team option next season, but it appears that he may not exercise it. He was a valuable asset to the Bucks this season, but they will be investing in a starting point guard this offseason and Boykins will probably find a better offer elsewhere. Mo Williams should be the point guard that the Bucks invest in. While Billups would make a major splash for the franchise, Williams is six years his junior and is still improving. Williams will warrant a huge raise from his $1.9M salary from last season, but he should n't receive any more than
Bobby Simmons
did when the Bucks signed him. If Williams prices himself out of Milwaukee's range, Boykins could be brought back. However, that appears unlikely.
There are two other significant players with expiring contracts on Milwaukee's roster.
Charlie Bell
has floated around the league for his entire career, but should be finding a long-term home this offseason. Whether that is in Milwaukee remains to be seen, but he certainly has some loyalties to the team that finally gave him a chance.
Ersan Ilyasova
is still extremely young, and should be retained considering his relatively small contract this offseason. The Bucks have a handful of other deals expiring, including those of
Julius Hodge
,
Ha Seung-Jin
,
Jared Reiner
, and
Chris McCray
.
Total Cost: $28,772,316
Rotation Players-
The Bucks have some pieces in place, but will be looking to carefully manage their rotation over the next few seasons. Micheal Redd has become one of the league's most unguardable players, and will be due an average of $15M over the next four seasons. He will have a player option for the season ending in 2011, and will be playing for the Bucks for the foreseeable future.
Bobby Simmons
was brought on to be Redd's sidekick at small forward after a breakout 2005 season with the Clippers. Simmons had an average initial season with the Bucks, and will be looking to bounce back after a season away from the game. Simmons' contract may be a bit expensive for his talent level, but his recovery will be the ultimate determinant of his value. He could be a valuable trade commodity when his contract expires in 2010.
Andrew Bogut
and Andrew Villanueva are the future of the Milwaukee rotation, and will be two of the major components of the Bucks' long-term success. Neither player remained healthy during the 2007 season, but both showed a great deal of promise. Bogut proved to be a legitimate offensive threat down low, and appeared to be adjusting to the NBA game. Villanueva on the other hand, had a tough initial year in Milwaukee struggling to replicate his numbers from a season ago before going down with a season ending shoulder injury. Villanueva should turn things around next season when he adapts to Milwaukee's offense and playing next to Bogut. Bogut and Villanueva are virtual locks to be retained when they become restricted free agents in 2009.
The only other true rotation player the Bucks featured this season was
Dan Gadzuric
. Gadzuric is due an average of over $6M per year until his contract expires in 2011. Given his paltry production, the Bucks would love to move the Dutch center, but will probably have an exceedingly difficult time finding potential suitors.
Total Cost: $34,352,590
Prospects
The Bucks have a couple of prospects that don't have expiring contracts, but neither of them have the potential to be major contributors down the line.
David Noel
provided valuable minutes in the absence of
Michael Redd
and
Bobby Simmons
, but doesn't have the range to make an impact yet. In the same light,
Damir Markota
was decent in limited minutes, but his jump shot is extremely inconsistent at this point in his career.
Total Cost: $825,436
Free Agency
Free agency will be the key to Milwaukee's short-term future, as it will determine the direction of the franchise's point guard position. Mo Williams appears to be the current favorite to hold down the spot next season, but he will have stiff competition from the likes of
Chauncey Billups
. The Bucks will certainly offer Billups a big deal, but he may be reluctant to leave the Pistons for a rebuilding franchise. Williams will be the cheaper option, and would be the better decision in the long-run. It could also be argued that Williams would be the better pick for the short-term, considering he has already meshed with the other players on Milwaukee's roster. His experience in the Milwaukee offense will make him tough to replace with any other free agent than Billups, but the Bucks don't want to pay Williams as much as they will offer Billups.
If Williams accepts a smaller offer, the Bucks will probably be inclined to spend their extra cap space on cheap young players like
Amir Johnson
,
Yaroslav Korolev
, or
Melvin Ely
. If they have enough space, the club may also be inclined to try and resign
Charlie Bell
, but that is far from a sure thing at this point. If the Bucks decide to go in another direction, they will be in play for most of the other upper level free agents including
Gerald Wallace
.
Draft
Outside of the point guard position, the Bucks's free agent targets will be determined almost entirely by who they select in the draft. The team will be in the market for a forward with the sixth overall selection, but probably won't relegate themselves to players at one forward position or the other coming in. The team's ideal selection would be
Brandan Wright
, but he will probably be off the board by the team they pick.
Al Horford
is in the same boat. This leaves the Bucks with a number of options at combo forward including
Jeff Green
and
Julian Wright
.
Corey Brewer
would be another solid selection, and could go a long way towards taking the pressure off of
Bobby Simmons
' rehabilitation process. Wright and Brewer appear to be the current favorites for this selection, as their defense and versatility make them an attractive commodity to place next to Micheal Redd.
Yi Jianlian
is a sleeper candidate at this pick if he falls, and the Bucks could jump at the opportunity to pick up the Chinese forward.
Mike Conley Jr
. would be another sleeper, as Milwaukee could surprise everyone by pursuing a big time free agent at another position. This selection will go a long way towards clearing up Milwaukee's intentions for their roster next season.
With their second selection, the 56th overall, Milwaukee could be in the market for a point guard if
Earl Boykins
opts out.
Dashaun Wood
would be a solid selection, but the team may be more inclined to select a bigman.
Jermareo Davidson
and
Ryvon Covile
would provide solid depth down low, and would both have a very legitimate chance of receiving some playing time as rookies.