One of the most surprising developments of this NBA season has been the regression of the Miami Heat. Hampered by injuries, the team has struggled to find continuity in its personnel. With both
Dwyane Wade
and Shaquille O'neal missing significant time, it shouldn't come as a surprise that the team hasn't looked like the reigning NBA Champions. While things haven't been easy for the Heat, the franchise still has reason to be optimistic.
Jason Kapono
emerged as one of the league's premier shooters, and Wade took his game to a new level in the absence of Shaq. Miami will be able to take a step back this offseason and regroup, but General Manager Randy Pfund will have some tough personnel decisions to make while his stars get healthy.
Record/ Overview:
39-34, 2nd place Southeast Division, 6th seed Eastern Conference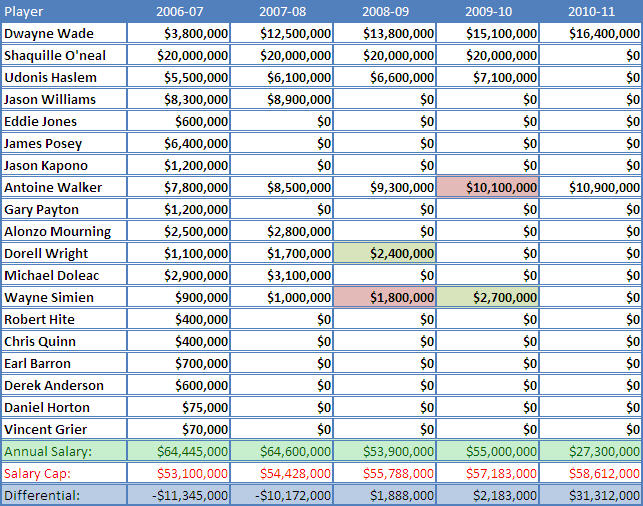 (Salary Cap projections were created taking the average increase over the past 5 seasons)
Injuries are a tough reality to face for any franchise, especially when they are expected to contend for an NBA Championship. Shaquille O'Neal missed 39 games, while Wade missed 6 weeks starting in late March until nearly the beginning of the playoffs. With both players missing so many games, Randy Pfund and
Pat Riley
have gotten the opportunity to evaluate the rest of their roster and probably have already decided how they are going to attack the offseason. The team will be looking to fill quite a few roster spots, so it should be an extremely active offseason for the franchise. Miami is definitely a Championship caliber team, but they will have to wait till next season to put everything together.
Current Assets:
Miami does not have a ton of young talent, but they do have a few players that they could deal to balance their roster. It would not be a big surprise to see Miami return most of their roster next season, but the team will need an influx of youth sometime in the near future to make up for the decline in Shaq's ability
Expiring Contracts:
The Heat will have a lot of salary coming off the books this offseason, but it won't be enough to get them under the cap. Contracts from the likes of
Daniel Horton
,
Robert Hite
,
Vincent Grier
,
Derek Anderson
and
Mike Gansey
will all expire, ridding Miami of a lot of the deals they tenured to players for the sole purpose of filling their roster.
Miami will have seven players with contracts expiring at the end of the season, and they may have a hard time retaining the players that will be hitting the market.
James Posey
has been one of the Heat's better players since he arrived two years ago, but he may be inclined to go elsewhere after the drama that followed him regarding his weight and off the court escapade. Miami doesn't have his Bird rights, so they won't be able to offer him much given the salaries they will be paying next season. Similarly,
Gary Payton
and
Eddie Jones
will likely choose between returning for the veteran's minimum and retirement because Miami doesn't have either of their full Bird rights.
Jason Kapono
has emerged as a capable scorer and possibly the best pure shooter in the entire league, but he will be an unrestricted free agent this offseason. Unfortunately for the Heat, he may have played his way out of their price range. They will probably offer him the largest deal amongst their free agents, but his return is far from a sure thing.
Earl Barron
and
Chris Quinn
may be retained for the sake of keeping some of the roster in tact. Neither player is expensive enough to deter the Heat from giving them another shot.
Total Cost: $13,406,573
Rotation Players:
Miami does not have a very deep rotation when you take their free agents into account. This will be a critical offseason for Randy Pfund, Chet Cameron, Adam Simon and
Pat Riley
, as they will be charged with rebuilding Miami's rotation. Shaquille O'Neal's contract limits his team's cap flexibility, but his ability to recruit players has more than compensated for that in the past. O'Neal's contract runs through 2010, expiring when he will be 38 years old. While his production has slowly declined, he is still one of the best centers in the NBA. There is no reason to think he will stop playing until he feels that his team doesn't have a shot at winning a Championship.
Dwyane Wade
's contract also expires in 2010, with a player option for another season in 2011. He will break the bank with his next contract, and the fact that O'Neal's deal expires at the same time is no coincidence. When his extension kicks in next season, he should continue to mark his presence as a perennial MVP candidate.
Antoine Walker
will also be in a Heat jersey for the foreseeable future, and could become a major bargaining piece when his contract expires. His cap number could be an enticing asset for teams looking to get better through free agency.
Udonis Haslem
's contract is a bit too big for this season's production, but he is consistent, plays good defense, and does the little things
Pat Riley
asks for. He will likely receive a slightly smaller deal from the Heat when he expires, unless he regains some of the form he showed in the NBA Finals a year ago for example.
Both
Jason Williams
and
Alonzo Mourning
come off the books at the end of next season, leaving the Heat with the cap space to make a final run at the NBA Finals before Shaq retires. Mourning may be contemplating retirement at that point, but would return if he felt he could win another title. Williams will likely be around through the end of his deal, but could be expendable if the Heat can acquire another quality point guard.
Total Cost: $47,889,942
Prospects:
The Heat don't have much in the way of young talent, but they do have a few promising players.
Wayne Simien
and
Dorell Wright
have both shown the ability to be contributors in spurts, but neither has been very consistent. Both players will see their minutes grow next season with the departure of a portion of their rotation. Simien has suffered from recurring bouts of Salmonella disease and therefore wasn't able t do anything this year. HE will need to get healthy and show some promise if he wants to see his option picked up. He is fundamentally sound, but he hasn't been able to transition his game to the NBA level, while the recent setback obviously hasn't helped. Wright, on the other hand, has finally started to come around after making the jump to the NBA out of high school. It would be surprising to see the Wright not retained when he becomes a restricted free agent. He doesn't have the savvy or defensive skills that
Pat Riley
requires in a wing player, but is long and extremely athletic and has shown some very promising skills when given the opportunity to play extended minutes this season.
Total Cost: $2,037,060
Free Agency:
Miami will be over the cap for the next few seasons, and will likely use their Mid-Level Exception to resign players on their own roster. The Heat will probably look to sign a handful of undrafted free agents to fill out their roster, as they typically like to do in order to further evaluate prospects in training camp and find the player they like best. If
Jason Kapono
is not retained, the team could target someone like Matt Carrol in free agency to fill the roll of shooting specialist.
Dermarr Johnson
will also be available, and could come at a bargain price for what he is capable of bringing to the table. P.J. Brown and
Austin Croshere
could also be good role players in the Miami system. Regardless of who the Heat decide to resign, they will be tendering a number of minimum contracts to veterans and rookies alike.
Draft:
The Miami Heat will have only one selection in this year's draft, their first rounder. The Heat could look to add another young swingman to potentially replace
James Posey
, or a center to groom behind Shaquille O'Neal. If the Heat choose to take a swingman,
Brandon Rush
,
Nick Young
, or Rudy Fernandez could make good selections for varying reasons, mainly perimeter shooting and athleticism. If the team decides to go big,
Josh McRoberts
or
Jason Smith
could both be worth taking a chance on as a compliment for Shaq in the high post. Miami will probably look to acquire an additional pick to help in filling out their roster. Either way, they will probably look to invite a lot of players for private workouts to gauge who they will be able to acquire as a free agent after the draft. It will be intriguing to see how Miami attacks this offseason considering their needs have more to do with numbers than it does to do with position or talent level.