The Indiana Pacers dismantled the team that brought them success over the past few seasons before the trade deadline leading to their first sub-.500 season since 1997. General Manager
Larry Bird
's decision to trade
Al Harrington
and
Stephen Jackson
for historic underachievers
Mike Dunleavy
Jr. and
Troy Murphy
was one of the most scrutinized trades any GM made this season. The Pacers current nucleus struggled to gel, and injuries to Jermaine O'Neal made it hard for the team to win games down the stretch. With complementary players like Jamal Tinsley forced to pick up some of the scoring load, the Pacers finished last in the NBA in field goal percentage, a testament to how important O'Neal is in their offense.
With
Rick Carlisle
on the way out, the Pacer will not only be looking for a new coach, but also for a new identity. Recent Pacers history would dictate that the team will return to their winning ways sooner rather than later (2007 was Indiana's third losing season since 1990), but next year's team may face an uphill battle under a new coach. Indiana is known for reloading quickly, but the franchise has enough dead weight contracts to force a rebuilding period.
Roster and Financial Breakdown: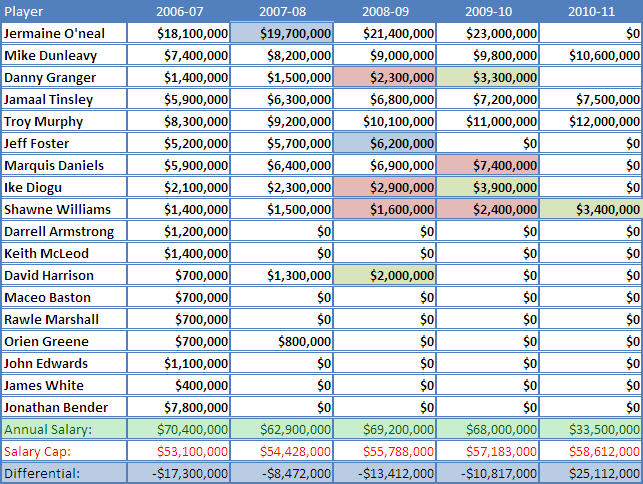 [c](salary cap projections were created taking the average increase over the past 5 seasons)[/c]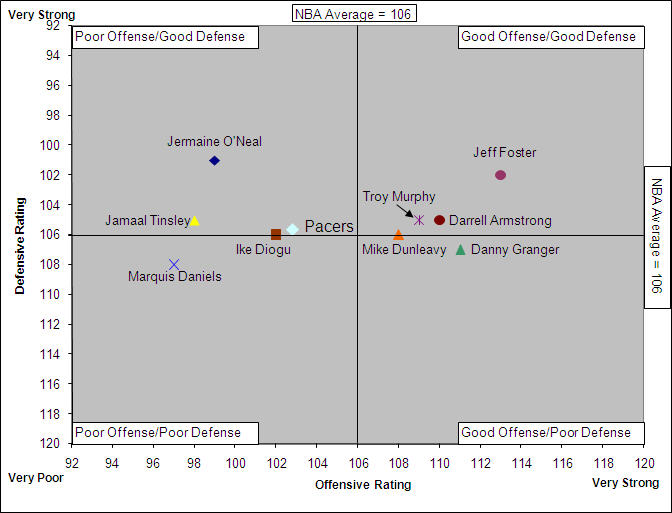 [c]courtesy of Paul Gearan and Heather Allen[/c]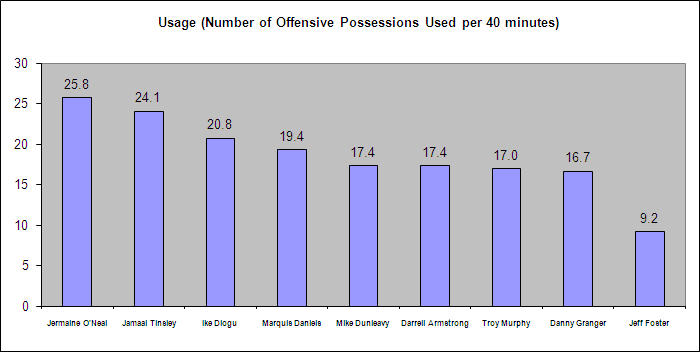 [c]courtesy of Paul Gearan and Heather Allen[/c]
Record/ Overview:
The Pacers paid a steep price to part with the antics of
Stephen Jackson
, taking on the bloated contracts of
Mike Dunleavy
Jr. and
Troy Murphy
. While both players could improve in the coming seasons, neither has shown any indications that would make anyone expect them to. While this team is still a playoff contender with a healthy Jermaine O'Neal, he hasn't played anywhere close to full season since 2004. The team is also in search of a Head Coach, but the market is loaded with quality, and it appears that Stan Van Gundy may be the early favorite in Indiana. With these things in mind, coupled with the fact that the Pacers are going to be over the cap for the foreseeable future, it is going to be hard for this team to improve in the short-run.
Current Assets:
What makes Indiana's roster so disconcerting is the glut of lengthy contracts in their rotation. The team doesn't feature any tempting expiring contracts, and has a great deal invested in their current roster. Without either of their picks in this years loaded draft, the Pacers will have to rely on their prospects to get them anything in the trade market.
Ike Diogu
,
Danny Granger
,
David Harrison
, and
Shawne Williams
all have some untapped potential, but would be difficult to shop this offseason. Diogu, Harrison, and Williams are still developing, while Granger is the closest thing the Pacers have to a compliment for Jermaine O'Neal. The Pacers are not really in position to make a big move, and that is indicative of how troubling their current financial position really is.
Expiring Contracts-
There will be some good news for the Pacers this offseason, as the nearly $8M contract of now-retired
Jonathan Bender
will come off the books. The team will also lose the services of four players who actually saw the court last season, but will only truly have to worry about one of them.
Maceo Baston
played sparingly, and didn't have the opportunity to show his full worth. Keith McCleod saw some action, and could provide more valuable depth in another team's system. The same could be said of young forward
Rawle Marshall
who could still become a worthwhile commodity off the bench.
The only free agent that the Pacers really need to be worried about is Darrel Armstrong, who will be 40 years old next summer. While Armstrong isn't the same player he was a decade ago, he was a staple of the Pacers rotation all season. His skills as a floor general could still be in demand this offseason, and he has made his intention to play again next season completely clear. Indiana would be well served to resign Armstrong, as they will have a hard time finding an alternative with the same defensive intensity and good decision making.
Total Cost: $13,239,856
Rotation Players-
The Pacers don't have the rotational strength to survive their lack of tradeable assets, especially when you take some of the salaries they are paying into account. Indiana will be paying
Jamaal Tinsley
,
Mike Dunleavy
Jr., and
Troy Murphy
a combined average of $25M until 2011. With most of their cap space invested in these three players for so long, it will be hard for
Larry Bird
to find help for Jermaine O'Neal who makes $20M himself.
While Tinsley and Dunleavy made some small strides this season, both players will need to step up if they want to earn their salaries next season.
Troy Murphy
took a step back this season, and simply hasn't looked comfortable in Indiana. Even if he returns to form, he still won't be worth the money the Pacers will be spending on him.
When Jermaine O'Neal's contract expires in 2010, Indiana will have that cap relief as well as the valuable expiring contracts of Dunleavy, Murphy, and Tinsley. That offseason will be the team's first legitimate chance to rebuild, unless they decide to trade O'Neal the year before. O'Neal could see himself out of an Indiana uniform sooner if he exercises his early termination clause, but it seems like a foregone conclusion that he won't.
Indiana rounds out its starting lineup with
Danny Granger
, who is as close to a complement to O'Neal as the team has. Granger has proven to be a versatile scorer, and should continue to improve until he becomes a restricted free agent in 2009. With little in the way of assets, Granger is the one player Indiana has that they could parlay into short-term help. However, it would be surprising to see Granger on the market given his value to his current team.
The team has two other rotation players, but neither has proven to be an impact contributor.
Jeff Foster
will be making nearly $6M next season. Foster will almost certainly exercise his option in 2009, and could be retained after that if his asking price drops.
Marquis Daniels
was a nice pick up when he was acquired from the Mavericks, but he has had a very difficult time finding his place in Indiana. The re-occurrence of his past knee injury didn't help his cause either. The extension Daniels signed when he was with Dallas lasts until 2009 with a team option for 2010. Whether Daniels has his option picked up, or is retained after that, is dependant on the development of his jump shot and the stability of his health.
At this point, the team's best option is to look into dealing O'neal for a as much of a return as they can muster. There has been much talk of a trade with Los Angeles, but the deal is somewhat stalled. Both Indiana and LA should look toward Boston to help them facilitate a deal as Boston needs veteran help,(Odom) while LA cannot afford to simply exchange one veteran for another. The 5th pick would be a tremendous asset for a capped out Pacers team and LA could afford to relinquish Odom more easily if they received a player of
Wally Szczerbiak
's stature in return.
Total Cost: $52,180,530
Prospects
The Pacers have a couple of prospects who could blossom into rotation players down the line.
Ike Diogu
didn't see consistent minutes on a game to game basis, but showed some serious flashes of potential late in the season. If Diogu can learn to move his feet better on defense and not commit so many fouls, he could be Indiana's short-term replacement for
Jeff Foster
. Diogu should have his option for 2009 picked up before he becomes a restricted free agent that summer.
Shawne Williams
came on strong late in the season, but still has a way to go before he becomes a consistent contributor. His age and relative price virtually guarantee that his options for 2009 and 2010 will be picked up, and he could become a contributor if he hones his jump shot and refines his handle.
David Harrison
struggled with a lingering knee injury during the latter part of this season, killing his only change to seeing meaningful action. The Pacers picked up Harrison's option for the season ending in 2008, so they do have some faith in him. He probably won't be offered enough in restricted free agency in 2008 to dissuade Indiana from resigning him.
Total Cost: $4,244,040
Free Agency
Indiana will be over the cap for the next few seasons, so they will only have their Mid-Level Exception to work with. Since the Pacers have so many improvements to make, but so little money to do it with, they may be best served to sign a player who will come of the books in the near future.
Austin Croshere
is a fan favorite in Indiana, but his contributions off the court are more valuable at this point in his career then his contributions on it.
Chris Mihm
would be a solid pickup if his knee is strong enough to start alongside Jermaine O'Neal. A player who can put points on the board, like
Matt Carroll
or
Eddie House
, is also a strong possibility. The Pacers have the misfortune of being so committed to some of their players financially that they can't bring themselves to bench them. With this in mind, free agents will probably realize that they will have a very hard time garnering big minutes in Indiana.
Draft
The Pacers dealt their first round pick to Atlanta in the
Al Harrington
deal, and their second round pick to Portland as part of the
James White
trade. With no selections in the draft, and few assets with which to leverage a pick, Indiana probably won't be active until late on draft day if they make a move at all. The team would be well served to try and get back into this draft, but it will be very hard for them to find a trading partner.