A summer removed from a trip to the NBA Finals, the Dallas Mavericks came into this season with lofty expectations. Sporting arguably the most talented roster in the league, the franchise has once again found itself atop the NBA thanks in large part to Head Coach
Avery Johnson
.
While General Manager Donnie Nelson didn't make any ground breaking moves during the offseason, he retained the team's nucleus of
Dirk Nowitzki
,
Josh Howard
, and
Jason Terry
. Couple that group with a talented bench and an excellent head coach, and there is no reason to believe this team won't find itself in the NBA Finals once again. While Nelson didn't have a tough decision to make at the trade deadline, he will have a number of decisions to make in the near future that will dictate this team's long-term direction.
Roster and Financial Breakdown: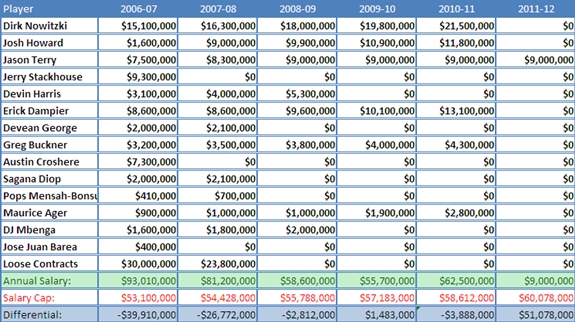 (Salary Cap projections were created taking the average increase over the past 5 seasons)
Record/ Overview:
67-15, 1st place Southwest Division, 1st seed Western Conference
It seems like only yesterday that Dallas was rolling out a lineup featuring
Steve Nash
,
Dirk Nowitzki
,
Michael Finley
,
Antoine Walker
,
Antawn Jamison
and
Nick Van Exel
. While Nowitzki is still around, none of those other players are still with the team. With the turnover of the talent on their roster over the years, one would have assumed that it would have taken the Mavericks some time to reload. Clearly, those assumptions would have been dead wrong. In fact, this year's team may be the best in franchise history, and potentially the best in the NBA right now. Only two other teams in the NBA have ever won 34 of 36 games, and both of those teams went on to win NBA titles.
There are two things that the Mavericks have going for themselves right now that they didn't have in the past: a great defense, and role-players that complement their starting lineup.
Avery Johnson
has systematically transformed his offensive-minded team into one of the league's defensive juggernauts. In the past, Dallas relied on offensive firepower to make it to the playoffs, and that hasn't entirely changed. The team is still very much capable of simply outscoring their opponents. What has changed is the team's ability to shut down its opponents in crunch time defensively.
General Manager Donnie Nelson has transformed his roster over the past few years by acquiring players that excel on both sides of the ball. The team now features a bench with a strong blend of offensive production, experience and defensive hustle, something it hasn't had consistently in the past. This has given Dallas the ability to win games even when they aren't lighting up the scoreboard, which makes them one of the most intimidating matchups in the NBA.
Its hard to be critical of the Mavericks roster when the team is doing as well as it is right now. Many people cite their lack of a second option as a potential weakness, but
Josh Howard
and
Jason Terry
are both capable of filling that role on any given night. The only legitimate hole on Dallas's roster is at backup point guard, where the team has rookie
Jose Juan Barea
, after trading
Anthony Johnson
to the Hawks.
Devin Harris
is a nice change-of-pace guard that gives the team some other options at the wing however, which helps limit the need for a pure playmaker.
Current Assets:
The Mavericks have a number of tradable assets, but they don't have a great deal of holes. They are always aggressive in the free agent market, but it would be surprising to see them make a deal as major as some of those that they have made in the past.
Expiring Contracts:
Dallas has a handful of contracts coming off the books this year, including those of two players no longer in the league,
Tariq Abdul-Wahad
and
Evan Eschmeyer
. While these contracts won't be of any value to any other team, the Mavericks won't complain about recouping the six million dollars they were paying those players to not play.
Of the players with expiring deals that are actually on Dallas's roster,
Jerry Stackhouse
is the only one that would have had any value to another team. Stackhouse has been huge off the bench for
Avery Johnson
, so the Mavericks will likely try to resign the veteran swingman to a deal comparable to the one he is playing for right now. Stackhouse may be a few years past his prime, but he is still effective. Given the Mavericks' history of free spending to resign their players, Stackhouse should wind up back in Dallas.
Late last off-season, Dallas sent
Marquis Daniels
to Indiana for
Austin Croshere
, whose seven-plus million dollar contact expires at the end of this season. Much like
Keith Van Horn
last year, it doesn't seem likely that Croshere will be offered a deal comparable to the one he is currently playing on. While Croshere has seen some time off the bench this season, he hasn't been a major contributor. Depending on whom the Mavericks decide to pursue with their mid-level or low-level exception, Croshere may not be brought back.
The only other players currently on Dallas' roster that expire at the end of this season are backup point guard
Jose Juan Barea
and NBADL designated power forward
Pops Mensah-Bonsu
. Barea has played sparingly this season, and doesn't look like he'll get the minutes he needs to develop his game. His future with the team could be determined by who is available to the Mavericks at his position in the upcoming draft. If nothing else, Barea will get a spot on the Mavericks's summer league team. Mensah-Bonsu's contract has a team option for next season. Either player could find his job in jeopardy depending on the value of the available players at the Maverick's draft slot.
Total Cost: $24,110,982
Rotation Players:
The Mavericks have
Josh Howard
,
Dirk Nowitzki
, and
Jason Terry
locked up through the end of the 2010 season at the minimum, with Nowitzki having a player option and Howard having a team option for the following year. Howard's extension kicks in next season, so he will be making a similar figure to Terry, who is signed a deal hovering around 10 million dollars until 2012. Terry and Nowitzki will be 36 and 32 respectively when their deals expire. Depending on how their play regresses as they get older, their contracts could become extremely valuable right before they expire.
At center, the Mavericks employ the two headed monster of
Erick Dampier
and
DeSagana Diop
. Dampier's deal is a bit exorbitant given his production, so the Maverick's probably won't be able to move his roughly 10 million dollar deal until it is about to expire in 2011. Diop's deal is much more affordable than Dampier's, but it expires at the end of next season. Diop is offensively limited, but his ability to challenge shots and defend the interior have been a nice addition to the frontcourt and may have spurred on better play from Dampier. Dallas will have Diop's Bird rights when his contract expires and should be able to retain him at a reasonable price.
If the Mavericks do pursue a big move this summer, it seems
Devin Harris
would be the asset that other teams would be most interested in. Still playing under his rookie deal, Harris has become one of
Avery Johnson
's most valuable contributors. At only 23 years of age, it isn't unreasonable to think that some teams have inquired about Harris. When his deal expires in 2009, Dallas could hypothetically be in position to resign him to a lucrative contract without going too far over the luxury tax, as if Mark Cuban has ever been intimidated by it. Harris will be in a Mavericks jersey for quite some time barring some team offering a package including some picks or a more established player of substantial value that fills a more pressing need.
Rounding out Dallas's bench rotation are former Laker
Devean George
and defensive stalwart
Greg Buckner
. George is playing in the first year of a two year deal that doesn't exceed 2.2 million and has proven his value to this team by bringing quality production off the bench. George would certainly be an interesting commodity next season when his deal is expiring, but Dallas will be inclined to keep him around if be remains consistent. Buckner on the other hand, is in the beginning of a four year deal, so he won't be going anywhere for a while.
Total Cost: $41,618,487
Prospects
With so much quality talent already on the roster, the Maverick's don't have a ton of prospects. Undrafted rookies
Jose Juan Barea
and Pops Mensa Bonsu haven't seen a lot of court time, so their progress is hard to chart. The team's first round pick,
Maurice Ager
, played a stint in the NBADL and is probably a year away from seeing the floor on a game to game basis. The Mavericks are not an aging team by any means, but it wouldn't hurt for them to go out and get some young players that could help them out in the future.
The Maverick's other prospect, raw post-big Didier Ilunga-Mbenga is coming off of a devastating knee injury, but teams have inquired about his availability in the past. If DJ is able to show the same athleticism that he possessed prior to his injury, the interest could still be there. His deal ends in 2009 and is extremely affordable, so teams without legitimate backup centers may look into acquiring him when he gets back on the floor next season. DJ may not develop enough offensively to be a starting center, but there is always a roster spot for players with his blend of size and athleticism.
Total Cost: $3,660,875
Free Agency
The Mavericks won't have the cap space to add a top-echelon free agent this offseason, but they will no doubt be in the market for some mid-level players. The focus of Dallas's offseason is largely dependant on how they perform in the playoffs. If they play well, they could look to add veterans to make another run. If they get knocked out early, they could look to acquire more prospects.
If the Mavericks look to acquire a veteran, some possible candidates are
Derek Anderson
,
Dale Davis
,
Matt Barnes
,
Gary Payton
, or
Jamaal Magloire
. All of these players should be obtainable for exception-level money. The market will be littered with veterans who could make an impact for a team coming off the bench, and Dallas will likely pursue a few of them. The team doesn't have any real holes, so it is difficult to say which positions they will look for.
If
Austin Croshere
isn't retained, the team could be in the market for a shooter.
Jason Kapono
will be an unrestricted free agent, but he may opt to return to Miami given the season he has been having.
Eddie House
and
Chucky Atkins
are also potential targets given their ability to handle minutes at the point and shoot the ball from deep.
While Dallas will have a bevy of veterans available to them, they may be better suited to try and sign a younger player that is still improving.
Chris Mihm
will be a free agent at the end of this season and was really coming on before a knee injury ended his season.
Melvin Ely
will also be available if the team wants a different kind of power forward to back up Nowitzki. The Maverick's are always active in free agency, so it wouldn't be surprising to see them pursue one or more of these players with their mid-level exception.
Draft
The Mavericks don't have their first round pick this season because they packaged it to Golden State for
Erick Dampier
. They do have two additional second round picks which they acquired for
Anthony Johnson
and JR Pinnock. Given the nature of this draft class, there could be a number of roster-worthy players still available when the Mavericks make their selections.
Donnie Nelson will probably be looking first for a point guard, and would definitely take a hard look at
Taurean Green
,
J.R. Reynolds
,
Bobby Brown
, or
Jared Jordan
with his first selection. If he decides to keep their other two picks, Nelson will probably use at least one on an international player. Croatian swingman
Marko Tomas
is a definite possibility, as are
Marc Gasol
,
Mirza Begic
, and
Mirza Teletovic
.
If the Mavericks decide to take a risk on a project big man,
Jermareo Davidson
,
Sean Williams
, and
Darryl Watkins
could all be available. This team doesn't have very many needs, so their draft should be in the market for players with long-term potential. It has become clear that the team doesn't have a problem leaving a player in the NBADL, so it would seem probable that they would designate at least one of their second rounds picks to the D-League.
The Mavericks are in the enviable position of having too much balance on their roster. They will be able to select the best player available throughout the second round, or trade their three second rounder picks to get back into the first round.