Exploring different storylines revolving around the 2013 NBA Combine, including who did and didn't attend, the gym finally being open to media members, and what the Combine actually means in the grand scheme of things.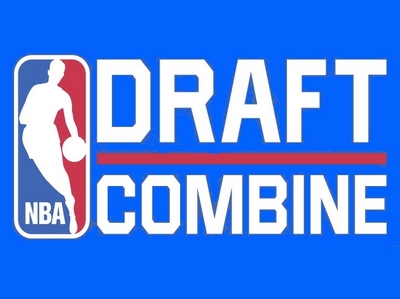 ---
2013 NBA Combine Coverage
-
Measurements and Athletic Testing Results Data
-
All 50+ DraftExpress NBA Combine Video Interviews
-
Analyzing the 2013 Combine Measurements
---
Taking Stock of Who Was and Wasn't Here
The NBA selected 63 prospects to attend their Combine in Chicago this year.
The list of attendees read as follow:
Steven Adams
Pittsburgh
Vander Blue
Marquette
Lorenzo Brown
North Carolina State
Reggie Bullock
North Carolina
Trey Burke
Michigan
Kentavious Caldwell-Pope
Georgia
Isaiah Canaan
Murray State
Jackie Carmichael
Illinois State
Michael Carter-Williams
Syracuse
Will Clyburn
Iowa State
Robert Covington
Tennessee State
Allen Crabbe
California
Seth Curry
Duke
Brandon Davies
BYU
Dewayne Dedmon
Southern California
Gorgui Dieng
Louisville
James Ennis
Long Beach State
Carrick Felix
Arizona State
Jamaal Franklin
San Diego State
Rudy Gobert
Cholet (France)
Archie Goodwin
Kentucky
Erick Green
Virginia Tech
Tim Hardaway
Jr. Michigan
Solomon Hill
Arizona
Richard Howell
North Carolina State
Colton Iverson
Colorado State
Pierre Jackson
Baylor
Grant Jerrett
Arizona
Myck Kabongo
Texas
Kenny Kadji
Miami
Ryan Kelly
Duke
Shane Larkin
Miami
Ricky Ledo
Providence
Alex Len
Maryland
C.J. Leslie
North Carolina State
Trevor Mbakwe
Minnesota
Ray McCallum
Detroit
C.J. McCollum
Lehigh
Ben McLemore
Kansas
Tony Mitchell
North Texas
Shabazz Muhammad
UCLA
Erik Murphy
Florida
Mike Muscala
Bucknell
Nerlens Noel
Kentucky
Victor Oladipo
Indiana
Kelly Olynyk
Gonzaga
Brandon Paul
Illinois
Norvel Pelle
Los Angeles College Preparatory Academy
Mason Plumlee
Duke
Otto Porter
Jr. Georgetown
Phil Pressey
Missouri
Glen Rice
Jr. Georgia Tech/ Rio Grande Valley (D-League)
Andre Roberson
Colorado
Dennis Schroeder
New Yorker Phantoms (Germany)
Peyton Siva
Louisville
Tony Snell
New Mexico
James Southerland
Syracuse
Adonis Thomas
Memphis
Deshaun Thomas
Ohio State
Jeff Withey
Kansas
Nate Wolters
South Dakota State
B.J. Young
Arkansas
Cody Zeller
Indiana
Anthony Bennett
did not attend the NBA Combine at all. According to his agent Mike George "He just finished the surgery and he's I'm a sling until the end of the month and still dealing with some pain. He's at home now where he can relax and mom is taking care of him. To have him fly back and forth, being in a sling and dealing with the pain wouldn't be fair to Anthony. So he can do the interviews afterwards."
The following players were unable to participate in any activity outside of interviews, measurements and medical tests due to injuries:
Nerlens Noel
(ACL surgery recovery)
Alex Len
(stress fracture surgery)
Seth Curry
(shin surgery)
Gorgui Dieng
(ankle)
Jamaal Franklin
(ankle)
Ryan Kelly
(foot surgery)
C.J. Leslie
(wrist tendonitis)
Nate Wolters
did not participate in the second day of drills or athletic testing due to a hip flexor injury, according to his agent Jared Karnes.
Pierre Jackson
did not participate in the second day of drills or athletic testing due to "getting sick and put on meds" according to Baylor head coach Scott Drew.
Ben McLemore
,
Victor Oladipo
,
Trey Burke
,
Otto Porter
,
C.J. McCollum
,
Cody Zeller
,
Michael Carter-Williams
,
Mason Plumlee
and
Dennis Schroeder
elected not to participate in any competitive action, likely not wanting to take any risk of getting injured or damaging their stock.
Shabazz Muhammad
participated in the first day of drills, but then decided to pull out of the second day of basketball activity for unknown reasons. He did participate in the athletic testing on the second day though.
Richard Howell
and
B.J. Young
did not participate in the second day of drills and athletic testing for unknown reasons.
Erick Green
got hurt mid-way through the second day of drills after banging knees with
Myck Kabongo
and was unable to participate in the athletic testing.
Ten international players currently projected to get drafted were unable to attend the Combine due to commitments to their teams in Europe who are mostly still participating in the local league's playoffs:
Sergey Karasev
Triumph (Russia)
Dario Saric
Cibona (Croatia)
Giannis Adetokunbo
Filathlitikos (Greece) – NOT PARTICIPATING IN PLAYOFFS (draft strategy?)
Lucas Nogueira
Estudiantes (Spain)
Mouhammadou Jaiteh
Boulogne (France)
Livio Jean-Charles
ASVEL (France)
Nemanja Nedovic
Lietuvos Rytas (Lithuania) – JUST FINISHED SEASON/WILL ATTEND ADIDAS TREVISO EUROCAMP
Alex Abrines
Barcelona (Spain)
Bojan Dubljevic
Valencia (Spain)
Marko Todorovic
Barcelona (Spain)
Not Invited After Declining Portsmouth
The following players declined to attend the NBA's all-senior pre-draft camp, the Portsmouth Invitational Tournament, but were not invited to the NBA Combine, and thus have yet to be seen by NBA teams at this stage:
Michael Snaer
Florida State
Rodney Williams
Minnesota
Zeke Marshall
Akron
Arsalan Kazemi
Oregon
Matthew Dellavedova
Saint Mary's
Christian Watford
Indiana
Alex Oriakhi
Missouri
Laurence Bowers
Missouri
Reggie Johnson
Miami FL (invited to Portsmouth, accepted, forced to decline due to surgery)
Brandon Triche
Syracuse
Romero Osby
Oklahoma
Elias Harris
(Gonzaga) and
D.J. Stephens
(Memphis) were mysteriously not invited to Portsmouth and also missed out on Chicago.
Some of the players above will still get a chance to show their wares to NBA teams at the Nets Combine in New Jersey next week or the Minnesota Combine immediately after, but likely would have rethought their decision to pass on competing in front of every NBA team in Portsmouth had they known they would not get invited to Chicago.
It must be noted that only four players who participated in the Portsmouth Invitational Tournament:
Brandon Davies
(BYU),
James Ennis
(Long Beach State),
Robert Covington
(Tennessee State),
Will Clyburn
(Iowa State) were invited to Chicago.
It's difficult to find a single NCAA underclassman who entered the draft and did not get invited to Chicago amongst those considered realistic draft prospects, which comes in contrast to years past. The only ones who can even remotely be considered snubs would be
Amath M'Baye
,
C.J. Aiken
, and
Marshawn Powell
.
(Finally) Open to the Media
For the first time since 2008, the drills portion of the NBA Combine was open to the media. The last time this was the case, this event was called the NBA pre-draft camp, and it was held in Orlando, Florida.
This was a step in the right direction for the NBA, which has struggled badly to generate anywhere near the type of excitement and media buzz that the NFL Draft has, surely in part due to their own exclusive policies.
Still, coverage of the NBA Combine was lacking in many ways according to fans on social media and basketball industry members at home trying to follow along, as the NBA restricted the media in the gym from filming any of the proceedings, instead electing to give exclusivity to the lowly rated ESPNU.
Unfortunately the producers at ESPNU decided to focus their cameras largely on the analysts off the court and showed very little on-court action, much to the frustration of those hard-core fans that elected to tune in. We heard hundreds of complaints over the past few days over how difficult it was for fans to follow the proceedings in Chicago, which is something the NBA will likely want to give some serious thought to in the future if they intend on increasing the popularity of this event (and the NBA draft as a whole) down the road.
What Does the Combine Even Mean?
While the prospects were competing on the court, a great deal of chatter was going on off it, largely revolving around the merits of this Combine, what it can and can't do for a prospect's stock, and how much attention should actually be paid to what we're "learning" as the day moved on.
You'd be hard pressed to find a single NBA executive who would admit to putting too much emphasis on this event in the totality of a prospect's evaluation, even if past Combine results would suggest that that's not always exactly the case.
"This is like watching batting practice," one longtime NBA General Manager with a penchant for thinking outside the box told us. "Sure you like to evaluate a guy's swing, and it's fun to see people hitting homeruns, but it's still just someone hitting balls by themselves. It really doesn't have anything to do with what happens in an actual game."
Three on zero transition drills, a great deal of spot-up shooting off the dribble, with feet set, from mid-range, college and behind the NBA 3-point line, mixed in with small doses of semi-competitive one on one, two on two and even four on four play – the court coaches crisply ran the five groups of prospects (sorted by position) through a significant amount of action for an hour each on both days.
The type of prospect that stands out in this setting is fairly evident. Those that stack up physically with what we expect, envision, or hope for an NBA player to look like based on our personal experiences and individual biases have a huge advantage in the minds of talent evaluators psychologically. Does he "look the part?" Is he big enough? Strong enough? Athletic enough? Does he have long or short arms? How hard did he hit the dummy pads in the one on zero post drills? How crisp do his shooting mechanics look? Did he seek out the moment? Did he give it his all in the full-court sprints at the end of his workout segment? Did he look like he belongs?
Talking to scouts, it's difficult not to feel like some were simply looking to reinforce what they already believed to be true going into the Combine. And even for those being open-minded, a degree of group-think can set in at times with so many scouts talking to each other non-stop for 48 hours. The fluctuations in what different talent evaluators saw in the same prospects were astounding at times, as if we were watching different players.
"He was simply awful today," one GM told us about
Shabazz Muhammad
. Slow, stocky, selfish, can't jump, only drives left, he couldn't buy a basket from outside. Did he even want to be here?" We heard others echo similar thoughts.
"I'm kind of warming up to Muhammad," a number of different executives expressed. "There's no doubt he was the best player in his group. You gotta love that hunger to score. He's an aggressive, competitive kid. He got after it today. I didn't like him during the season but I'm starting to see what all the hype was about."
Were we at different events? No. It's simply a very small sample size of actual basketball possessions that we get to take in, and with so many different things happening on both ends of the floor at once, what you took away from any given prospect could depend heavily on where you sat, which direction you were looking at in any given moment, how often your phone vibrated, how chatty your neighbor was, or whether a lack of sleep was starting to kick in during the fifth hour-long session jam-packed with stimuli and a huge amount of information competing to be process by our brains at once. It reminds at times of cramming the night before an important college exam.
Regardless, there is important data to be gleaned. It can be useful to compare different prospects at each position alongside each other to see how they stack up physically, evaluate how they move, see who has been working out seriously since the season ended and who has been resting on their laurels.
Having the entire NBA collected in one gym is extremely useful as well, and not just for networking purposes, despite this at times feeling like somewhat of a job fair for open coaching and scouting positions among the NBA organizations in flux at the moment.
Talking to 40-50 scouts from every team in the NBA can be beneficial, as a bit of a consensus seems to be forming around certain players. We'll likely need to make some changes to our mock draft based on the feedback we received on various prospects. It's clear that some players on our board have little chance of getting picked, while others are much more highly regarded than we initially thought.
Still, there are many prospects who have an incredibly large variance of how teams view them, for a variety of reasons, not the least of which revolve around their character off the court. Players like
Glen Rice
,
Kentavious Caldwell-Pope
,
Deshaun Thomas
,
Steven Adams
,
Ricky Ledo
,
Tim Hardaway
Jr,
Mike Muscala
,
Pierre Jackson
,
Isaiah Canaan
and
Nate Wolters
could seemingly go anywhere depending on how things shape up on draft night, especially as it pertains to trades.
It's easy to forget that we're still at a very early stage of the process still, as the two large group workouts remaining (The Nets Combine and Minnesota Group Workout) will be heavily attended by NBA teams and top prospects alike, while individual workouts, interviews, and especially medical reports will move prospects up or down dramatically.
Talking to NBA teams privately, it seems like many scouts like this draft quite a bit more than you'd think based on some of the media reports that have been circulating, particularly once you start looking at the prospects outside of the top five to seven picks. With all the focus on the elite prospects, it's easy to forget that they only make up a fraction of the players that will actually be picked on draft night. One look at the NBA playoffs will quickly remind you how many extremely valuable players are selected each year outside of the lottery, in the late first round, or even in the second round or undrafted. This year will certainly be no different.
Coming Tomorrow: Individual Assessments of Prospect Performances at the 2013 NBA Combine