Carl Landry didn't spend the hours leading up the 2007 NBA Draft with friends or family. He didn't spend it watching the picks unfold at a posh pre-draft party. Landry followed along on the cell phone of a total stranger he was sitting next to on a flight to Indianapolis.
The original plan had been for Landry to fly into Milwaukee the night before to attend a party being hosted by his parents. A canceled flight left him stranded in Philadelphia, after a last minute workout with the 76ers, where he spent the night in the airport. His stand-by flight landed in Indianapolis late in the first round, where his agent Andrew Baker was waiting with a car. The two arrived at Baker's office just minutes before Landry was announced as the first player selected in the second round.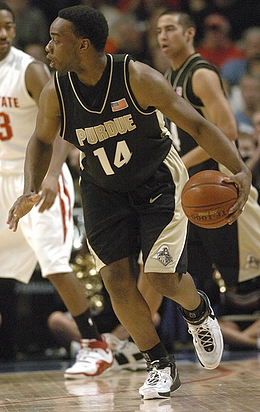 "It was almost the worst night of my life, because I thought I wasn't going to get drafted or I wasn't going to see my name called," Landry said. "But I was able to get there right in time to see my name called; it was one of the best moments of my life."
Now, as a restricted free agent in great position to sign a lucrative deal this off-season, Landry is able to look back on his close call with some sense of amusement. His close call on draft night though stands as a perfect microcosm for a year that saw him transition from a surprise selection by the Houston Rockets, to one of the most efficient rookies in his class.
Landry's journey to the NBA would begin like it does for most second round selections: at league sponsored camps like the Portsmouth Invitational and the Orlando Pre Draft Camp, hoping to impress scouts. As is often the case with players, there were several questions surrounding Landry upon his arrival in Orlando. The most notable of these concerns centered around his height and athleticism.
While at Purdue, the university listed Landry as a 6'7" power forward. While this may have not been an issue in the Big Ten, it was a red flag for NBA scouts, who instantly saw just another undersized college big man. This problem was quickly alleviated when Landry arrived in Orlando and was discovered to actually be 6'9", the height he is listed at by the Rockets. While often the addition of sneakers to a player can add up to two inches to his listed height, the discrepancy in measurements still left Landry quite confused.
"Purdue is a good school, so I don't know why they would do that. They might have measured me with my shoes off, I don't remember, but whatever they did I wouldn't say it hurt me, but measuring out like I did at Orlando certainly helped."
Having measured considerably taller in front of the dozens of NBA front office members may have helped him somewhat; Landry's performance on the court during the camp's four days was without question a huge boost for his stock. After tearing his ACL during his junior season at Purdue, Landry spent the bulk of his senior season trying to regain the explosiveness he had lost due to the injury. Naturally many scouts had questions about whether or not he could keep up with players at the pro level. Landry put any doubts to rest when he tested out as the third best overall athlete at the entire camp.
"I had time to rest and after the season was over. I really was able to regain my confidence and get a lot of my athleticism back. Luckily, everything just worked in my favor to where I was one of the top athletes down there."
The strong performance in Orlando caught the attention of plenty of teams, many who would invite Landry to their facilities for private workouts. Daryl Morey, Houston's general manager, was one of the few individuals who already had an eye on Landry prior to the camp; his work on the floor that week would just continue to pique Morey's interest.
"I think he was someone that was pretty underrated and of course he had the ACL injury," Morey told DraftExpress. "We were looking at his athleticism and how he was coming back overall. We probably evaluated him more while he was at Purdue, but in that setting I thought he did pretty well."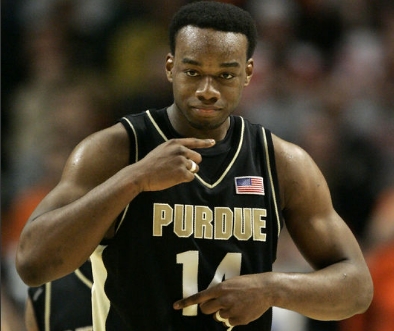 Landry continued to impress in individual settings. Having spent his college career in the post, teams were well versed in his back to the basket abilities; showing consistency with a mid-range jump shot was a surprise for many teams that worked him out. The work that Landry had put in training after his senior season to become more versatile away from the basket helped to punch his ticket to the NBA.
While Landry was able to bask in the glow of draft night, the honeymoon would be short. He was soon off to Las Vegas for the NBA summer league, where he would find the transition to the professional game to be an arduous one. The tempo and style of play were different than he had experienced in college, and he suddenly had to learn an entirely new system on the fly.
"At times I felt that it was really difficult; I really didn't understand the game, I didn't understand what was going on. I just really felt uncomfortable out there."
Landry suspects that his slow start during the summer may have been the major factor behind the Rockets' decision to hold off on signing him. With plenty of players already locked up in contracts, Landry faced an uphill battle as a second round pick, especially one who wasn't showing immediate flashes in Las Vegas. Still, Houston decided to sign him to a one year contract for just over $400,000 only two days before training camp began. This was a sum well below what players drafted in that position usually make, and thus the Rockets took a big risk by signing him for only a single season.
His initial weeks with the team, Landry openly admits, was a series of star struck moments. Taking the floor for the first time with the likes of
Tracy McGrady
and
Yao Ming
left Landry watching the game as much as he was playing it. Eventually things began to feel normal and he was able to begin his fight for playing time.
"After a while I clicked, and I said, ok I can play with these guys and I can contribute to this team in some way. I kept doing what I had to do, I continued working hard and kept listening to the coaches. Eventually I felt comfortable out there."
The struggle for playing time was a slow one. Landry appeared in only one of his first twenty games, recording four minutes in a blowout win over the Denver Nuggets. He didn't begin to see significant playing time until mid-January, when a 15-point performance on 7-7 shooting in 20 minutes against the Minnesota Timberwolves announced his arrival. For the rest of the regular season, into the first round playoff loss to the Utah Jazz, Landry was a regular part of the rotation. His final numbers, 8.1 points and 4.9 rebounds in 16.9 minutes were very solid, and he shot a rookie best 61.6% from the field. For his efforts, he was named to the NBA's All-Rookie team, the only second rounder to accomplish that feat.
In particular, Landry said making appearing in the playoffs as a first year player was a tremendous experience, one that in his mind was only comparable to the NCAA Tournament.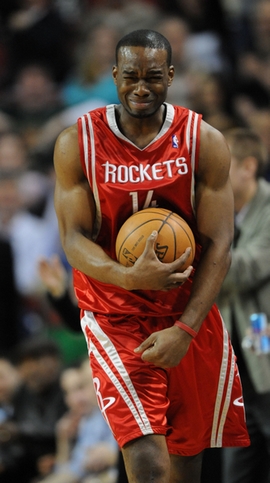 "Every play is so important, you have to know everything that is going on or a coach is going to take you out; especially if you're a rookie. You have to understand that guys are coming to play; guys want to win a championship. You look at a guy like
Dikembe Mutombo
who has been in the league 17 years, but only been to the Finals once; this could be his last time through, you don't know. He's done so much for the team and the community and this could be his last chance; you really feel for those individuals and go out and give that much more."
Now with a full season in the NBA under his belt, Landry is set to become the first player from his class to sign a second contract. He and his agent Andrew Baker took a huge risk by signing a one-year deal initially, but things have worked out in their favor.
"It's almost like we rolled the dice and hit seven I guess," Landry said with a laugh.
With a more lucrative contract likely in his future, Landry has remained humble. Never did he hold any animosity towards teams that passed on him, and he hasn't let early success go to his head. The only thing he has done is continued to work hard.
"I'm just lucky and grateful that I had the opportunity to have my name called on draft night. Even if I was the last pick in the draft, I would still be grateful and happy. In the end one day I could look back and say that I was in the NBA, almost nobody has that chance. There's like one out of a million children who dream about playing in the NBA that actually get the chance to do so."
Landry credits much of his success thus far in his career to heart and passion for the game, stating that scouts should keep that in mind when evaluating prospects. But what about next season? After the Rockets waited until the very last second to sign him, and the likelihood that other teams will come calling for his services, where does Landry see himself next year?
"Hopefully I'll have the chance to play in Houston again. It's a great city and I want to be there. At the same time though, I understand that it's a business and I have to do what's best for me and my family."
The fact that Houston has already locked up
Chuck Hayes
and
Luis Scola
to multi-year deals at Landry's position isn't a concern for him either. Landry sighted that several times during the year the Rockets were able to go to a smaller line up effectively with two of the three players on the floor at the same time.
With the draft now just a few weeks away, Landry can now sit back and enjoy each selection as a spectator on the other side of the rope. Don't expect him to pay too much attention to the first round though.
"I really look at the second round picks. I look to see who is going to be a sleeper, I like the underdogs."
After the year he just had, is it any surprise?