Ioannis Papapetrou, 6'8, Small Forward, Olympiacos, Auto-Eligible International
Latest DX Scouting Reports:

-Alex Kirk
-Alessandro Gentile
-Joe Harris
-Viktor Gaddefors
-Moussa Diagne
-Jarnell Stokes
-James McAdoo
-Kristaps Porzingis
-Walter Tavares
-Johnny O'Bryant
-Sim Bhullar
-Dario Saric
-Mitch McGary
-Melvin Ejim
-Damien Inglis
-Khem Birch
-Jordan Clarkson
-Devyn Marble
-DeAndre Daniels
-Spencer Dinwiddie
-Adreian Payne
-Jordan Adams
-Isaiah Austin
-LaQuinton Ross
-Jabari Brown
-Jerami Grant
-James Young
-Kyle Anderson
-Patric Young
-Russ Smith
-Dwight Powell
-Gary Harris
-Lamar Patterson
-Jarnell Stokes
-Jahii Carson
-Nick Johnson
-Cleanthony Early
-P.J. Hairston
-Zach LaVine
-Artem Klimenko
-Keith Appling
-Tyler Ennis
-Markel Brown
-Jordan McRae
-Rodney Hood
-Doug McDermott
-Juvonte Reddic
-Jordan Bachynski
-Andrew Wiggins
-Elfrid Payton
-Aaron Craft
-Marcus Smart
-C.J. Wilcox
---
Matt Williams
Taking one of the more interesting paths to the 2014 NBA Draft among international prospects,
Ioannis Papapetrou
's young basketball career came full circle this year, as he returned to Greece after spending three years in the US.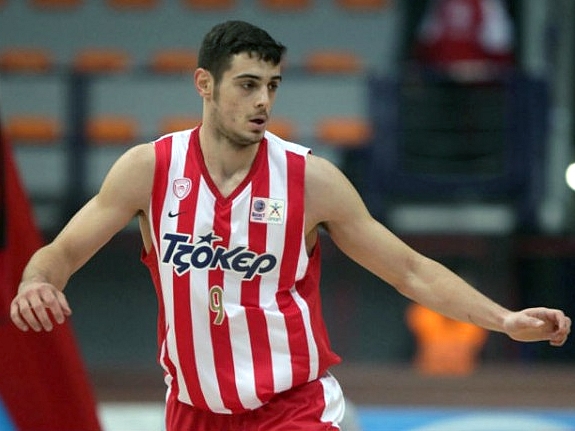 The son of Greek National Team staple Argirios Papapetrou,
Ioannis Papapetrou
grew up playing for Ilysiakos' junior teams in Athens alongside his older brother Georgios Papapetrou, who recently finished his senior season playing for Franklin-Pierce University, a Division II school in New Hampshire. Emerging as an intriguing talent with a strong showing at the FIBA U16 European Championship in 2010 where he averaged 11.4 points and 4.6 rebounds, Papapetrou opted to pursue a college scholarship by attending the Florida Air Academy rather than looking to begin his professional career in Greece.
Eventually committing to Rick Barnes's Texas Longhorns, over the likes of Kansas, Florida and others, Papapetrou played a key role in the Big 12 as a freshman, averaging 8.3 points over 24.3 minutes per-game. After a disappointing 16-18 finish and first round exit in the CBI that season, Papapetrou figured to be a key part of the team's bounce back 2013-2014 campaign. A strong showing at the 2013 FIBA U20 European Championships in Estonia changed those plans, as Papapetrou averaged 15.9 points and 5.3 rebounds per-game while leading Greece in scoring and the entire competition in Win Shares, eliciting a significant long-term financial offer from powerhouse club Olympiakos he simply couldn't refuse.
Playing a very minor role for the team until the mid-point of the season, Papapetrou emerged as one of the youngest players making contributions in the Euroleague before Olympiacos's season came to a close at the hands of Real Madrid in the quarterfinals. As this season progressed, Papapetrou's minutes expanded, but his role offensively remained largely unchanged. With more than half of his possessions this season coming on spot-up jump shots and another quarter coming in transition, the Greek forward was able to make an impact by spreading the floor and being aggressive when given a chance to finish in close. Automatically eligible for the 2014 NBA Draft since he signed a non-NBA contract out of college prior to January 1, the 1994-born forward, who turned 20 in March, has shown plenty of promise in his first professional season.
Standing 6'8 with a strong 225 pound frame, Papapetrou has good size for a wing and a solid 225 pound frame. Though he's able to finish above the rim from time to time in transition, Papapetrou doesn't have great explosiveness or lateral speed, which raises questions about his ability to defend more athletic small forwards at the NBA level.
Lacking great athleticism, Papapterou would be a bit stuck between positions if he weren't such a dangerous set shooter. Knocking down 48% of his three-point attempts in the Euroleague but just 27% in the Greek League (33% overall on the season), he has very little wasted motion in his somewhat mechanical release, does a good job floating to open space on the perimeter, gets his shot off quickly, and never looks off balance.
Attempting only a handful of pull-up jump shots all season, Papapetrou has a very good understanding of what his role is for Olympiacos, seldom forcing anything offensively unless the shot clock is winding down. Scoring 1.3 points per possession in the Euroleague, he
ranked
as one of the competition's 20 most efficient scorers.
As much as that was the result of his reliable jump shooting, Papapetrou was also effective finishing the shots created for him inside. Finishing at a 68% rate according to Synergy Sports Technology this season after finishing at just a 56% rate in the NCAA last year, Papapetrou isn't afraid of contact and is a smart finisher inside, using his body and the rim to fend off would-be shot blockers in the half court, and trying to finish emphatically on the break.
Though Papapetrou has a fairly high skill level and isn't a liability with the ball in his hands, his lack of great quickness and ball handling skills limit able to create his own shot consistenly, and in turn, his upside offensively. Despite that, he has excellent roleplayer potential, already showing that he's able to score efficiently in a complementary role that lines up well with what he'd be asked to do at the NBA level, to go along with a terrific feel for the game.
The biggest obstacle Papapetrou faces in transitioning his game to the NBA level will be his ability to defend the small forward position. His lack of great quickness is apparent in one-on-one situations at times, and he finds himself out of position as he's a bit too aggressive, looking a bit frantic at times defending the ball. He does play with good energy, and his sense of urgency shows as he does a nice job fighting over screens, but he struggles for stretches on this end of the floor, which would only be magnified against NBA caliber competition. A solid rebounder for his position, it is unlikely that Papapetrou will ever stand out on this end of the floor, but he does bring the right attitude and should improve as he gains experience.
Though he was included in our freshman rankings a year ago, it is unlikely that
Ioannis Papapetrou
would have found himself in this position had he remained at Texas. Olympiacos has offered him a unique opportunity to play a NBA-style role against elite competition, and unlike so many auto-eligible European prospects who have gone back to Europe before him, there appears to be some interest in his services from NBA teams. While Papapetrou is far from a glamorous prospect, his shooting is NBA caliber, he's extremely intelligent, he has good size, and he's still fairly young, all of which should help him get some looks late in the draft—especially considering the fact that he will be in a position to continue to improve at the highest level of basketball outside the NBA the next few years until he's ready to come over.