While the NBA playoffs continue to make even the purest of basketball fans fall asleep--with teams like the New Jersey Nets struggling to score 60 points not in one half, but in an entire game--basketball on the other side of the ocean is blossoming. Anyone who tuned in for this year's Euroleague final four was in for a delightful treat, a contest that was far more entertaining then any NBA playoff game I've seen so far this year. Picture this: 31 assists for the winning team, 50% shooting throughout the tournament, beautiful team basketball on both ends of the floor, thunderous alley-oops and superb athletic plays, promising young stars without egos getting significant minutes, one overtime, every match-up averaging close to 200 points per game, and best of all—fans going absolutely insane while creating one of the most wonderful atmospheres I've ever seen/heard (would make Cameron Indoor look like a morgue, seriously). 11,000 fans not just screaming, but singing together at the top of their lungs, to go along with some of the best basketball that has been seen all season long, on any level. David Stern is talking about expanding the NBA over to Europe, but after this wonderful weekend, you have to wonder—maybe it should be the other way around?
25
For the time being, though, the NBA is still the number one league in the world. With the entire world watching, a good performance here in Tel Aviv could very well lead to an NBA contract. We'll break down all the potential future NBA players right here for you.
There are three different ways that could happen: through the NBA Draft, signing via free agency, and a combination of the two. In Part One of this two part story we will examine the first way players can come to the NBA.
The Draft
The first method is through the draft, as there are plenty of NBA scouts on hand that are just waiting to be impressed enough to give a young prospect a boost into the first round or possibly deep into the lottery. The competition here is as strong as you are going to find outside of the NBA, if a player can hold his own here at a young age, the most logical next step would be to the NBA. Some examples from the past: Rasho Nesterovic, who helped his team Kinder Bologna win the Final Four in 1998 with a solid, but unspectacular performance—which helped him become the #17 pick in the draft, back when it was unfashionable to draft European players.
Hedo Turkoglu
played a big part in helping his Turkish squad, Efes Pilsen, to the Final Four and performed well in the tournament itself, and later became the #16 pick in the draft.
This year there are three players from the Final Four in the draft, and a couple of prospects for next year and beyond.
Sergei Monya:

Monya started in the semi-finals vs. Maccabi (which was also called the real finals by some) and came out with a bang, hitting some big time threes, playing superb defense on the ultra athletic shooting guard
Anthony Parker
, and just showing a tremendous amount of confidence for such a young player. He came very well off screens and showed a quick trigger and good mechanics on his jump shot, hustled down the other end of the floor and blocked and altered a couple of shots with his excellent vertical leap and superb wingspan, but got a little too excited after that and picked up his third foul which put him on the bench and essentially took him out of the game from that point on. His energy off the bench in the second game alongside Khryapa (it's rare that the two of them play next to each other) gave CSKA a big boost to help them come out on top. His dunks, steals and blocks were exactly the spark they needed to get going. Overall he definitely helped himself in Tel Aviv, especially by showing that he can defend athletic shooting guards with his lateral quickness, which makes him that much more versatile and therefore desirable for the NBA. His ball handling and slashing ability still leave a lot to be desired, but all in all he is definitely one of the best swingmen in the draft. If (at this point it's a big IF) his buyout issues with CSKA can be resolved, he should be ready to come in next year and contribute some solid minutes.
Erazem Lorbek:
(written by Luis Fernandez)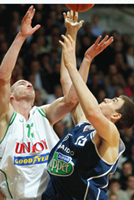 Unexpectedly, the Slovenian started for the semi-final. Unfortunately, after playing most of the first quarter, he was benched for good. He also enjoyed a few minutes in the final. His overall performance was discrete, but he gave some sample of his strengths, like a couple of baskets after faking out his rivals and some passes showing a very good understanding of the game. Nothing too impressive, though. Of course, he looked as slow as always. He's still looking like a second round prospect at best, and unfortunately for him, leaving Michigan St. last year forces him into the draft this June.
Viktor Khryapa:
(written by Luis Fernandez)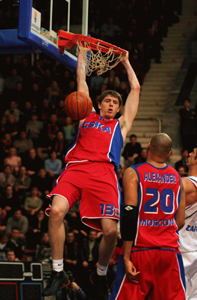 Coach Ivkovic decided not to give significant playing time to his young small forward in the semi-final, who stepped on the court to play just three minutes. He looked lost and out of the game's rhythm, probably due to how late into the game he entered. But he started in the third-fourth place matchup, becoming a key part of the third quarter comeback.
Khryapa helped CSKA overcome it's low level of intensity in the first half (very logical, taking in account the inexistent value of the game) he looked very good on defense afterwards, showing great lateral quickness for the small forward position and getting a couple of Kirilenko-esque blocks on the weak side. Not up to Andrei's level, but you can bet Viktor is really athletic. He wasn't very inspiring from the perimeter, he didn't shine in the scoring department, but his great passing skills were there again.
Overall he looked like the kind of player every coach loves to have surrounding his go-to guys. He will do the dirty work--defending, rebounding, and providing intensity for the team. And he won't just be an offensive liability; he will improve the team ball movement and knock down his open shots fairly consistently.
Yotam Halperin: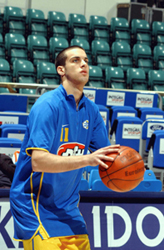 A 6-4 Israeli guard--20 years old--plays both positions equally well and has a good handle with both hands and a nice first step. Halperin had a very frustrating season this year, not getting too many minutes on such a deep and talented team, and not taking advantage of his minutes when he actually did get on the floor, looking very tentative and not willing to take open looks. He expressed his frustration publicly, maybe to relieve himself of some of the immense pressure that is on him from both the fans and the media, or maybe just to let some steam off and show that he still has a pulse. Halperin got some early playing time in the semi-finals and took full advantage of it, taking the ball straight to the hoop and getting to the line for four easy points. He got some good minutes in the finals as well, both early on in the game where he continued to be assertive, and later on in garbage time where he got the chance to have some fun and pad his stats a bit--ending up with 7 points, 4 assists and 3 steals in 20 minutes. He showed a bit of his talent in the tournament, playing well in limited minutes at the point guard spot--calling plays and directing his teammates--and off the ball as well with good movement and his typical craftiness which is the big reason people see in him the potential that they do. His defense on veteran Italian PG Gianluca Basile at the end of the half, using his excellent wingspan and footwork to stop him in his tracks as time expired gave the crowd and bench something to cheer about, but the way he got burned by Milos Vujanic on the perimeter certainly did not. All in all he gave Maccabi a nice spark off the bench, but it certainly wasn't the type of play that legends are made out of. His performance this summer in U-20 competition with the Israeli national team will be much more important, and his decision over whether he wants to continue to sit on Maccabi's bench or get significant playing time on a lesser team will be one of the more crucial moves he makes in his young career so far.
Marco Belinelli:
(written by Luis Fernandez)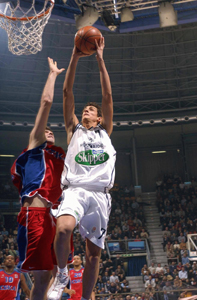 Coach Repesa gave him some minutes when everything was lost for the Italians. It was an ugly situation, and the skinny kid tried his best, although not very successfully. He didn't participate too much in the offensive game; nothing strange considering his age and the kind of game he was playing. He shot some jumpers, showing his polished mechanics and quick release, but he was able to make just one trey. He tried a drive to the basket that showed some serious penetration skills like a very good first step, great handles and nice quickness. There's nothing much more to say.
Part Two, examining the players who fall under the categories of "Free Agency" and "Draft and Free Agency" is coming May 6th!
Feedback for his article can be sent to jonathan@draftexpress.com and luisfernandez@draftexpress.com.
All images are taken from http://www.euroleague.net.