Josh Riddell
Egidijus Mockevicius
had his most productive statistical year as a senior by averaging 19.5 points and 17.6 rebounds per 40 minutes pace adjusted. The Evansville center has been one of the best Missouri Valley Conference players over the past few seasons, being named to the All-Conference 1st Team for the past two seasons and the All-Conference Defensive Team for the past three.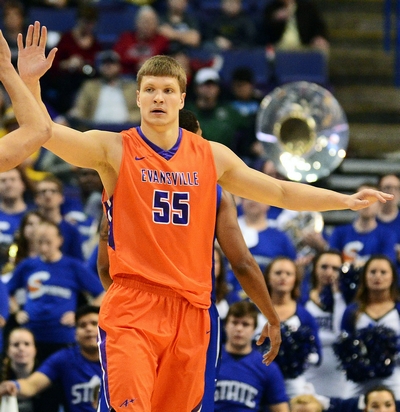 Measured at 6'9" without shoes, with a 237 pound frame, at the Portsmouth Invitational Tournament, Mockevicius has just-decent size for a center and possess great length with a 7'0" wingspan. He's not an elite athlete either, as he lacks a high level of agility and lateral quickness, but he works hard to get up and down the floor quickly. He is active and aggressive on the court, rarely taking plays off and always playing with high energy.
At 14.4 defensive rebounds per-40, Mockevicius ranks among the most dominant defensive rebounders in college basketball history, easily finishing
#1 in the nation in that category
. He's committed to tracking down every loose ball, running straight to the front of the rim after every shot and tracking down balls outside his area. He isn't as strong on the offensive glass as he is defensively, averaging just 3.2 rebounds per 40 minutes pace adjusted, but his overall rebounding per-40 rates him in the top-10 historically in our extensive college basketball database dating back to the 1980s.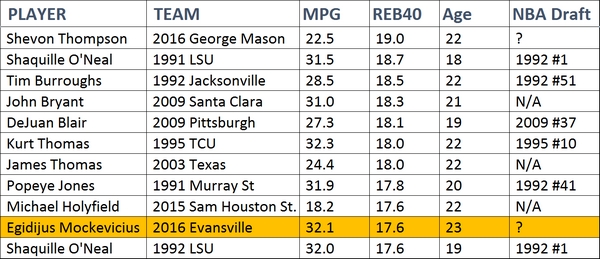 Interestingly, Mockevicius' incredible rebounding numbers haven't quite translated to other settings he's played in outside of Evansville. He pulled down 13 rebounds in 62 minutes (8.3 per-40) at the Portsmouth Invitational Tournament, and 32 rebounds in 113 minutes (11.4 per-40) at the World University Games in July of 2015.
Offensively, he gets all of his production around the rim and he has shown an ability to consistently convert these attempts. Synergy Sports Technology logged 186 such attempts (non post-ups) and Mockevicius posted a field goal percentage of 67.2%. Many of these looks come right at the rim with no rim protector in front of him either off an offensive rebound, cut or roll to the rim. He can use either hand to finish and he has decent touch when contested, but he still has some room to improve at finishing in traffic over length. He isn't going to explode over opponents and he does have a tendency to get blocked at the rim so he will need to be able to use the glass well to continue to be a strong finisher as the competition stiffens.
Mockevicius is comfortable playing with his back to the basket, but he isn't an elite post player. Almost all of his post-ups lead toward a right handed hook shot, and while he has a few counters, he isn't as confident in these attempts. He's someone who can take advantage of switches, but isn't going to be a guy you want to dump the ball into on a regular basis.
He can become a roll man to be used on ball screens, but he will have to buy into a more team oriented role at the next level. He's more likely to slip the screen and call for the ball around the rim rather than hold his screen and let the play develop before making his cut. He does roll very hard to the rim to draw the defense's attention so if he becomes a better on-ball screener, he could become a part of a very efficient pick and roll attack.
The rest of his offensive game is somewhat limited, as he took just one jump shot all year and has attempted zero threes in his career. He doesn't have any ball-handling ability to speak of and looks to immediately swing the ball if it finds him. His assist rate is one of the lowest among all players this season with just nine total assists this year. Granted, if he catches it he is usually around the rim in prime position to shoot, but he hasn't displayed good court vision and willingness to pass out of the post or when diving to the rim off ball screens.
As an individual defender, Mockevicius doesn't make a huge impact outside of his rebounding ability. He's lost on the perimeter, lacking the quickness to stay in front of perimeter players and the discipline to not get off balance on ball fakes. He isn't as tough as you want in the post, allowing his man to easily back him down and make the catch. He has a high foul rate, but this is often the result of him playing aggressively. In more limited minutes, he'll need to keep his intensity level high but improve his defensive awareness and basketball IQ to not commit needless fouls.
His saving grace was an ability to block shots (3.5 per 40 minutes pace adjusted) but he may struggle to have similar success in a rim protecting role as a pro. He doesn't block a lot of shots right at the rim with his lack of length and explosiveness, but gets many of them against smaller players by using verticality without getting off the ground, making it seem as though he might not protect the rim as well against NBA players.
Mockevicius was a 23 year old in the Missouri Valley Conference, but despite his advanced age, it's hard to argue with his offensive production in the paint and defensive rebounding. At the very least, NBA teams will want to bring him in for workouts to see what he can do against other similarly sized potential draftees which will give him a shot to be drafted or earn a roster spot. Otherwise, the Lithuanian born big man should have little trouble finding high paying opportunity at the very highest levels of European basketball.