Lottery Breakdown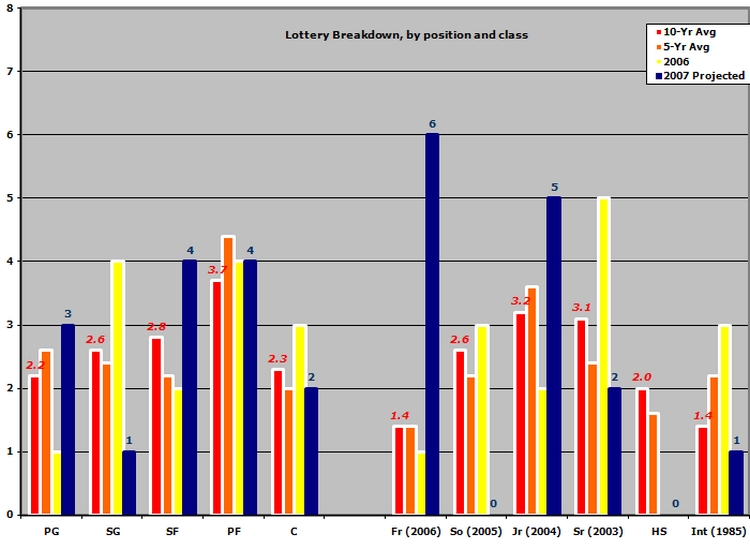 Four numbers are listed for each category, starting with the 10-year average (red) on the left and finishing with DX's 2007 projected total on the right (blue). In between are the 5-year average (orange) and last year's total (yellow)
The 2007 PG class was written off from day one, but on the eve of draft night DX again projects 3 point guards to come off the board in the lottery. This means that the premium teams have placed on ball-handlers in recent drafts is likely to continue. And in a development that must have the NBA marketing machine a bit nervous, this makes the 3rd draft in a row that lacks a legitimate "next
Michael Jordan
" type mega-scoring wing. From Penny Hardway to
Grant Hill
,
Glenn Robinson
,
Ray Allen
,
Kobe Bryant
,
Tracy McGrady
,
Vince Carter
and
Paul Pierce
, the 90's provided quite a bounty of superstar wings. Aside from 2003's bumper crop (
LeBron James
? Never heard of him...), wing prospects with legitimate superstar potential have been few and far between. This year's "headliners",
Corey Brewer
and
Nick Young
, don't exactly jump off the page.
First Round Breakdown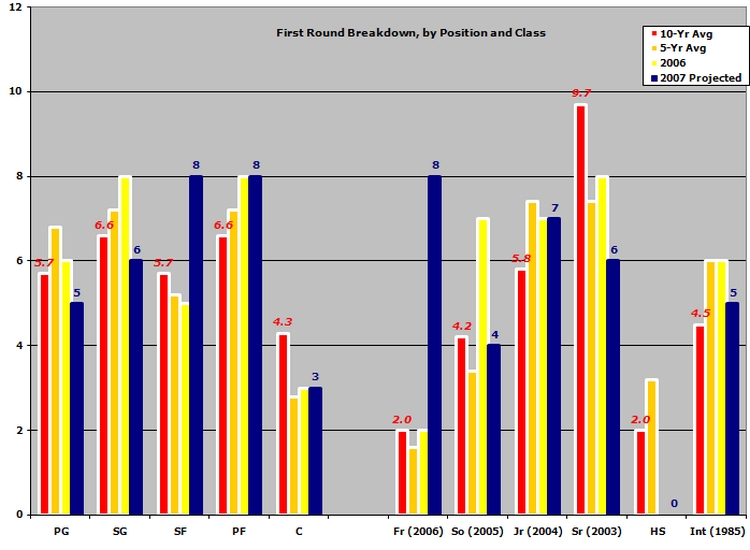 Four numbers are listed for each category, starting with the 10-year average (red) on the left and finishing with DX's 2007 projected total on the right (blue). In between are the 5-year average (orange) and last year's total (yellow)
While many have called 2007 "the year of the big man", it is interesting to see that this draft is actually an abnormally strong SF draft. Only 3 centers are projected to go in the first round, once again pointing to the steadily rising influence of smaller, non-traditional lineups. We once again see a premium on versatility, with projected SF's like
Kevin Durant
,
Jeff Green
,
Al Thornton
,
Julian Wright
,
Thaddeus Young
,
Wilson Chandler
and
Jared Dudley
all spending much of their college careers at the 4 spot. Even PF's such as
Brandan Wright
,
Yi Jianlian
, and
Jason Smith
do a lot of their damage either facing up or outside the paint entirely. Three of the first fifteen projected picks are point guards 6'4 or taller, with
Acie Law
,
Javaris Crittenton
and
Rodney Stuckey
all expected to see time at both guard slots.
Point Guards
While "point guard premium" may not appear to be trending dramatically higher on this graph, keep in mind that most were expecting underwhelming point guard draft classes in both 06 and 07. Both drafts have turned out their fair share of floor generals, and 08 looks like to be one of those historic bumper crops, rivaling 04 and 05's previously unprecedented point guard classes. Furthermore, several floor generals that could have contended for a spot in the late first round chose to return to school.
Shooting Guards
While the number of scoring wings taken high in the lottery has generally declined over the last decade, the number of shooting guards taken in the second half of the first round has remained fairly steady. This is again a fairly weak year for 2-guards at the top, though, with
Nick Young
being the only projected lottery pick.
Small Forwards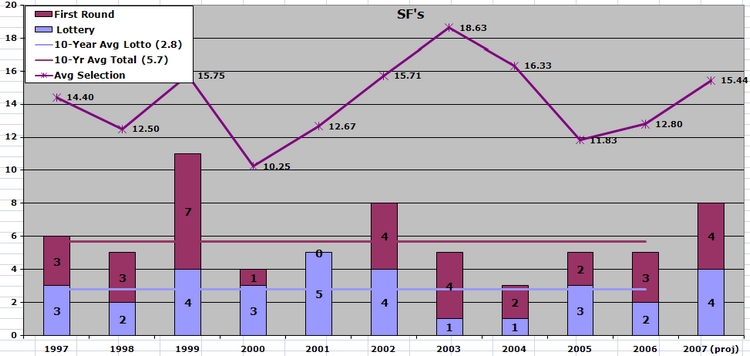 No one symbolizes the NBA's increased emphasis on explosiveness and versatility than DX's newest projected first rounder, DePaul forward
Wilson Chandler
. Chandler probably wouldn't have even been in the draft picture a decade ago, but tomorrow his elite length and athleticism - and ability to legitimately play both forward positions - will probably get him a guaranteed contract.
Power Forwards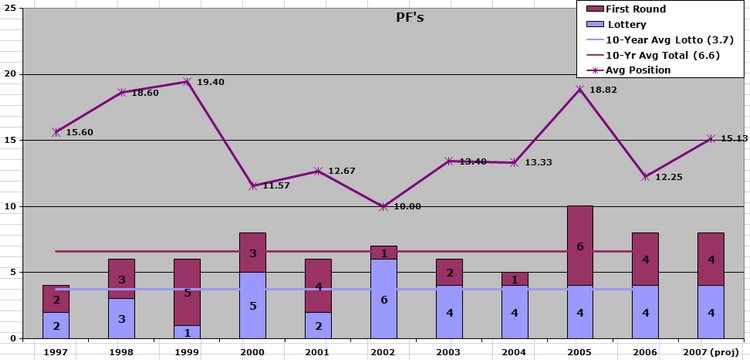 Say what you want about larger wings, but NBA decision makers still clearly love their power forwards. No position is drafted as consistently as the 4, in both the lottery and first round categories.
Centers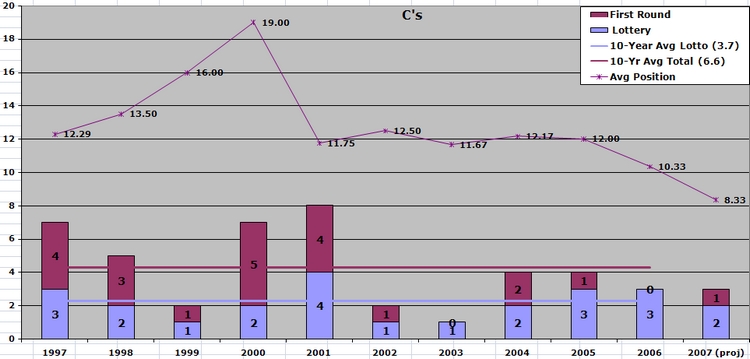 Outside of lottery heavyweights
Greg Oden
and
Spencer Hawes
, there isn't a traditional back to the back center projected to go in the first round. Perhaps 2006 will make teams think twice about reaching for that classic "big man project", AKA, "bust waiting to happen". In years past,
Marc Gasol
and
Aaron Gray
would have almost certainly been drafted in the first round. In today's NBA, they are looked at as dinosaurs.
Freshmen
The freshman class of 2006 would have been outstanding regardless of the age limit, but a year in school makes this group historically excellent. The eight freshmen projected to go in the first round blows away any recent total, outside of the killer 1-2 punch. This marks the beginning of a new age-limit era, where freshmen picks will likely dominate the first round. This class is unusually talented, but "upside" picks such as
Thaddeus Young
and
Daequan Cook
will still filter into late first round. As for the class of 2006, expect a 2004-like impact over the next three years - a huge initial impression, and continued impact well beyond the can't miss stars that jump at the first opportunity. More on the talented 04 class below.
Sophomores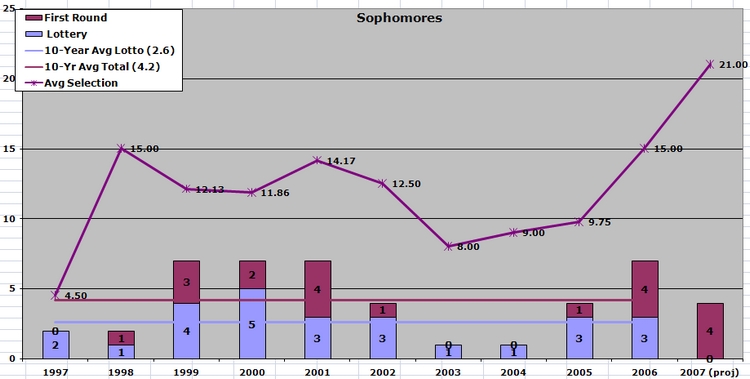 Sophomores aren't drafted very often, as many players are either talented enough to leave at first chance or end up taking three years to develop into draft-worthy prospects. Sophs that do get picked in the first round generally go fairly high, but a so-so to begin with 2007 sophomore crop was depleted quite dramatically due to early entry directly out of high school and has been quite overshadowed by the excellent classes both preceding and following it.
Juniors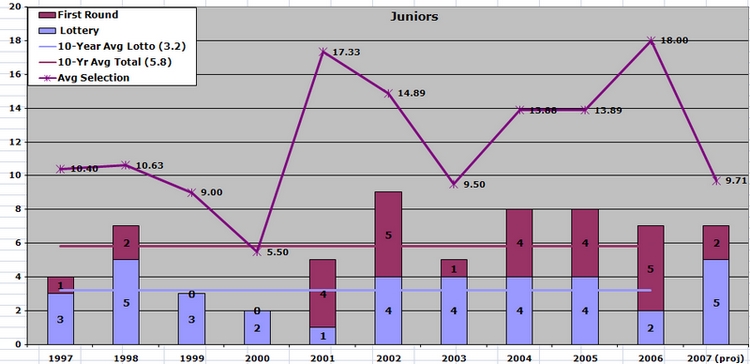 While McDonald's All-Americans usually make the headlines when merits of individual recruiting classes are brought up, the freshman class of 2004 is a gift that just keeps on giving.
Dwight Howard
headlined the group that dominated draft headlines directly out of high school.
Marvin Williams
ended up going 2nd after a national title run in 2005 with the Tar Heels, and a bumper crop of sophomores made their way to the league in 2006. Then the Florida Gators happened, and the class of 2004 strikes again. None of the seven juniors projected to go in the first round were McDonald's All-Americans out of high school, with
Jason Smith
,
Jeff Green
and
Sean Williams
emerging as legitimate pro prospects well after most AAU reputations are earned.
Seniors
After producing five lottery picks last June, this year's senior class isn't as deep or as talented this time around. But there are a couple of "
Brandon Roy
" stories worth mentioning.
Acie Law
played his way into lottery contention with a phenomenal senior season that very few saw coming. The same can be said for Vanderbilt wing
Derrick Byars
, considered a fringe prospect coming into the year. Hopefully the timely excellence of these two players will keep scouts prepared to reward late-blooming standouts.
International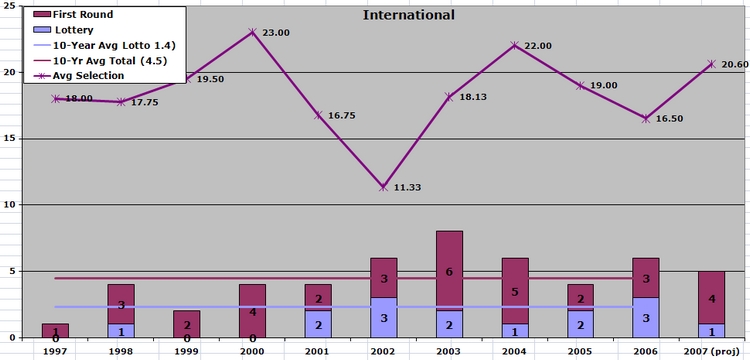 The lessons of Tskitishvilli and Darko having been learned, perhaps the international trend is starting to bottom out.
Petteri Koponen
is really the only foreign player who fits the "young, inexperienced, unproven" bust profile we saw in the early drafts of this decade.
Tiago Splitter
, Rudy Fernandez and
Marco Belinelli
are proven high-level basketball players, and these types will continue to make a significant impact on the NBA Draft.
The Age Limit...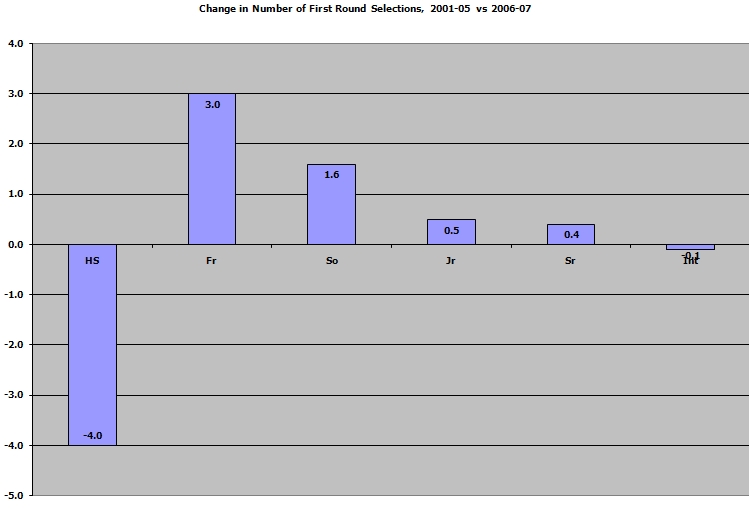 This chart compares the averages for each class of prospect in the five years leading up to the age limit with last year's results and DX's projected 2007 results. As one can see, the trend of International players grabbing an extra spot every year appears to be over. Despite four extra spots being available, the number of imports has remained stagnant. Instead, and somewhat as expected, college underclassmen have filled the gap. In 2006, we saw notably high numbers in the sophomore and senior classes, but both pale in comparison to what will happen today for this year's freshman class.