11:30 AM
The Elite Eight got off to a phenomenal start, and we have two games that look just as promising in store for us this evening. Michigan State takes on Louisville, and Oklahoma faces off with North Carolina.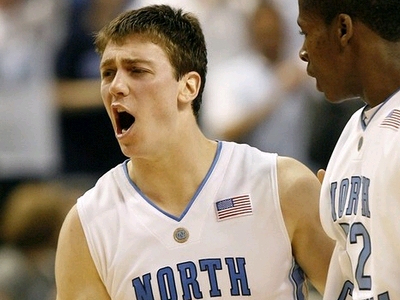 Here is what the schedule looks like for this evening:
#1 Louisville vs. #2 Michigan State, 2:20 PM, Indianapolis
#1 North Carolina vs. #2 Oklahoma, 5:05 pm, Memphis
Questions that will be answered:
-Can
Terrence Williams
continue to steadily run the show for Louisville against an incredibly disciplined Tom Izzo defense?
-Can
Tyler Hansbrough
find a way to slow down
Blake Griffin
and show that his game translates against NBA caliber athletes?
2:30 PM
Afternoon Links
•
Wille Warren '98.9 percent' sure he's returning to OU
Willie Warren sounded pretty emphatic about returning to Oklahoma next year, in his conversation with Luke Winn of SI:
"I want to play a year without Blake [Griffin] to see how good I am," Warren said. "I didn't come into college basketball to be a one-and-done player."

But Warren also said there's a very slight possibility -- a 1.1 percent chance -- he'd reconsider his decision to return. "I'd have to have a pretty amazing rest of the tournament for me to do something like that," he told SI.com. "I'd have to average 30 the rest of the way. And I don't see that happening."
He went even further later on, when talking to
Mike Jones of the Dallas Morning News
"That's why my decision to come back is final. I definitely want to come back and play a year without Blake [Griffin] to see how good I really am."
•
Griffin Signing with Jeff Schwartz?
Mitch Lawrence of the New York Daily News reports that
super-agent Jeff Schwartz
is likely to land Blake Griffin when he decides to enter the draft.
Oklahoma's Blake Griffin, projected to go No. 1 this June, has been headed to agent Jeff Schwartz ever since last summer when he attended a series of conditioning workouts in California. The camp is financed by Schwartz, who could have a big draft. UConn's Hasheem Thabeet is ready to sign on and he also has first dibs on the Huskies' A.J. Price. Of course it's always easier to get the players when you already represent the coach, as Schwartz does with Jim Calhoun.
This is fairly well-known intel in basketball circles, at least based off what the rumor mill has been saying for months now, but is particularly intriguing in light of the
article written by Andy Katz
last week indicating that Griffin is not linked to any agents:
The family did meet with one agent alongside Capel a year ago before Blake decided to return, but there is no indication that Griffin is spoken for like so many of the elite players that are destined for the lottery. One high-profile NBA agent and another NBA personnel member told ESPN.com there is no buzz about Griffin being locked up, something that usually occurs at this point in the season for possible top picks.
At the end of the day, Griffin's character is high as you could possibly hope for from a future NBA franchise player. But to indicate that somehow he's a better person than others because he may not yet have decided who his agent will be, is a fairly ignorant claim in this day and age.
By the way, it's doubtful that Schwartz paid for Griffin to train anywhere, and he probably would have landed him anyway.
March 30 Update: It's been brought to our attention that the New York Daily News has retracted this part of the article from the story linked above. It has disappeared from their archives as well. Tsk tsk tsk...
•
Reynolds wraps himself into 'Nova history
There have many great articles written about the phenomenal game yesterday between Villanova and Pitt. Here is one from Dan Wetzel of Yahoo! Sports.
Head down and driving for the season, driving for Detroit, driving through a collapsing double team, to the rim, for the win Scottie Reynolds delivered a shot for the ages and Villanova to the Final Four.

He delivered history: Villanova 78, Pitt 76.

The school that 24 years ago became the greatest upstart, upset-fueled NCAA champion, a lowly No. 8 seed, returns to the Final Four thanks to a final-second floater that'll be replayed forever.

"Well, I just made a lay-up," Reynolds laughed after.
•
A Vibrant Game With Coaches to Match
More talk about Villanova head coach Jay Wright, from Harvey Araton of the New York Times, as well as his counterpart yesterday, Jamie Dixon of Pitt.
All game long, the tension grew minute by minute to a nearly unbearable pitch. Mostly, you could see it on the clenched faces of the coaches. One was going to survive an all-time Big East battle and advance to his first Final Four. The other was going to know professional heartbreak like he'd never known before.

Jay Wright and Jamie Dixon have the look, cut and coiffed for coaching success. Wright to a greater extent, with a bit of a George Clooney thing going; Dixon, despite some hairline recession, with a quality comb-back and an angular face that breaks into an easy, confident smile.

Some college basketball coaches just have the look, along with the voice, but that doesn't automatically make them a commodity. That comes with winning, and Wright of Villanova and Dixon of Pittsburgh have done plenty of that, too. But as much as they each were deserving of victory Saturday night, only one could move on, and that was Wright, with 2 points and half a second to spare.
Wright, by the way, is going to be a very hot commodity this summer, not just from places like Kentucky and Arizona, but also from the NBA. He has to be considered a front-runner for the 76ers job, and will likely get looks from other NBA openings as well. Not only is he very strong from a tactical perspective, as he's shown taking a moderately talented (at best) college team to the Final Four, but he also appears to have the charisma, work ethic and ability to manage relationships that all NBA head coaches need. His style of play, giving plenty of freedom to his guards, constantly looking for mismatches, and not being afraid to do the unexpected, might make his transition to the NBA much more seamless.
•
Hansbrough vs. Griffin: Irresistible source of unmovable objects
Gary Parris of CBS Sportsline brings us a great preview of tonight's highly anticipated matchup between Blake Griffin and Tyler Hansbrough.
"There's nothing that concerns me more (about Oklahoma) than Blake," UNC coach Roy Williams said. "He's a guy who can get 40 and 20, and there's not many of those guys around very often."

Or many games like this.

So settle down and settle in, and get ready for a real treat.

Imagine Kobe and LeBron meeting in the playoffs.

Or Manning and Brady.

In terms of college basketball, that's what this will be.

"As a fan, I understand that," OU coach Jeff Capel said. "I have so much respect for Tyler and for what he's done. And really with these two guys, with Tyler and Blake, you have everything that's right about college basketball. Tyler staying in school for four years and breaking every record at North Carolina and in the ACC. And then Blake, you know, turning down the money last year (from the NBA) and coming back. Both of them have been great ambassadors for college basketball. They do things the right way. They play the game the right way. ... So it should be exciting."
•
Blockbuster Matchup of Two Elite Players
More on the Griffin-Hansbrough matchup, from John Branch of the New York Times.
The interesting part of this matchup is not the similarities of the players, but the differences.

Hansbrough, a 23-year-old senior from Poplar Bluff, Mo., is the consummate college player, a throwback of sorts. Despite the accolades and a Final Four appearance last year, he returned to college to finish his degree, take another try at a national championship and improve his draft stock. He is the Atlantic Coast Conference's leading career scorer, but is not widely considered a top N.B.A. prospect. His is the face of his talented team, but he is probably not its best player.

He dominates games, but nothing seems to come easy. He excels in a scrum, usually emerging victorious, by scoring or by reaching the free-throw line. Opposing fans mock his expressions, often looks of quizzical exasperation, but he is at his best when he is being bruised.

"Maybe it makes me angrier — I play better or something like that," Hansbrough said.

Griffin is a new-age star, available for rent, a 20-year-old sophomore from Oklahoma City projected to be the No. 1 choice in the N.B.A. draft should he decide to leave Oklahoma. His, too, is the face of his team, and there is no doubt he is the best player. Oklahoma's biggest worry is that Griffin will be weighed down by his teammates as much as the opponent.

He dominates games with robotic intensity. He dives over the scorer's table or slides on the floor and barely changes expressions. Against Syracuse, he hit his head on the backboard during a dunk. He ran down the court dabbing at his scalp, checking for blood.
5:05
Michigan State is the third team to advance to the Final Four, after knocking off Louisville 64-52 in a fantastic game. Somewhat similar to yesterday's heroes, Villanova, Michigan State clearly was not the biggest, talented or most athletic team on the floor this afternoon, but they were able to advance regardless thanks to their excellent defense, rebounding ability, unselfishness and the strength of their role players. Tom Izzo had the perfect game-plan for how to beat Rick Pitino's Louisville Cardinals, and his guard-oriented team never looked rattled by the full-court press. The Spartans got another excellent performance out of senior Goran Suton, knocking down jumper after jumper to come up with 17 first half points (finishing with 19, 9 rebounds and 4 assists), as well as a phenomenal defensive effort by the extremely steady senior Travis Walton.
Earl Clark
was pretty much the only one to show up for Louisville, and he came out of the gates looking very aggressive. He showed his excellent first step and intriguing ability to operate as a mismatch threat facing the basket by taking his man off the dribble numerous times, although he wasn't always able to finish his drives—which is nothing new for him. Clark is clearly at his best on short actions from 15-17 feet away from the basket, where he can use a single dribble to get by his man going left or right and then either draw a foul or convert around the rim. When forced to dribble more than once, his shaky ball-handling skills can get exposed, which happened a few times today. Clark made 2-6 shots from behind the arc, a part of his game that he's really excelled in as of late-- he's converted 10 of his last 24 attempts. He was solid as usual with his spot-up jumper today, but again reverted to his well-known issue of settling for forced pull-up jumpers off the dribble, clanking attempts from 15, 17 and 20 feet badly. His athleticism was on full display on the offensive glass today, though, skying for loose balls way above the reach of the defense, and giving his team numerous additional possessions as a result. He wasn't much of a factor on the defensive end as you might have hoped, though, losing his focus and not doing a great job cleaning up the glass.
Terrence Williams
had one of his worst games of the entire season, at the worst time possible for Louisville. He did not convert a single field goal until a few minutes into the second half, and then proceeded to force the issue badly with his outside jumper. Williams' inability to create offense off the dribble remains his biggest shortcoming as an NBA prospect, and never was that more evident than today, where he was completely shut down by the much smaller Travis Walton. Instead he reverted to forcing up pull-up jumper after pull-up jumper, a part of his game that is clearly not his strength, as we've discussed before. He air-balled two of his five jumpers, which gives you a pretty good idea about how this day went for him. He showed small flashes of his athleticism and activity level with a big-time block and some excellent rebounds early on in the game—five in the first eight minutes-- but then proceeded to not grab another rebound for the next 31 minutes. He really looked like he was in a daze for most of the second half, something that happens to young players at times who have never competed before on this kind of stage. At the end of the day, this is only one game in what has been a marvelous senior season for
Terrence Williams
, and even with this disappointing finish, he's still helped his draft stock about as much as any player in the month of March.
We're moving onto the very highly anticipated North Carolina-Oklahoma game, which we'll be blogging much more frequently about. So check back with us.
5:50
Blake Griffin
is able to draw first blood in his highly anticipated matchup with
Tyler Hansbrough
. Carolina is electing to give Oklahoma space on the perimeter in favor of crowding the lane and denying Griffin touches, and despite the fact that the Sooners have missed their first two 3-pointers, Griffin was able to overpower Hansbrough on the offensive glass and draw his first foul. That's a big development for Oklahoma. We're still scoreless 0-0 just a minute in. Griffin already has 3 rebounds.
(if you feel like we're behind on the time, then you are correct…we gave this game a little 40 minute cushion to catch up with on the DVR...)
5:55
Jeff Capel is looking to take advantage of his star player's biggest advantage in the Griffin/Hansbrough matchup—his tremendous athleticism. Griffin pulls Hansbrough away from the basket and then uses his excellent first step to blow past him and drive to the basket. Danny Green rotates over and bothers Griffin enough to get him to miss the shot, though, and Carolina rebounds. Green is an underrated x-factor in this game. He was outstanding against Gonzaga.
While the Hansbrough/Griffin battle gets all the hype, the Wayne Ellington/Willie Warren matchup is no less intriguing. Ellington just took Warren off the dribble, bumped into him to create space, and then stepped back beautifully to get his terrific pull-up jumper off. It's 4-0 Carolina with 17 to go in the first. That's an NBA caliber move.
6:07
Carolina is double-teaming Griffin immediately on the catch, and he's not doing a very good job of being patient against the double-team. He just had his pass out to his brother stolen by Carolina, and then compounded the problem by foolishly fouling Lawson. He needs to be much smarter than that if Oklahoma is going to have any chance at winning this game. A few possessions later, he tried to force his way into the paint and committed another turnover, having his pocket picked by Hansbrough.
With Tony Crocker out of the game with some early foul problems, Roy Williams is looking to take advantage of backup Kai Davis immediately. Danny Green burned Oklahoma with a wide-open 3-pointer and then got fouled on an alleyoop lob. Davis responded by bricking a 3-pointer of his own badly.
A lot of whistles early…Ed Davis just picked up an over and back violation trying to grab a rebound away from Blake Griffin.
Willie Warren has again gotten off to a bad start, just like he did in Oklahoma's previous two games. That's not a good sign for Oklahoma considering how limited their other perimeter players are offensively.
Carolina is on fire early on. Ty Lawson just took a turnover the other way and hit a nice pull-up jumper to put his team up 13-2 with 14 minutes to go in the first half.
6:12
Danny Green and Tyler Hansbrough execute the pick and roll beautifully, and Blake Griffin is forced to back off from contesting him at the rim due to the foolish foul he committed earlier. This inability to play any type of defense when even in the slightest bit of foul trouble is one of the few qualms we have with Blake Griffin right now, and is something he'll surely have to work on in the NBA.
Willie Warren starts to wake up offensively for Oklahoma, putting the ball on the deck four possessions in a row, picking up two free throws, an assist, a Juan Pattillo follow of his miss on an offensive rebound, and then really showing his talent with a phenomenal floater in the lane. That's big for OU.
Tyler Hansbrough commits his second foul battling with Blake Griffin for a rebound. Griffin was not going to be denied for that loose ball, even looking like he might have flipped him over Hasheem Thabeet/DeJuan Blair style had he not let go of that ball. Hansbrough may be on the bench for the rest of the half, which is really a shame for us viewers. Griffin is grabbing absolutely every rebound in sight so far. He already has 7 boards in the first 7 minutes.
At the under 12 timeout, the score is 17-10 Carolina.
6:26
Roy Williams takes a bit of a gamble by inserting Tyler Hansbrough back into the game with 8:30 to go, despite having two fouls. He responds immediately by catching and finishing inside after Taylor Griffin gambled for the steal. Danny Green is stepping up in a major way as well, making shots, grabbing offensive rebounds, and taking his man off the dribble exploiting mismatches. He's got 12 points to lead Carolina.
Blake Griffin has come into the game looking angry. He drew free throws on a nice spin, and then took advantage of the hapless freshman Tyler Zeller by facing up from 15 feet, taking him off the dribble and finishing with a ferocious one handed dunk. Those were his first four points. His brother Taylor took the cue from his little brother by taking Tyler Hansbrough off the dribble and finishing at the rim as well.
At the 6-minute mark its 28-16 Carolina.
6:33
Carolina is doing a fantastic job denying Griffin any type of shot opportunities. They continue to throw hard doubles at him every time he catches it, and sometimes before even, and Griffin has been a little too passive giving the ball up early without making Carolina sweat a bit. He has just one made field goal at this juncture. Willie Warren has cooled off as well, and Oklahoma is 0/9 from behind the 3-point line now. They are getting good shots, they just can't knock them down.
Ed Davis just made a big-time move, taking his man off the dribble crudely and finishing with a power jam. He's quietly been fairly impressive in this tournament so far, leaving a lot to look forward to next season.
6:37
Griffin showed his potential as a face-up player by taking Deon Thompson out to the 3-point line, putting the ball down with his left hand, and then pivoting into a fade-away jumper from the elbow. That's exactly the kind of stuff that makes NBA scouts drool about his potential. Carolina still leads by 12 with about 2 minutes to go.
The next time down the floor, Griffin makes an impossible catch underneath the basket and manages to find a way to flip the shot up off the glass with the clock running down. Great hands, great touch, great agility. Great player…
6:42
At half-time the score is UNC 32- Oklahoma 23. Blake Griffin has 11 points and 9 rebounds. Hansbrough has been limited by foul trouble, and has just 4 points and 2 rebounds.
6:57
Even with one foul, Griffin continues to play tentatively on defense. He twice didn't put up much resistance to Deon Thompson scoring in the post, looking hesitant to put a body on him or try and block his shot. It's frustrating sometimes to see how little he uses his tremendous athletic gifts on the defensive end of the floor. Ty Lawson just waltzed into the lane and hit an uncontested floater, with Griffin just two feet away and barely attempting to get a hand up.
Oklahoma can't buy a basket from outside, but thankfully for them, they have Blake Griffin on their side. He's already rebounded two 3-point misses from Oklahoma and turned them into baskets for his team. He also finished a pick and roll play with Willie Warren and a pick and roll with Austin Johnson (with a thunderous one-handed jam) to give him 17 points. Again, great hands, great dexterity, great coordination, great explosiveness. Great prospect. (bad defender)
Hansbrough finally gets a touch, and he proceeds to travel as he was guarded by Taylor Griffin. It doesn't look like this game is going to be featured very prominently in the highlight reel his agent creates for him this spring. Wayne Elllington is off to a good start, knocking down a 3-pointer and converting a pretty floater.
At the under-16 timeout, its UNC 45-Oklahoma 33. The pace of this game has picked up significantly.
7:04
Blake Griffin continues to dominate inside, and the announcers just noted that he's scored 19 of their last 25 points. That's not as concerning to me as the fact that they just can't get a stop to save their lives, which has been their biggest downfall all season. Danny Green banked a beautiful pull-up jumper from 14 feet, and Ty Lawson drained back to back 3-pointers, to give him 10 points in the first 8 minutes of the second half. Its 53-38 Carolina, and Oklahoma is officially on the ropes.
7:24
Griffin again gets posted up by Deon Thompson, and again offers no resistance at all in letting him score on him. Thompson has put together a nice game here. Willie Warren continues to struggle from the field, missing another 3-pointer to bring him to 1/8 on the night. Oklahoma is now 0/12 from beyond the arc, and this game has pretty much devolved into garbage time at this point, with UNC up by 21. Ty Lawson really had a big half, as a shooter, scorer, distributor and speedster in transition. Again Carolina impresses with their half-court defense in the second half, just like against LSU and Gonzaga.
7:35
Oklahoma goes on a little 9-0 run to cut to lead to 12, thanks to some nifty shots by Willie Warren and a little bit of perimeter defense. Carolina took a couple of timeouts and appears to be back on track now, as they are holding the lead around 14 with about 2 minutes to go. This game looks pretty much over.
7:40
The final score ended up being 72-60 UNC. Player of the game honors can probably be split between Ty Lawson (19 points, 5 rebounds, 5 assists, 1 turnover, 3 steals, 6-13 FG) and Danny Green (18 points, 3 rebounds, 1 assist, 0 turnovers, 6-9 FG). Blake Griffin finished with 23 points and 16 assists on 9-12 shooting, definitely showing his credentials as the #1 pick, despite his defensive limitations. Willie Warren managed to rebound towards the end and had 18 points, 3 assists and 4 turnovers on 6-16 shooting (2-9 3P)—but this is surely not a game he'll want to remember.
We'd love to wrap this day up, but we have a flight to catch to Miami for the McDonald's All-American game and practices over the next three days. Stay tuned for plenty of coverage out of there. And we'll obviously be back for the Final Four.