The longest flight of my trip so far (besides getting over the Atlantic) over Eastern Europe took me to the snowy Ukraine, to watch B.C. Kyiv practice and play against Benetton Treviso in the ULEB Cup. Kyiv is a strange and wonderful city, a place of many contradictions with an incredible amount of history and wealth and also its fair share of problems. Is a city that is completely unspoiled by tourism at the moment, which can make being a tourist a bit difficult, but also very rewarding. This is a country in the midst of a huge transition moving from East to West, and it seems like visiting here 5-10 years from now would draw a completely different experience.
The team I came to visit, B.C. Kyiv, is a fairly rich club by European standards, well respected on the Old Continent, featuring a deep roster stacked with talent and experience that is expected to make a deep run in this year's ULEB Cup. It's as professional an organization as you'll find (who by the way have arguably the best dance team in the entire world), and the players are treated like royalty as I got to see with my own eyes, not just with their salaries, but also being provided with private drivers, cooks and maids at their personal disposal. When the players fly within the Ukraine, they take the owner's private jet, which is almost unheard of in Europe. The players seem to be loving every moment of being here from what they told me.
Kyiv is coached by a Slovenian coach by the name of Tomo Mahoric, who despite his youth (42 years old) already has a ULEB Cup championship on his resume with Lietuvos Rytas, and a Top-16 Euroleague run with European minions Olimpija Ljubljana, their last since he left. He's been on the short list for some very high profile European jobs as of late, and it's only a matter of time it seems until he lands one.
I got to watch the team practice on Thursday as they prepared for arguably the biggest game of their season in the domestic Ukrainian competition—a clash with archrivals Azovmash, a fellow ULEB Cup team and the current league champions after having knocked off Kyiv a five game playoff series final last season. [Kyiv ended up beating Azovmash on Saturday]
After having watched teams all over Europe practice over the past three weeks, it was interesting to note the contrasts between Mahoric's style and other coaches. They run two practices per day here and seem to put a huge emphasis on physical conditioning and fundamentals (which is typical of the ex-Yugoslavian schools of basketball from what I understand), running a very scripted, serious, organized practice with no dead moments that is heavy on tactics and not at all geared towards full-court five on five scrimmaging. On the side, I watched Slovenian forward Marko Maravic go through a mini bootcamp as part of his rehab from an injury he's suffering from. Situps, pushups, pull-ups, plenty of running—he got in as good a workout as anyone to ensure that he's in shape when he's finally ready to step back on the court. That's the job of Slovenian assistant coach Bostian Jaske, and judging by the way he looks himself, he surely practices what he preaches. From what the players told me, this is typical of the work they go through almost every single day to ensure that they are in peak physical conditioning.
They also do quite a bit of individual work with the coaches on their skills, particularly on the fundamentals of the game. "He'll [Tomo Mahoric] go old-school on us from time to time",
Pooh Jeter
told us: "we'll work on passing, ball-handling, boxing out, posting up, everything. It's really good." Besides the two practices per day, players can put in extra work before and after both practices if they please, which three players in particular constantly take advantage of: Jeter ("the last player to leave practice every single day," according to Mahoric),
Manuchar Markoishvili
, and Andriy Lebedintsev, a 16 year old point guard who had a solid showing in the U-16 European championship this past summer, and is part of the roster and occasionally sees some playing time in the Ukrainian league. He was profiled by Luis Fernandez
already back in 2006
.
This team has many interesting prospects as far as I was concerned, two of whom are still draft eligible. Ukrainian Vyacheslav Kravtsov (better known as
Slava Kravtsov
around here) is a super athletic 7-footer with an NBA body, born in 1987 and a real sleeper as far as the draft is concerned. Georgian
Manuchar Markoishvili
has been on the radar for years now it seems, but has really developed into an excellent player and a key part of Mahoric's rotation this year.
The NBA Draft Prospects
Slava Kravtsov, 7-0, 260 lbs, Center, 1987
Definitely a sleeper as far as the NBA draft is concerned, Kravtsov is a player who only a handful of NBA teams seem to have a good handle on at the moment. He's what you would call a late bloomer, having grown a few inches over the past two and half a years, and added over 25 pounds of muscle just during the last year. You don't have to look any further than here to notice the emphasis Tomo Mahoric, his assistant Bostian Jaske and B.C. Kyiv put on physical conditioning, weight lifting and such than this "kid." Kravtsov has a great frame and especially good upper body strength, fitting the bill and then some for a player his size.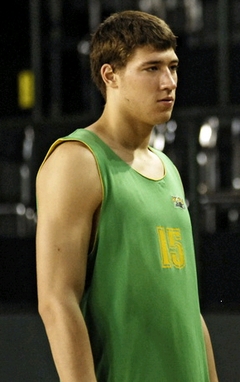 More than just a 7-footer with an NBA body, though, Kravtsov possesses outstanding athleticism on top of that to complete a very intriguing physical profile. He runs the floor extremely well, moves laterally quickly and fluidly, and is absolutely explosive around the basket, looking capable of tearing down the rim every time he goes up to finish. He's also quick off his feet to contest or block shots, giving him virtually everything you could ask for physically from a player his size.
Skill-wise, Kravtsov still has a ways to go to catch up with the tools he possesses. There are two things he does very well, though, which allows him to remain a pretty productive big man considering his age, Kyiv's deep rotation, and the level of competition they play at. Those would be his shot-blocking skills, and his ability to finish around the basket.
The defensive end of the floor is probably where Kravtsov will always be most interesting, surely as far as the NBA is concerned. Looking beyond his size, frame, and athleticism, he also has pretty good instincts as well, particularly regarding his shot-blocking ability. Kravtsov gets low in a fundamental defensive stance guarding his man in the post, doing a great job following the ball, bodying up his matchup, and giving him very little space to operate. He has excellent lateral quickness sliding around to keep up with slashing guards or pivoting big men in the paint, and is quick off his feet and challenge a shot, coming up regularly with blocks both on-ball and from the weakside, with impressive timing. He did a terrific job on
Mario Austin
in both games Kyiv played Benetton, giving him fits around the basket. As a rebounder he also does an excellent job, pulling down nearly 6 boards a game in just over 17 minutes.
Like many young big men, Kravtsov used to have major problems biting on pump-fakes and trying to block absolutely everything in the paint, which usually got him in foul trouble. He's improved considerably in this area, but still has quite a bit of room for improvement here still. He seems to have a tendency at times to let his man back him down in the post, waiting for him to go up with his shot, all the time thinking that he'll simply be able to rely on his outstanding physical tools to block him at the rim, instead of just playing good defense.
Offensively, Kravtsov is a very limited player at the moment, mostly sticking to dunks around the basket, transition plays, and offensive rebounds. He has the potential to make a big impact in the paint with his physical tools, but doesn't really know how to establish great position for himself in the post at the moment. When he does, he shows very average post moves, besides a basic jump-hook he can hit with either hand from very close range, although he clearly prefers his right hand. We were told by Coach Mahoric that he actually has pretty nice touch from the perimeter, even out to the 3-point line, but right now he never tries anything of that nature. We should note that he only shoots 44% from the free throw line on the season. When he gets the ball in the paint, though, you can bet money he's going to try to dunk it thunderously, going right through his defender or anything else that stands in his way.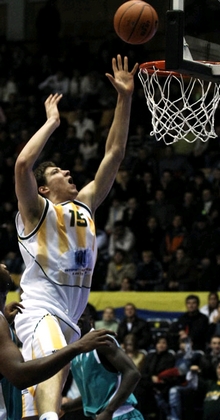 Beyond his lack of experience, Kravtsov has a couple of things holding him back at the moment. For one, his hands are good, but not great. He also lacks some balance and coordination, making him look fairly awkward or mechanical at times. His feel for the game does not appear to be exceptional, having a bit of a sleepy look on his face and not being the quickest guy to react to things happening around him on the floor. His knowledge of the game is clearly limited, as this is really his first season seeing major minutes at a high level. He'll look a little lost from time to time, on a pick and roll play for example defensively where he switches the screen, when the gameplan called for him to hedge.
All in all, Kravtsov is a player that NBA teams need to take notice of, since 7-footers with his combination of physical tools and defensive skills are not that easy to find these days. He still has a long ways to go to reach his full potential, but that's probably part of the reason why he's so interesting at the moment. As a 1987 born prospect, he only becomes automatically eligible for the draft in 2009. It appears that he would be best served using that extra year to continue to improve and in the process help his draft stock. Some scouts we spoke with (even international ones) didn't know who he was, even if it must be said that Pete Philo did bring him to the Reebok Eurocamp in 2006, where our very own Luis Fernandez
already had the good eye to take notice of him
. He'd surely be a player teams will look at in the second round to draft and stash in Kyiv for a few more seasons, hoping he indeed continues to progress as anticipated. If Kravtsov has a big season next year, though, it wouldn't be a stretch to imagine him getting looks in the first round as well.
Manuchar Markoishvili, 6-6, SG/SF, 1986
A much more well known player than his teammate Kravtsov, Markoishvili was one of the youngest players ever to see playing time in the Euroleague at the age of 16 with Benetton Treviso. He had an excellent season last year with Olimpija Ljubljana, and since then moved to Kyiv where he's having a very good year so far. In fact, he's one of the most productive players in his age group in Europe, which should be duly noted.
Markoishvili is a good athlete by European standards, although probably only average as far as NBA wing players are concerned. He's a very complete all-around player, able to put the ball on the floor fairly well against unset defenses, knock down 3-pointers with a high arcing release, and play solid defense thanks to his desire and hustle, as well as his solid quickness and strength. He's a very hard working player both on and off the court, with an excellent attitude towards the game.
Not the most fluid player in the world, Markoishvili is a bit predictable at times with his moves, and also isn't always the greatest decision maker. He struggles to create his own shot in tight half-court sets, needing to improve his left-hand in particular. His jumper has been getting more and more consistent from year to year, but is still streaky in the sense that he can go 5/5 one game from behind the arc and then 0/5 the next time. That might have to do with the fact that he puts so much air underneath the ball when he shoots it, that he sometimes comes up very short.
Defensively, Markoishvili puts in great effort, but does not appear to be the most fundamental player in the world. This might be surprising considering that he played for two of the best developmental teams in Europe at a young age (Benetton and Olimpja), but his footwork is just average and sometimes plays too hard for his own good.
Markoishvili clearly has a great future at the European level, where he will surely be able to play for almost any team by the team he hits his peak, but it's questionable how much upside he still has for the NBA. People have been speculating for years that he's older than what he's actually listed at, possibly having been born in 1983 rather than 1985. According to the stereotype, it's considered somewhat common for athletes from the Republic of Georgia to have their age doctored, not just in basketball but also in wrestling and other sports.
Zaza Pachulia
's stock dropped considerably in the draft for this reason exactly, and not many people still believe that
Nikoloz Tskitishvili
was actually 19 when the Denver Nuggets fatally drafted 5th overall. The people at Kyiv probably don't care about all that, but NBA executives might. Still, if a team is looking to take a flyer on a Europe player they can stash overseas in the second round, Manu as they call him here probably wouldn't make them look bad with the way his career develops, although no one should expect him to really become the next Manu.
Non-Draft Eligible NBA Prospects
Pooh Jeter, 5-11, Point Guard, 1983
Although he didn't have a very good game here against Benetton (15 points aside), Jeter deserves a lot of credit for the excellent season he's having so far. After an outstanding year in the D-League where he led his team all the way to the championship game of the playoffs--and in the process went from complete unknown to legitimate NBA prospect-- Jeter is continuing make steady progress in his rookie season in Europe, averaging 15 points and 4 assists per game on the year.

Still the same waterbug point guard who is nearly impossible to stay in front of, Jeter is learning valuable lessons of how to play in a much slower tempo than he was used to in the D-League. His coaches here are working with him every single day on the importance of maintaining his focus throughout the game and improving his ability to read defenses, and Jeter is rewarding them and garnering invaluable experience in the process. We could see some situations where he pulled back making a pass that had a 50/50 chance of either ending up on a highlight reel or ending up in a turnover, which is a sure-fire sign of a point guard in the process of maturing.

Jeter is probably the most important player on this team, the only one without a backup, and sometimes going the full 40 minutes for Kyiv. He's working hard on improving the consistency of his perimeter jumper, and has had some nice results so far this season (he was shooting 35% from behind the arc up until the Benetton game). His pull-up jumper from mid-range looked like an excellent weapon in the Benetton game, even if he did not do a great job putting pressure on the defense by utilizing his terrific slashing game early in the game. Later on when his team was down by a considerable margin, he started playing with much more urgency (what his entire was lacking essentially the entire game), taking the ball to the rack strong and finishing acrobatically in impressive fashion.

Jeter's height is always going to be a hindrance as far as NBA decision makers are going to be concerned, particularly on the defensive end. This is an area that he's going to have to work the hardest on in order to convince them otherwise, and is clearly something he realizes. The Sports Director here, Vitaliy Lebedintsev, has taken that a step further actually, jokingly offering him an unofficial bonus clause as motivation to get bigger: 10,000 dollars for every centimeter he grows. That seems to be one of the seasons Jeter is letting his hair grow out, hoping his new afro lands him some good cash.

Becoming a true floor general and a vocal leader on the court is something that Kyiv's coaching staff is really preaching to Jeter. To his credit, he seems to be putting in more work in his free time than anyone on the team, both from what we could tell as well as what the team told us. Every day he reportedly puts in extra time on his ball-handling and perimeter shooting.

Jeter will surely be one of the top point guards to be seen in this year's summer league. Playing in the NBA is definitely a dream of his from what he told us, but is not something he will chase illogically if serious interest just isn't there. He's enjoying playing in Europe under coach Mahoric and isn't willing to take the non-guaranteed contract route. There are only a handful of point guards with his speed, smarts, intangibles and playmaking ability outside the NBA, and European teams will surely be lining up to compete for his services if no NBA team steps up with guaranteed money.
Artur Drozdov, 6-7, Small Forward, 1980
Shopping the free agent market for experienced top-shelf European-based players has been lucrative business for some NBA teams over the past few years, with players such as Jose Manuel Calderon,
Anthony Parker
,
Andres Nocioni
,
Jorge Garbajosa
and others having made nice impacts for the teams that signed them. The best player on B.C. Kyiv at the moment,
Artur Drozdov
, looks like someone who clearly could be an NBA rotation player, even if that ship might have sailed already considering how much money he's making here and what his value would be on the open European market.
When discussing Ukrainian prospects, the term "late-bloomer" seems to come up a lot. That has a lot to do with the lack of basketball infrastructure and adequate coaching that this country seems to be suffering from, a big reason why their national team has gone nowhere despite featuring a couple of fairly talented players. We labeled
Slava Kravtsov
as a late bloomer, and people did the same for
Kyrylo Fesenko
before he was drafted by the Jazz last year. Drozdov is another guy that fits the bill, although he seems to be blossoming at a much older age.
When Drozdov was 20 years old, his parents moved from the Ukraine to Pau, France, to open up a restaurant. He was a raw, skinny player back then with very limited knowledge of the game. The best thing Drozdov has going for him, though, is his work ethic. He kept getting better and better every single year, and by his fifth season with Pau Orthez, he managed to average double-digit points in the Euroleague. After his sixth season in Pau, and having received a French passport, Drozdov moved to Kyiv, where he is now in his second season. Playing on a stacked team that is deep at every position except at the guard spots, the 6-7 small forward is currently averaging 17 points and 7.2 rebounds in the ULEB Cup, shooting 59% from the field and 49% from behind the arc (17/35 in 7 games).
It's not hard to see what makes him such an intriguing player, regardless of his age. Drozdov is an outstanding athlete who simply does everything out on the floor. He has good quickness and strength, and is very explosive finishing at the basket. Any time he managed to get into the paint, he usually finished with a thunderous slam. He is a terrific shooter with his feet set, and he uses this threat to put the ball on the floor and make his way to the rim. He doesn't force the issue, though, being extremely team oriented and making some good passes, even if he isn't the most creative player. He also works very hard for his team, hitting the offensive glass extremely well, trying to post up when given the opportunity, and making some excellent moves in the process.
Drozdov's biggest weakness has always been considered his ball-handling skills, although he seems to play so well within his limitations that that doesn't become immediately evident until you really study him. He doesn't have a mid-range game, being limited to either hitting spot-up 3-pointers or driving to the basket, but never pulling up in-between. He's not the most fluid, instinctive player in the world, which is somewhat expected considering how late he started playing organized basketball in a real competitive setting. Defensively, he gets lost from time to time, on pick and roll plays in particular. His ability to defend the perimeter is somewhat questionable at the small forward spot, as he was often used as a power forward earlier in his career and still doesn't have a great feel for staying in front of his man. In Europe, he's not a bad defender, though.
Drozdov's agent, Bouna Ndiaye, compares him to
Sasha Pavlovic
(which is not a bad comparison at all), but to me he looked like a shorter version of
Walter Hermann
with the energy and athleticism he brings to the floor. The truth is he's probably somewhere in between the two. What's been really nice to see is that even though Drozdov is 27 years old, he has continued to get better each and every year. Drozdov is a free agent this summer and could very well get some looks from some NBA teams. The truth is, though, it's going to be hard to keep him away from Kyiv and probably some of the smarter teams in Spain, who can probably pay him more than NBA teams will be willing to offer. The fact of the matter is that he can really play, though, so we'll have to see what ends up happening.
Kyiv Lost to Benetton
By the way, the home team lost to the visitors from Treviso.
Reece Gaines
and
Lionel Chalmers
started clicking early in the first quarter, and Matteo Soranga put on a sparkling display from behind the arc to lead them the rest of the way. Kyiv came out very flat in the first quarter and paid the price for that. They were 13-1 going into this game, and might have been a little too confident that they'd be able to beat Benetton regardless after already having defeated them last month at home. For Treviso this was a must-win game for them to have a real chance at advancing to the next round, and they got exactly what they came here for.
Kyiv's gym was virtually empty (they only play here for ULEB Cup games), and no one was able to take their jacket off because of how cold it was inside. They really aren't getting any type of home court advantage at all being here, which is really a shame considering how professional of an organization this is, in a city of 5 million people.
I'm heading back to the States tomorrow, so this will probably be my last blog entry of the trip.