-The latest Bracket Projections are posted below. It is not a prediction of what I think things will look like on Selection Sunday, but rather a checkpoint of where teams currently stand. In other words, it is put together as if today was Selection Sunday.
-The criteria used to select and seed the teams is the exact same criteria that the selection committee uses. You can read all about that right
HERE
-The bracket reflects games played through Sunday, February, 17th.
-My S Curve rankings are posted below, along with a brief analysis of all 65 teams. The teams in ALL CAPS are the projected conference champions. The 31 projected conference champions are either currently in first place in the conference standings, or tied for it via the loss column.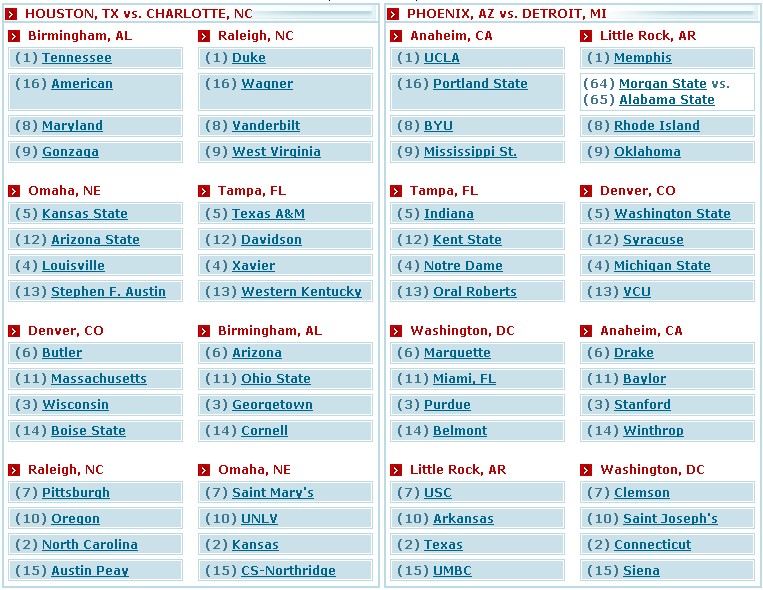 1. MEMPHIS. The Tigers are still unbeaten. They did have a big scare against UAB over the weekend where they trailed by seven with less than ten minutes to go, but were able to come back and win. They have a big game this weekend against Tennessee, which has #1 seed implications for both teams
2. DUKE. They fell to Wake Forest over the weekend, but it is just their second conference loss and they're first in the conference standings. The head-to-head win at North Carolina is keeping them ahead of the Tarheels in the race to be the #1 seed in the Charlotte region.
3. UCLA. The Bruins just picked up a big win against USC on the road, which avenged a loss they suffered earlier this season. Their only road loss was last week against Washington, which was rather surprising, but other than that the Bruins have been solid. They're the first place team in the Pac Ten Standings, and should lock up a #1 seed if they can finish first in the conference and avoid any surprising losses to poor RPI teams in the conference tournament.
4. TENNESSEE. The Vols have have had some close calls lately with just a two point win against LSU and a three point win against Georgia. They have a huge out of conference road test coming up this weekend at Memphis. If they pull that one off they'll be in the drivers seat for a #1 seed barring a collapse in the latter part of conference play. They're two wins away from clinching at least a share of the SEC East
5. North Carolina. The Tarheels are clearly a better team with
Ty Lawson
, and will have a chance to make a case that they are more deserving than Duke for the #1 seed in the Charlotte Region once he's healthy again. They didn't need him over the weekend against Virginia Tech, though. They absolutely blew out the Hokies. That followed up a narrow 75-74 victory against a struggling Virginia team.
6. TEXAS. The Longhorns appear to be as good as anyone right now. With a head-to-head win against Kansas (although it was at home) along with wins over Tennessee, @UCLA, Saint Mary's, and most recently @Baylor, their resume looks to be the best among the three teams tied for first in the Big Twelve, which is why they're the projected champions. Their depth could be an issue if they advance deep into the Big Twelve Tournament, but for now they've strung together several big wins.
7. Kansas. Despite being 7th on the S Curve, the Jayhawks will still have a chance to get a #1 seed with a strong finish. Their best RPI win of the season came against Arizona, and it's their only against an RPI top 25 team. Other notable wins are Oklahoma, Baylor and @USC, but they haven't knocked off a top ten caliber team like some of those who are placed ahead of them have. That's why they're a little lower, but with Kansas State, Texas A&M and the Big Twelve Tourney remaining on the schedule they'll certainly have their chances to show that they deserve a #1.
8. CONNECTICUT. The Huskies survived a big scare against South Florida (who has come to life all of a sudden), but escaped with a last second lay-up for the win. They've won nine straight, and five of those have come against RPI Top 25 teams, including Louisville and a road win against Indiana. No one is on a streak that hot against as many good teams.
9. Stanford. The Cardinal did fall in an overtime thriller against Arizona State earlier this week, but rebounded with a big win over Arizona. They now trail UCLA by one game, but can draw even with them when the two meet later this season. They're 10-2 in their last twelve games and have some pretty impressive wins in that stretch. If they win out they could get a #1 seed, and they're good enough to where that's a possibility, but the schedule is very tough so I'd have to say that it's a small possibility.
10. Georgetown. The Hoyas have lost two of their last three, including one over the weekend to Syracuse, but are still in first place in a log jammed Big East. They don't have a whole lot of really impressive wins, and have had several close calls on top of that. That's why they're down on the #3 line, but a strong finish and a good showing in the Big East Tournament should move them up.
11. PURDUE. The Boilermakers struggled out of conference, which isn't surprising given how young they are, but they are one of the hottest teams in the country right now and are in sole possession of first place in the Big Ten standings. They've won 11 straight, but will face bitter rival Indiana on the road this week in a high stakes Big Ten game. Still, they've beaten Wisconsin twice and Michigan State in that 11 game stretch, so their credentials just keep getting better and better.
12. Wisconsin. The Badgers recently picked up a big win on the road against Indiana, which was their second win over the Hoosiers this year. Another notable big time win came against Texas. They're just a game behind Purdue in the Big Ten Standings and most of their games between now and the end are winnable. They should enter the Big Ten Tourney with quite a bit of momentum.
13. XAVIER. The Musketeers are red hot right now, and some may be surprised to see them on the #4 line, but they haven't played or beaten anyone seeded ahead of them. They also have just two RPI top 25 wins (Indiana, Dayton), and the win against Dayton won't help them all that much. A blowout win against Kansas State should impress the committee as well, and if they can win out they should move up the line. They have a big road game against Rhode Island tonight where they can improve to 14-1 in their last 15 games.
14. Louisville. The Cardinals are one of the hottest teams in the country right now with notable wins over UNLV, West Virginia, Georgetown, and two against Marquette. They got a scare from Providence on the road over the weekend, but ended up pulling it out. They have a pretty tough schedule the rest of the way, but they're also right in the Big East race, so this will give them a chance to boost their credentials even more, and end up with an even better seed than where they're currently projected.
15. Michigan State. The Spartans have dropped some games on the road lately, the most recent being a decisive loss to Indiana. They've lost three out of four, and could arguably be placed lower on the S Curve than this. Their next two games are at home against Penn State and Iowa. Both are winnable, so the Spartans should be able to build up some momentum.
16. Notre Dame. The Irish did drop a game to UConn last week, but it was just their third loss since November 19th, and it was a close game. They got a bigger scare from Rutgers over the weekend than they were probably expecting, but they did manage to pull it out. They're right in the hunt for the Big East regular season title and should be a dangerous NCAA Tournament team.
17. Kansas State. The Wildcats fell to Texas Tech last week, which was sort of a surprising loss given how well they'd been playing. They're still in a tie for first place in the league standings and have a winnable game against Nebraska coming up, but it gets pretty tough after that. If they can finish strong against the likes of Kansas, Texas and Baylor, and then give a good showing in the Big Twelve Tournament they could be looking at an excellent seed.
18. Washington State. Wazzu went into a bit of a slump, but seems to be out of it now. They've won three straight games, including a big win against a very desperate Oregon team over the weekend. What's funny about this team is that they appear to play much better on the road than they do at home. Three of their five losses came at home, and their road losses were to UCLA and Stanford in very close games.
19. Texas A&M. The Aggies dropped a stunner to Oklahoma State over the weekend. In fact it was Oklahoma State's first true road win in the past two seasons. They still have an impressive resume, though, and had been playing really well before that. They have bitter rival Texas on the road, which won't be an easy game because the Longhorns have been playing outstanding lately, and they probably have payback on their minds.
20. Indiana. The Hoosiers seem to be dealing with the distractions of Kelvin Sampson really well, and won a big game against Michigan State in front of a very enthusiastic crowd. They have a big game against Purdue this week, where they'll get the chance to add another big win to their resume.
21. BUTLER. The Bulldogs' biggest problem is that their only win against an NCAA caliber team was at home against Ohio State. They'll be facing Drake this weekend in the Bracket Buster, in what will be a rare opportunity for both teams to pick up a quality win. It's hard to say what the committee will do with the Bulldogs. This may be a little high, because if you remember last year Nevada had a similar profile and ended up with a #7 seed. The lack of quality wins will be a factor.
22. DRAKE. At least Butler has one RPI top 50 win. Drake doesn't have any at the moment (although Illinois State could end up playing their way in). I believe the game against Butler is hugely important because without it it's hard to make a case that they deserve a really good seed due to a lack of quality wins. On top of that, they're coming off a loss at Southern Illinois over the weekend, which is just their second of the season. They're in no danger of missing the field, which is the important thing, but their seed will likely be much poorer than their AP and Coaches' Poll Rankings.
23. Marquette. They're just 3-4 on the road, which isn't bad, but it isn't great either. They'll need to do much better if they want a seed better than #6. They've also been inconsistent this year, but blew out Pitt over the weekend and have looked pretty good in their last three games. Their next four games are winnable, so they have the chance to build up quite a bit of momentum heading into Georgetown.
24. Arizona. The Wildcats have played one of the toughest schedules in the country, and they have some pretty big wins, but they've also lost three of their last four, including a close one to Stanford on Saturday. None of the losses are particularly damaging, it's just that there are nine of them, and they don't appear to have a whole lot of momentum right now. It's important that they turn it around and do it soon.
25. Pittsburgh. Pitt has Levance Fields back, but it didn't do them a whole lot of good against Marquette seeing as how they were blown out. It doesn't get any easier either with their next two games being against Notre Dame and Louisville. If they can manage a win in just one of those games it would be a big boost to their profile, especially with Fields being healthy again. If not, then it would mean three straight losses, which would cause their credentials to slide.
26. usc. The Trojans were hot, but they've lost two in a row. One was to UCLA, which isn't all that damaging, but a win would have done a lot in terms of seeding. If they have a solid finish they should be fine, though, but it may not be easy if guard
Daniel Hackett
is unable to play due to his back injury.
27. Clemson. The Tigers have had quite a few close losses to some really good teams, most recently an overtime loss to North Carolina, so they may be a little better than their resume indicates. They have won two straight, the most recent being against North Carolina, so the Tigers should be in good shape for a bid. Florida State, Miami, Georgia Tech and Virginia Tech are among the teams remaining on their schedule. Miami's on the bubble, but none of the others mentioned are in the discussion right now. If they can take care of business against those teams then they should be fine.
28. SAINT MARY'S. Saint Mary's most impressive win probably came against Drake. Not may people thought it would be a big game back in November when it was played, but that's the best RPI team they've beaten. They're in first place in the West Coast Conference and have already beaten Gonzaga once. Barring any sort of collapse they're safe for a bid.
29. Vanderbilt. The Commodores have won five straight games and managed big wins over Kentucky and Florida this past week, which avenged losses to both teams earlier this season. At 22-4 and with three of their five remaining games being at home, they have a chance to build up their credentials even more and end up with a much better seed than where I currently have them projected. They haven't taken down any real heavyweights, though, which is why I have them as low as I do.
30. Rhode Island. The Rams fell to Temple earlier this week in a game where they blew a second half lead, but they're still in relatively good shape. They have a huge game tonight against Xavier where they can really solidify themselves as a strong team. A win would really help them out in terms of seeding as well. It has the feel of a pivotal game because a loss would be their third in four games, and put them in a situation to where they've have to finish strong.
31. Maryland. The Terps fell at Duke this week, but that's hardly damaging, and for a team that's been winning at a fairly high rate they're still in good shape. Other than a monster win at North Carolina they really don't have any wins that are all that impressive, but they're 7-4 in conference play and are playing their best basketball of the season right now and will have a chance to build up their profile between now and Selection Sunday.
32. BYU. The Cougars had a fantastic blowout win against UNLV over the weekend, which avenges a blowout loss they suffered to the Rebels earlier this year. It was the eighth straight win for the Cougars, and they have played their way pretty far inside the bubble and will be safe for a bid barring a collapse, and they now have a two game lead in the conference standings with just six games remaining.
33. Oklahoma. The Sooners pulled themselves out of a really bad slump with two wins this week. They have some pretty good wins on their resume, but they're an inconsistent team and that will effect their seed. Texas and Texas A&M are still ahead on their schedule, so they'll have the opportunity to really add a monster win to their resume and solidify their spot in the dance. If they don't win either of those, but manage to take care of business in all their winnable games they should be fine, though.
34. Gonzaga. The Zags' wins against Saint Joseph's and Connecticut are looking pretty good right now, but they came at a time when neither team was playing quite as well as they are now, so they won't get as much credit as they would had they beat them a week ago. Still, Gonzaga looks like a solid team who is safe for a bid barring a collapse. Any conference loss to a team other than Saint Mary's will hurt their seed, though, because most of the teams have such poor RPIs.
35. West Virginia. The Mountaineers have won three out of four to come out of a minor slump, and just blew out Seton Hall over the weekend. All but one of their losses came against RPI top 50 teams, and a good number of those games were pretty close, so the Mountaineers are probably better than their resume currently indicates and could be a dangerous team in the NCAA Tournament.
36. Mississippi State. The Bulldogs are 12-2 in their last 14 games, and in first place in the SEC West. They just picked up a big win against Arkansas, which avenges a blowout loss from earlier in the year. They still don't have any wins that will really jump out at the committee, so they need to take care of business in their winnable games between now and the end. If they do that they should be fine. If not, they may be sweating.
37. Arkansas. The Razorbacks have been very inconsistent this year and they've lost their last two games. Wins against Baylor, Mississippi and Mississippi State highlight their resume, but none of those teams are all that solid themselves. They really need to finish strong if they want to feel safe for a bid. If they stub their toes too many times they'll be sweating on Selection Sunday.
38. Saint Joseph's. The Hawks missed a chance to pick up a big win against Xavier last week, but rebounded with a blowout against Saint Bonaventure and have quite a few winnable games between now and the end. They're playing pretty well right now and should be able to finish strong. If they do that then they'll be safe.
39. unlv. The Rebels were blown out by BYU and are probably on the bubble because their only real notable win came against BYU, but all their games the rest of the way are winnable. If they win them all they should remain inside the bubble. Any loss would be damaging and could result in them being left out, especially if they lose early in the conference tournament.
40. Oregon. The Ducks have wins over Stanford and Arizona, which is what jumps out at the committee. They don't have much else, though, and there have been periods where they've really struggled. They're a modest 4-6 on the road, and with three road games coming up it's important that they play well in those because they'll go a long way in determining whether or not they're safe for a bid.
41. Arizona State. The Sun Devils picked up a huge, much needed win against Stanford which completely revived their NCAA Tournament hopes. Unfortunately they were unable to cash in against California in the next game, though. There are some glaring problems with their credentials. They're just 2-6 in their last eight games and they have just two true road wins. If those two things don't improve between now and the end they'll be watching the NCAA Tournament on TV
42. Baylor. Baylor is the feel-good story of the year, and they came from behind against Texas to make it very exciting over the weekend, but came up just short. Unfortunately, the Bears have been coming up short quite a bit lately. The wins against Notre Dame and Texas A&M are impressive, but they've lost five of six and those two wins alone aren't enough to offset that if the Bears can't turn it around.
43. Miami, FL. After losing six of seven, Miami has now won two straight, which has resuscitated their credentials…at least a little bit. They still have quite a bit of work to do between now and the end if they want to end up inside the bubble. Their next two games are at home against Duke and Maryland. Winning one of those would put them in. If they fail to win either one, then they may be sweating because their margin for error will be razor thin.
44. Ohio State. The Buckeyes are falling fast, and are in quite a bit of danger if they can't turn it around. The loss to Michigan was very crippling, as was the loss to Iowa. Their only win against the RPI top 50 came against Syracuse early on, and it's hard to say how much credit they're going to get for that. The hardest part of their schedule lies ahead of them, which could be a good thing because it gives them the chances they need to make a strong case for themselves. It could also be a bad thing because the wins they need are going to be hard to come by.
45. Syracuse. The Orange picked up a huge win against Georgetown, which is something they desperately needed, but they are still right on the bubble and are anything but safe. The loss to South Florida in the week really hurt. Their next two games are on the road against Louisville and Notre Dame. Their schedule is pretty brutal the rest of the way and they're going to have to knock down a heavyweight or two if they want to make the dance.
46. Massachusetts (last at-large team in). UMass is freefalling and is about one or two losses away from being knocked outside the bubble. Their next game is against Rhode Island, and a win in that game would do wonders for them. After that, their remaining four games are against teams who aren't in contention. If they can win all of those they should be fine, but a loss might prove to be too damaging, especially if they get knocked out of the conference tournament early on.
47. KENT STATE. The Golden Flashes have a shot at an at-large bid, but it won't be easy. They probably need to win out in order to get it, which would include a win at Saint Mary's in the Bracket Buster.
48. DAVIDSON. Davidson is unbeaten in conference play and appears to be an outstanding team, but the problem is they have just one win against the RPI top 100, and none against the RPI top 50. If they win out, but lose in their conference tournament they may get some consideration because of how close they came to beating Duke, North Carolina and UCLA, but I don't see them making it in without winning the SoCon.
49. VCU. The Rams fell to conference rival Old Dominion over the weekend, which looks to be very damaging. If they can win out they'll get some consideration, but even that probably won't be enough, especially considering that no one left on their schedule is in any kind of shape to receive an at-large. The good news is that the conference tourney is in their home city.
50. WESTERN KENTUCKY. South Alabama's surprising loss to Middle Tennessee last week has landed the Hilltoppers in first place in the Sun Belt. They nearly upset Tennessee and Gonzaga earlier in the year, and had it not been for an upset loss against Northern Arizona early in the season they may be in position to get an at-large. It's still possible, but very unlikely. Nevertheless, their upcoming game against South Alabama this week should be a good one, and could put the winner within reach of the bubble.
51. ORAL ROBERTS. ORU has an RPI in the 40s, but really doesn't have anything else all that impressive on their resume. They also fell to IUPUI over the weekend. They still have a one game lead in the conference standings and the tournament is in their home city, but I don't see them getting an at-large with a loss despite the fact that their RPI is so good.
52. STEPHEN F AUSTIN. A big win at Oklahoma earlier in the season is the highlight on their resume. They're 9-1 in their last ten games, but the Southland Tournament will be no cakewalk. Lamar and Sam Houston have been playing tough as well.
53. BOISE STATE. The Broncos are in a three way tie for first place. Utah State had been playing outstanding, but they've gone into the tank recently. Boise is 7-1 in their last eight games, and with Utah State at home to close the season all their remaining games are winnable. They'll still need to win the conference tournament to make the NCAAs regardless of what happens, but they do have a chance to build up some momentum, which would really help their seed.
54. BELMONT. The Bruins are 10-1 in their last eleven games, and with three of the poorer teams in the conference remaining on their schedule they should enter the conference tourney with quite a bit of momentum. If they win out they should end up with a #14 seed.
55. CORNELL. They're unbeaten in Ivy League play, and other than a close call against Harvard no one has really given them a scare. If they win their next three they'll clinch at least a share of the conference title. They have a two game lead over Brown, and a win against them would help them clinch. Four more wins and they should win the league outright, which would guarantee them a spot in the dance.
56. WINTHROP. UNC Asheville has fallen apart all of a sudden, and Winthrop is back in the conference hunt with a chance to earn home court advantage once again for the conference tournament. They did have some success early in the season, but they've also had some bad losses so their seed in the NCAA Tournament isn't likely to be all that good. They close the season against UNCA in a game that could determine who has home court throughout.
57. SIENA. The Metro Atlantic has been beating up on itself, which is hurting the potential seed for whoever ends up winning the league. Siena is tied with Rider for the conference lead, and Niagara and Loyola MD are right behind them.
58. CAL STATE NORTHRIDGE. The Matadors had two surprising losses a couple of weeks ago, but have rebounded from that with two straight wins. They have a one game lead in the conference standings, and a two game lead over UC Santa Barbara and Pacific, who are tied for third. The top two teams bye into the semifinals of the conference tournament, which will help out CS Northridge if they can hold on.
59. UMBC. They've won six in a row and now have a two game lead in the conference standings with four games remaining, two of which are against two of the worst teams in div1. If they win those they clinch at least a share of the title, and one more win gives it to them outright, which means they'll host the conference title game if they advance that far in the tournament.
60. AUSTIN PEAY. The Governers have dominated the OVC for the most part, but it isn't that good of a league. I don't see them getting any better than a #15 seed even if they win out through the conference tournament.
61. AMERICAN. The Patriot League has shown us quite a bit of parity, which is something it normally doesn't do. The end result is that whoever wins it will most likely end up with a #16 seed. American will have home court advantage throughout the conference tournament if they can hold on.
62. PORTLAND STATE. They've won eight straight games, including a big one recently against Weber State. They have a three game lead in the conference standings with just four games remaining. One win clinches at least a share and since they own the tiebreakers they'll bye into the semifinals of the conference tournament and host it throughout.
63. WAGNER. The Seahawks are in a tie with Robert Morris for first place and the two face each other in a big game Saturday. The regular season winner gets home court advantage throughout the conference tournament, so that game will be big.
64. MORGAN STATE. The Bears recently had an eight game winning streak snapped, but are still in a tie with Norfolk State for first place. Whoever wins this league should wind up as a #16 seed.
65. ALABAMA STATE. They've been the best team in what is clearly the worst league. Whoever wins the SWAC is almost certainly destined for the Opening Round game.
OTHERS CONSIDERED
: Dayton, South Alabama, California, Kentucky, Florida, Wake Forest, Houston, Mississippi, North Carolina State, Illinois State, Villanova, New Mexico, Missouri, Southern Illinois, Utah, Cincinnati
-I don't know what's happened to Ole Miss. They've gone from looking like one of the best teams in the league to suddenly looking like one of the worst. They're just 2-6 in their last eight games, and four of those losses have come to teams with sub 100 RPIs.