-The new bracket is posted below. It reflects games that have been played through Monday, December 3rd and is not an attempt to predict where teams will end up in March, but rather a checkpoint for where they currently stand based on what has happened on the court. That is why teams that are highly ranked, but haven't played a tough schedule and/or beaten any good teams will be seeded worse than what a lot of people may expect.
"#1 IN THE RPI"
-During the Miami, FL vs Saint John's game, Fox Sports Net did a short story on how Miami was currently #1 in the RPI. Unfortunately the volume was turned down on the TV, and I didn't to hear what they were saying, but it is sort of ridiculous to reference the RPI this early. At this point of the season there are still a lot of cases of individual opponents having a bigger impact on a team's RPI, than the actual team in question does. In other words, Saint John's will boost Miami's RPI more than Miami will right now. That certainly isn't the case after teams have played more games, but as of right now the RPI is not a good reference point, and I haven't been factoring it in to the bracket projections yet.
-Miami, FL is a good team, and is undefeated with wins over Providence, VCU and Saint John's. It makes a lot more sense to say that than it does to say that they're #1 in the RPI. Other than traveling to Mississippi State, they don't really face any tough competition between now and the start of ACC play, so I wouldn't be surprised if they were undefeated going into league play. They're currently in the bracket as a #6 seed.
NEWS AND NOTES ON THE BRACKET
-Miami, OH, the other Miami, is having a good year as well, but has dropped their last two games. Against Dayton, the Redhawks blew a 19 point lead and lost in the final seconds 63-62. It was Dayton's only lead of the game.
Brian Roberts
, who it the three point shot in the final seconds, had 20 points for the Flyers.
Miami followed that up with a great defensive performance against Louisville, but ended up losing 47-44. They missed a shot in the final seconds that would have given them the huge upset road win and then Louisville iced it with two freethrows. Michael Bramos of Miami, who came into the game averaging over 20ppg and absolutely draining shots from the outside, was held to just 5. Louisville's defense did a great job as well, and
Earl Clark
ended up with five blocked shots in the game.
-Dayton wasn't through after their big road win against Miami. They followed it up with a win against Holy Cross, who came into that game undefeated. Holy Cross isn't a Top 25 team, but they are a team that should dominate the Patriot League and end the season with an impressive record, so beating them on the road will really help Dayton's RPI. This is a Dayton team that struggled away from home last season, and the fact that they already have two road wins is a sign that they are improving.
-There still aren't many SEC teams in the field, and the ones that are in aren't seeded as good as people would probably expect. Again, that has to do with those teams not having played or beaten any big time competition yet. The league is 60-18 overall against div1 teams, but only 5-12 against major conference teams. The best wins that I can think of are Arkansas's wins over Missouri and Missouri State, Tennessee's win over West Virginia and Vanderbilt's win over Georgia Tech.
-George Mason looked absolutely amazing in their win against Drexel. The game wasn't close at any point except when it tipped off. The final score was 85-38 and four players reached double figures for the Patriots. How did they follow that up?? They ended up losing to East Carolina in their very next game. Talk about a damaging loss. It was East Carolina's first div1 win of the year and they had only three div1 wins a year ago. I've been saying all along that George Mason needs to take care of business in games such as this because they don't play that many top notch teams, so this one could really end up hurting them. They're in the bracket this week as a #11 seed, but that could change once some of the teams on the outside looking in get a chance to play and beat quality opponents.
-More bracket notes below.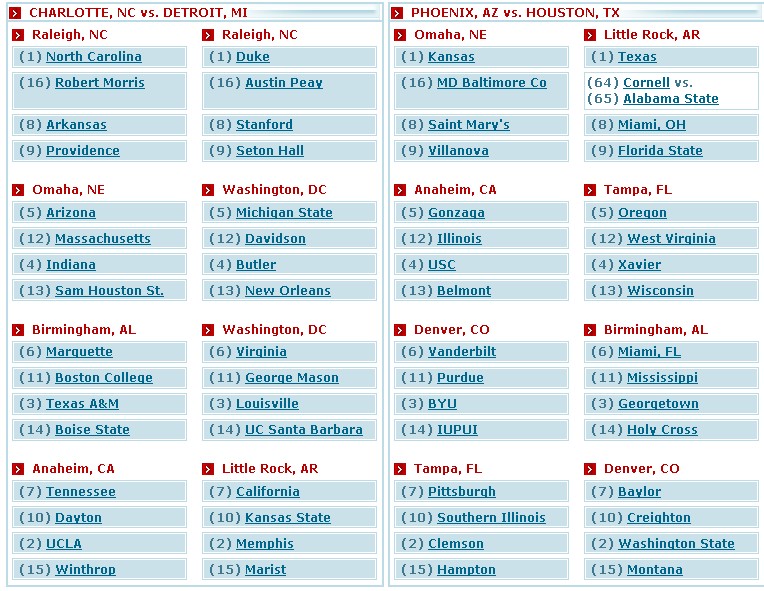 OTHERS CONSIDERED:
Rhode Island, Connecticut, Syracuse, VCU, San Diego State, Kent State, Missouri State, Missouri, Texas Arlington, Florida, Alabama, Oklahoma, Ohio State, Auburn, New Mexico, UNLV, Georgia, Kentucky, Nebraska, Wake Forest, Houston, Drake, Duquesne, Cal State Fullerton
BIG TWELVE-PAC TEN HARDWOOD SERIES
-Texas picked up a huge 63-61 win against UCLA, which moves them into a current #1 seed. It has been one of the most impressive road wins of the season so far, and assuming UCLA continues to contend for a #1 seed we aren't likely to see many more quite as impressive as that.
Damion James
had 19 for the Longhorns, which included a game winning dunk in the final seconds which ended up being the winning bucket.
-Kansas State ended up falling at home to Oregon in overtime last week 80-77. K State is still looking for their first really big time win. They don't need to be too concerned about it just yet. It's still very early in the season, their conference will supply them with plenty of chances to get quality wins, and they appear to be getting better as the season progresses. They're only in as a #10 seed, but that's a reflection over where they currently stand, not where I believe they'll end up.
-Kansas got a big win at USC, which was the first loss for the Trojans since losing their season opener to Mercer. Despite the loss, USC should feel encouraged because they played really well and appear to be improving. They're a young team, so the more big time experience they get the better it should make them.
-Baylor packed the house for their game against Washington State, which is something they don't do often. The Bears got out to what appeared to be a comfortable lead, and at one point led 44-30 in the second half. Wazzu came charging back and ended up winning 67-64. It's heartbreaking for Baylor because this was the type of game that could have really made a statement, but they should feel somewhat encouraged by it. The Bears are not at full strength yet and should be even better once everyone becomes healthy. For Wazzu, it was a road win that should end up looking pretty good by the end of the season.
MORE BRACKET NOTES
-Davidson got off to a decent start against Duke, but Steffon Curry got into foul trouble and had to come out of the game about midway through the second half. Duke then opened up a commanding lead, but Davidson was able to fight back in the second half. They just couldn't get over the top and ended up with a 79-73 loss. It's not too damaging, but Davidson needs a big win to solidify a spot in the NCAA Tournament in the event that they fail to win their conference tournament. UCLA and NC State are still on the schedule. For Duke, it was another quality win to add to their list. Five Blue Devils finished in double figures.
-Massachusetts had a big win last week against Syracuse 107-100. That got the Minutemen, who weren't expected to do much this season, to 5-1 on the year and gave them a big time road win. They followed that up with a loss at IUPUI. IUPUI is a good team and I expect that they'll finish at or near the top of the Summitt League standings, but I can't imagine that their home court is harder to win on than Syracuse's. UMass is in the bracket as a #12 seed, but is one of the last teams in.
-Kentucky ended up losing to North Carolina 86-77, but the game wasn't anywhere close as the score indicated. Kentucky has not beaten an NIT caliber team yet, much less an NCAA Tournament caliber team. That, and the loss to Gardner Webb have them on the outside looking in right now. I know it's early, but they haven't shown a whole lot of promise. It could end up being a long year for the Wildcats.
-Mississippi is undefeated, and had a somewhat impressive win over New Mexico this past Saturday. Both teams came into the game undefeated, but neither had played a solid team. New Mexico appears to be good, but it's hard to say just how good at this point.
Dwayne Curtis
finished the game with 20 points and 10 rebounds and was 8-10 from the floor. Ole Miss shot over 50% from the field as a team. The Rebels are very well coached. Andy Kennedy exceeded all expectations last year when they tied for the SEC West title. They are under the radar once again, but could end up being dangerous once conference play begins. They are currently in the bracket as a #11 seed.
-Xavier absolutely blew out Belmont. Xavier has been winning by decisive margins against fairly good teams since losing to Miami, OH. Most notably they beat Indiana by 15, but beating Belmont 90-49 is noteworthy as well. Belmont is a team that upset Alabama, and came into the game at 5-2 with a chance to get a big time road win that would have gone a long way toward making a case that they were worthy of an at-large. Instead they got blown out of the place. Xavier is in the rankings and faces some very tough teams between now and the beginning of conference play. They could end up making quite a bit of noise this year.
-Saint Mary's is undefeated, and has wins against Oregon and Seton Hall on their resume. They haven't played anyone on the road yet, though, and they'll need to win some games away from home if they really want to get a good seed. They're solid and should be able to challenge gonzaga in the WCC this year.
HIGHLIGHTED MATCH-UPS
-SAINT LOUIS AT BOSTON COLLEGE. Boston College is coming off their first loss of the season, and will undoubtedly be looking to rebound. Saint Louis has looked impressive at times, but not in their last two games. Kent State blew them out and they barely got by Long Beach State in their last game. If they aren't careful they could end up losing this game really big as well.
-MICHIGAN STATE AT BRADLEY. Bradley is 6-2, but this could be the big time win they need that could really impress the selection committee. Michigan State is 6-1 with their only loss being to UCLA. It would be a decent road win for the Spartans as well, so there are several things at play in this one that will score the winner some points with the committee.
-INDIANA STATE AT MIAMI, OH. Miami has dropped two very close games in a row and can't afford to lose a game like this. They have a good win against Xavier, and losses to USC and Louisville on the road won't kill them, but losing a game like this could. Indiana State played Purdue pretty tough in their last game, so it won't be a walk in the park for the Redhawks.
-NEW MEXICO AT NEW MEXICO STATE. New Mexico State has been disappointing this year and is just 2-6 against div1. They haven't looked all that good, but this is a rivalry game and they should be up for it. New Mexico just suffered their first loss of the year against Ole Miss, so a win on the road against a rival would be a nice way for them to bounce back.
-KANSAS STATE VS NOTRE DAME (Jimmy V Classic). Both these teams have potential, but I don't believe either has reached it yet. Notre Dame could really use a big time quality win and this is their last chance until conference play begins. Kansas State has played well against top competition, but so far has come up just short. It would be a nice win for either team that would improve the quality of both resumes right now.
-NORTH CAROLINA AT PENN. This is an unusual road game for the Tarheels. Penn really hasn't been all that impressive this season, and it's exciting to be hosting North Carolina, but it could end in a blowout.
-PROVIDENCE AT RHODE ISLAND. Providence just picked up a nice win against Boston College in overtime and is having a pretty good year. Rhode Island has an impressive record as well with just one loss (coincidentally it was against Boston College), but they really don't have a big time win just yet. This would certainly qualify and go a long way toward improving Rhode Island's Tourney credentials. It's also a rivalry game, so that means it's important both on and off paper. Providence needs these wins too. They'll get plenty of chances in conference play, but if they end up struggling they'll need to fall back on what they did out of conference in order to impress the committee.
-HOLY CROSS AT SAINT JOSEPH'S. Holy Cross just suffered their first loss of the season to Dayton. Saint Joseph's is 4-2, but lost two heartbreakers to Gonzaga and Syracuse and really doesn't have a standout win just yet. This is a game that should help the RPI of both teams because both should end up with quite a few wins. Holy Cross will have to be nearly perfect between now and the end if they want to be in the discussion for an at-large. Saint Joseph's will have more opportunities, but this is the kind of game the committee would expect them to win, especially since they're at home.
-MEMPHIS AT USC. Two of the best freshmen in the country will be on the floor for this game. It's probably Memphis's toughest test of the year considering that they're the road team. USC just lost a close one to Kansas, but gets another shot at what looks to be a #1 caliber seeded team tonight. Both teams should make it to the NCAAs easy and a win like this would be a statement that the team is worthy of a good seed.
-AKRON AT WINTHROP. This should be an interesting game. Akron is having a good year so far at 5-1, but this will be a test for them. Winthrop is a young team that's played some good basketball, but they were blown out in their last game by West Virginia and need to rebound.
BUY GAMES
-TOLEDO AT HOUSTON. Toledo is just 1-6 on the year, and Houston is trying to get to 8-1.
-UC RIVERSIDE AT SAN DIEGO STATE. San Diego State can get to 8-1 with a win.
-SAINT PETER'S AT SETON HALL. Seton Hall lost their last game to Saint Mary's and is looking to rebound. It shouldn't be too difficult to come out of this one with a win.