Day three of Nike Hoop Summit World Team practice kicked off a little earlier in the afternoon to allow the players ample time to get to the Moda Center for the Portland Trailblazers-Minnesota Timberwolves game, certainly one of the highlights of the week for them.
---
More DX Nike Hoop Summit Coverage
-USA Practice Day One
-Skal Labissiere Interview
-Ben Simmons Interview
-International Practice Recap Days One and Two
-World Select Team Measurements and Analysis
-2015 Nike Hoop Summit International Roster Breakdown
---
Zhou Qi
sat out for the second straight day due to an ankle injury he suffered at the conclusion of the first day's practice. While many scouts are enamored with the length, high skill-level and excellent timing as a shot-blocker of the 7-2 Chinese big man, his incredibly frail 209 pound frame is a huge concern, and the injury Qi suffered so early in the week did nothing to dispel that.
Warmups were followed by a standard defensive shell drill and a focus on perimeter closeouts in 3-0 situations. Skal Labisserie began to stand out early on with how vocal he is in each and every drill, with scouts in the stands commenting on how coachable and passionate he appears to be.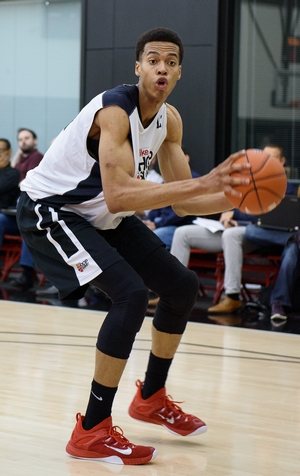 The players then split up into big men (Skal, Maker, Diallo, Wynyard) and everyone else. The big men went into a series of one on zero, one on one and then two on two drills starting through the post, which resulted in some incredibly spirited battles between Labisserie and Maker where both players competed thoroughly and impressed with their fight. Just like the previous day, where Labisserie released an incredible turnaround jumper in the post that had scouts gushing, he executed a couple more very impressive moves that showed just how talented he is, including a one-legged Nowitzki style shot and a gorgeous running jump-hook swooping through the lane. The two on two big men sessions were particularly interesting, adding in an element of passing and help defense that provided another layer of evaluation to study from. Maker's repeated struggles catching post-entry passes caused some grumbles among scouts, as he has had a lot of trouble making clean catches this week due to his small and not particularly soft hands.
---
Interview With Head Coach Roy Rana
---
On the other end of the court, it was the
Federico Mussini
show once again, with the Italian putting on a clinic of footwork and ball-handling, with plenty of crafty finishes and smooth pull-ups from beyond the arc to accentuate his tremendous skill-level.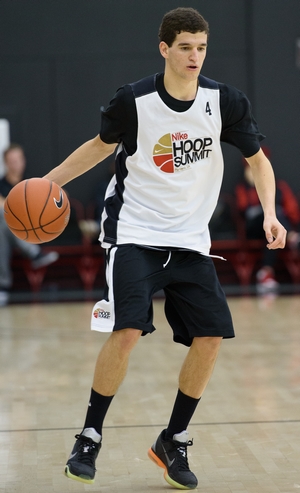 Mussini is easy to write off as "too small, skinny and short-armed," but few would deny how effective he's been here, even with a monstrously long-armed Brazilian draped all over him at all times. Comparisons to
Jose Juan Barea
and
Kevin Pangos
spread quickly through the gym.
Shooting drills were next, with the big men first going around the arc for mid-range jumpers, and then following that up with 3-pointers on their next go-around. The guards shot 3s throughout, with Murray and Mussini in particular standing out. These drills give the scouts a nice opportunity to study the players' shooting mechanics and touch, to try and get a gauge of how much they might be able to improve this part of their game down the road. Among the big men, both
Ben Simmons
and Skal Labisserie shot the ball better than expected from the NBA 3-point line (video of drills forthcoming).
After that, were a series of five on five full-court scrimmages, clearly the highlight of the day for the many talent evaluators in attendance. The first half of scrimmages featured the lineup of Murray/Peno/Simmons/Labisserie/Diallo against Mussini/George/Buza/Maker/Wynyard, while the second was Mussini/Murray/Simmons/Labisserie/Wynyard against George/Peno/Buza/Maker/Diallo.
Fairly quiet in the first two days,
Jamal Murray
came alive today, showcasing his extremely impressive skill-level that has him ranked as one of the top guard prospects in the 2016 high school class. Murray is clearly more comfortable at this stage with the ball in his hands, as he tends to get quiet and somewhat passive when he isn't the focal point of the action. Playing a heavy ball-handling role, Murray made some slick passes out of the pick and roll, a beautiful turnaround jumper in the post, and a series of gorgeous floaters from the free throw line area. He capped that off with an open 3-pointer and even hit a miracle half-court buzzer-beater to finish off the scrimmage, putting an exclamation point on what was a terrific all-around performance.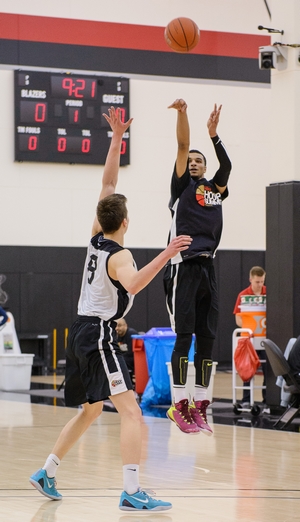 While not an exceptional athlete, Murray is extremely smooth and does a terrific job of playing at different speeds, relying more on his high skill-level and strong feel for the game. He shows the ability to make some creative passes, and is relatively active and competitive on defense, which helps considering he doesn't have tremendous length with his 6-7 wingspan and especially his 8-2 ½ standing reach, relatively average for either guard spot. Talking to Murray, he had absolutely zero interest in discussing the topic of which class he will end up in, instead preferring to thoughtfully talk about a variety of issues revolving around Canadian basketball, the path he's taking as somewhat of a trendsetter in his home country, and his own personal growth as a player. We will release that interview in the coming days.
Ben Simmons
had a much better day of practice after a full night's sleep in the Pacific time zone. He still struggles to score at times in the half-court due to his streaky jump-shot and lack of length as a finisher around the basket, and is a little more turnover prone than you'd hope, but his ball-handling skills, creativity and passing really shined through at times with some impressive plays. He remains one of the most unique players you'll find outside the NBA, and it will be fascinating to see how his terrific talent translates to the college setting at LSU.
After two very ugly days at times,
George Lucas
had a slightly better outing today, finally starting to slow down a bit and not telegraphing as many passes as he had earlier in the week, which rendered him incredibly turnover prone. There is no denying the talent Lucas possesses, he has amazing physical attributes and huge potential defensively, while also being capable of knocking down the occasional jump-shot and making some impressive ball-handling moves in the open floor. But the game clearly moves a little too fast for him right now and his lack of high-level experience has been a real hindrance for him. The fact that he seemingly speaks no English and has barely uttered a word all week hasn't helped matters either. He'll pull off a handful of plays at times that very few point guards in the world can at his size, but for the most part is an extremely raw player at this point in terms of experience and feel and is very far from being able to help a NBA team.