Press Release
adidas' NBA Pre-Draft Camp to Take Place June 10-12 in Treviso, Italy, Marks Tenth Anniversary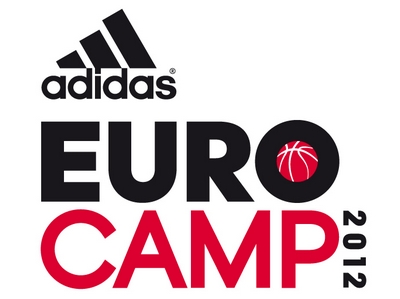 PORTLAND , Ore. / HERZOGENAURACH, Germany (June 4, 2012) – adidas today announced the final player roster for adidas EUROCAMP, where the top international basketball players train in the only officially sanctioned pre-NBA Draft camp outside of the United States.
Taking place in Treviso, Italy June 10-12, the camp brings together the best up-and-coming international basketball talent and offers a platform for them to connect with former and current NBA coaches and players.
"As I look back at my road to the NBA, I really appreciate the opportunity I had at Eurocamp to showcase my talent to NBA executives and the basketball community," said
Serge Ibaka
, Oklahoma City Thunder forward-center and 2008 EUROCAMP participant. "As basketball's popularity continues to grow worldwide, the talent at adidas EUROCAMP gets better every year and it's a great place for teams as they prepare for the NBA draft."
More than 45 early entries and draft-eligible participants will play in adidas EUROCAMP 2012 including projected 2012 NBA Draft picks
Evan Fournier
(France) and
Tomas Satoransky
(Czech Republic). Former adidas EUROCAMP participants include 56 NBA Draft picks and more than 75 NBA players including
Danilo Gallinari
(Denver Nuggets),
Nicolas Batum
(Portland Trail Blazers) and
Andrea Bargnani
(Toronto Raptors). Nearly 20 former EUROCAMP participants currently hold NBA contracts and more than 60 currently play Euroleague basketball.
"adidas EUROCAMP is celebrating its tenth anniversary this June with the top international basketball talent in the world," said Lawrence Norman, adidas vice president of Global Basketball. "International players continue to impact the NBA as the game of basketball grows every year and we are proud to work with the next wave of international prospects."
Special guests at this year's camp will include three-time NBA Champion and Hall of Famer
Kevin McHale
,
Danilo Gallinari
, Nic Batum and former college standout and long-time European professional
Trajan Langdon
. The Under-20 Men's Basketball National Teams from Russia, France and Australia will also participate.
In 2011, adidas EUROCAMP participants included three top 2011 NBA Draft picks including
Jonas Valanciunas
of Lithuania (5th overall/Toronto Raptors),
Jan Vesely
of the Czech Republic (6th overall/Washington Wizards) and
Bismack Biyombo
of the Republic of Congo (7th overall/Sacramento Kings - traded to Charlotte Bobcats).
adidas EUROCAMP welcomes Houston Rockets director of scouting Artūras Karnišovas as the new camp director and Minnesota Timberwolves assistant coach Bill Bayno as the new coaching director.
adidas EUROCAMP will be held at La Ghirada Sports Complex - "SportCity" in Treviso, Italy.
For more information please visit
www.adidaseurocamp.com
or
http://news.adidas.com/global/basketball
.
2012 adidas EUROCAMP Early Entry and Draft Eligible Participants
NAME HEIGHT POSITION HOME COUNTRY TEAM
Andrew Albicy
5'10" Point Guard France GRAVELINES
Boris Barac
6'9" Power Forward Croatia SIROKI TT
Jonas Bergstedt 6'11" Center Denmark TORRELODONES MADRID
Nemanja Besovic
7'3" Center Serbia PARTIZAN
Jaka Blazic 6'4" Guard Slovenia UNION OLIMPIJA LUBLIJANA
Bogdan Bogdanovic
6'6" Shooting Guard Serbia PARTIZAN
Dusan Cantekin
7'2" Center Turkey MEGA VIZURA
Olek Czyz
6'7" Forward Poland NEVADA
Daniel Diez
6'8" Power Forward Spain REAL MADRID II
Nihad Djedovic
6'6" Shooting Guard/Small Forward Bosnia GALATASARAY
Bojan Dubljevic
6'9" Power Forward Montenegro BUDUCNOST
Jaime Fernandez
6'2" Point Guard Spain ASEFA ESTUDIANTES
Evan Fournier
6'7" Shooting Guard France POITIERS
Josep Franch
6'3" Point Guard Spain MURCIA
Rudy Gobert
6'11" Power Forward/ Center France CHOLET
Nikola Ivanovic
6'2" Point Guard Montenegro BUDUCNOST
Nemanja Jaramaz 6'5" Forward Serbia MEGA VIZURA
David Jelinek
6'5" Shooting Guard Czech Republic JUVENTUT BADALONA
Ilkan Karaman
6'9" Small Forward Turkey KARSIYAKA
Maxi Kleber
6'5" Forward Germany S. OLIVER BASKETS
Artem Klimenko 7'0" Center Russia AVTODOR
Louis Labeyrie
6'10" Power Forward/Center France HYERES-TOULON
Christophe Leonard
6'7" Small Forward France LE HAVRE
Oleksandr Lypovyy
6'7" Small Forward Ukraine BC DONETSK
Michal Michalak
6'5" Guard Poland LKS LODZ
Nenad Miljenovic
6'11" Center Serbia MEGA VIZURA
Riccardo Moraschini
6'5" Shooting Guard Italy VIRTUS BOLOGNA
Kyryl Natyazhko
6'11" Center Ukraine ARIZONA
Devon Van Oostrum
6'2" Point Guard England CAJA LABORAL
Kostantinos Papanikolaou
6'9" Small Forward Greece OLYMPIACOS
Mateusz Ponitka
6'5" Shooting Guard Poland PROKOM SOPOT
Artem Pustovy
7'1" Center Ukraine KHIMIK
Klemen Prepelic
6'3" Point Guard Slovenia HELIOS
Bogdon Radosavljevic
6'11" Center Serbia – Germany BAYERN MUNCHEN
Dovydas Redikas
6'4" Point Guard Lithuania LIETUVOS RYTAS
Sasu Salin
6'3" Point/Shooting Guard Finland UNION OLIMPIJA LUBLIJANA
Sertac Sanli
7'0" Power Forward/Center Turkey GALATASARAY
Zisis Sarikopoulos 7'0" Center Greece PANIONIOS
Tomas Satoransky
6'7" Point/Shooting Guard Czech Republic CAJASOL
Tornike Shengelia
6'9" Power Forward Georgia CHARLEROI
Axel Toupane 6'7" Small Forward France STRASBOURG
Izzet Turkyilmaz
7'0" Center Turkey BANVIT
Edgaras Ulanovas
6'6" Small Forward Lithuania BALTAI KAUNAS
Maik Zirbes
6'10" Center Germany TRIER
Tomislav Zubcic
6'10" Power Forward Croatia CIBONA
About adidas Basketball
adidas has been providing innovative products for the world's best athletes for more than 60 years, from past legends to today's superstars, such as
Derrick Rose
,
Dwight Howard
, Candace Parker,
Tim Duncan
and
Chauncey Billups
. On April 11, 2006 adidas and the National Basketball Association signed an 11-year global merchandising partnership making the adidas brand the official uniform and apparel provider for the NBA, the Women's National Basketball Association (WNBA) and the NBA Development League (D-League) beginning with the 2006-07 NBA season.