The adidas Nations Experience, a four day event pitting eight rosters of regional teams from around the world and comprised of some of the top 18 and under prospects to be found, will be kicking off outside of Dallas this weekend. There will be a team of players from Africa, Asia Pacific, Canada, China, Europe, Latin America and two from the United States (one of 2009 high school prospects and one of 2010 and 2011.)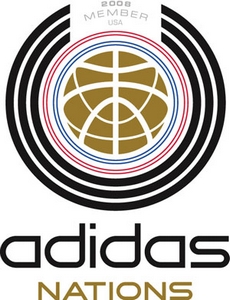 Some of the more interesting prospects participating as far as we're concerned include:
Demar DeRozan
,
James Harden
,
Jrue Holiday
,
Scotty Hopson
,
Terrence Williams
,
Darren Collison
,
Tyler Smith
,
Derrick Favors
,
Dominic Cheek
, ,
Dexter Strickland
,
Daniel Orton
,
Brandon Knight
,
Tony Wroten
, Jr.,
LaQuinton Ross
,
Jared Sullinger
,
Tristan Thompson
,
Joshua Smith
,
Nicolo Melli
,
Tomislav Zubcic
,
Andrija Milutinovic
,
Augusto Lima
and many more.
Unlike in many all-star based events, these teams have conducted at least one regional training camp over the past year to build cohesion and chemistry within the group. In addition to the work that is put in with the players both individually and within the team concept, sessions will also be held regarding matters such as nutrition, education, media training and community outreach.
The stated purpose of the event is to "emphasize and focus on adidas' core belief that real success in the game of basketball comes from playing as a team." We could certainly see that emphasis when we attended the
highly successful 2007 version of the event in New Orleans last year
, particularly in terms of skill-development. We still look back at that event as being one of the most notable we attended all year long.
One of the reasons for that is the terrific roster adidas assembles of college players who attend the event as counselors. Five of the eventual top ten picks in the 2008 NBA draft were present in New Orleans, which is fairly remarkable when you consider the lengths that the NBA goes through to try and bring together a similar group as the draft approaches year in and year out. The players hid nothing--participating in a number of highly competitive scrimmages that provided a terrific insight into their strengths and weaknesses, and giving us a significant jump-start on evaluating the following year's draft.
Beyond the excellent group of college players, we will also get a chance to see many of the top high school players in the 2009, 2010 and 2011 classes, as well as numerous intriguing prospects from Europe, South America, Africa and Asia. Looking through the various rosters, we counted around 35 players who appear to have a decent chance of being drafted over the next few years.
Will the NBA executives show up? Last year we were surprised to see how few GMs and high level decision makers decided to attend. For as much noise as they make year in and year out about being unable to do their job properly due to the constraints that are put on them by the NBA and the players' agents, you would think they would flock to an event like to see such a large group of future draft picks scrimmage competitively.
Rosters:
adidas Team Africa
# Player Position Height D.O.B Country
Bandja Sy PF Mali
Harouna Abdoulaye PG Niger
Amadou Kaba SG Mali
Lens Aboudou SG Chad
Amath Mbaye SF Senegal / France
Eric Katenda SF RD Congo / France
Mohamed Koita PG Mauritania / France
Youssoupha Mbao
C Senegal
Abdou Niang PF Senegal
Negueba Samake C Mali / France
# Coach Country
Lionel Hollins
USA
Babacar Sy Senegal
Joe Touomou Cameroon
NBA Mentor:
Kyle Lowry
– Memphis Grizzlies
adidas Team Latin America
# Player Position Height D.O.B Country
Vitor Benite SG Brazil
Greg Echenique
C Venezuela
Rafael Maia PF Brazil
Augusto Lima
PF Brazil
Fabrico de Melo C Brazil
Jonathon King SG Brazil
Rafael Luz PG Brazil
Fabian Rameriz Barrios SF Argentina
Jose Victor Ferreira Jeronimo PF Brazil
Jayson Granger
SG Uruguay
Diego Gerbaudo PG Argentina
Andre Silva SF Brazil
# Coach Country
Frank Johnson
USA
Adriano Geraldes Brasil
Leonardo Lamas Brasil
NBA Mentor:
Antawn Jamison
– Washington Wizards
adidas Team Europe
# Player Position Height D.O.B Country
Nicolo Melli
SF Italy
Moritz Lanegger OG Austria
Branislav Djekic C Serbia
Andrija Milutinovic
Guard Serbia
Tomislav Zubcic
PF Croatia
Leon Radosevic
PF Croatia
Nihad Djedovic
SG Bosnia
Tomas Satoranski SF Czech Repblic
Josep Franch
de Pablo PG Spain
Carl Ona Embo PG France
Deniz Kilicli PF / C Turkey
# Coach Country
Detlef Schrempf
USA
Kay Bluemel Germany
Algirdas Milonas Lithuania
NBA Mentor: TJ Ford – Indiana Pacers
adidas Team Asia Red
# Player Position Country
Guo Ai-Lun PG China
Tang Han-Lin SF China
Li Xue-Song SF China
Wang Pu PF China
Shi Hong-Fei PG China
Jiang Jun-Qi SG China
Wang Chao PG China
Chen Fei PF/SF China
Lui Ming Yu SG China
Sun Tong Lin China
Toa Han Lin C China
Cai Chen PF China
DeAndre Metloc C China
# Coach Country
Terry Stotts USA
NBA Mentor:
Desmond Mason
– Milwaukee Bucks
adidas Team Asia Blue
# Player Position Height D.O.B Country
Dion Brewster (Dallas only) SF New Zealand
Liam McInerney PF Australia
Mitchell Young PF Australia
Shengyu Lim Forward Singapore
Calvin Chia PG Singapore
Changmin Lee G Korea
Tsz Kin Chau SG Hong Kong
Ka Wai Li C Hong Kong
Sanggu Lee C Korea
Kevin Louie Alas G Philippines
Jose Eduardo Llanes G Philippines
Yi-Hsiang Chou F Taiwan
Yu-Hsuan Sung F TaiwanPhilippines
Jose Eduardo Llanes G 5'10 10.10.90 Philippines
Yi-Hsiang Chou F 6'4 02.04.91 Taiwan
Yu-Hsuan Sung F 6'1 12.05.90 Taiwan
# Coach Country
Bob Weiss
USA
Kenny McFadden New Zealand
NBA Mentor: Mo Williams – Milwaukee Bucks
2009 adidas US NATIONAL TEAM
# Player Position Height D.O.B City
Peyton Siva PG Seattle, WA
GJ Vilarino PG McKinney, TX
Dexter Strickland
PG Rahway, NJ
Lance Stephenson
SF Brooklyn, NY
Dominic Cheek
SG Jersey City, NJ
Shawn Williams, II SF DeSoto, TX
Noel Johnson
SG Fayetteville, GA
Jerry Brown
SF El Sobrante, CA
Christian Watford SF Birmingham, AL
Reeves Nelson PF Modesto, CA
Tyler Griffey PF Wildwood, MO
Brendan Lane PF Rocklin, CA
Stephan Van Treese PF Indianapolis, IN
Derrick Favors
C Atlanta, GA
Daniel Orton
C Oklahoma City, OK
Erik Murphy
PF/C Southborough, MA
# Coach Country
Paul Silas
USA
NBA Mentor:
Josh Smith
- Atlanta Hawks
2010 adidas US NATIONAL TEAM
# Player Position Height D.O.B City
Joe Jackson PG Memphis, TN
Ray McCallum PG Bloomington, IN
Trae Golden
G Powder Springs, GA
Brandon Knight
PG Fort Lauderdale, FL
Trey Zeigler G Mt. Pleasant, MI
Tony Wroten
, Jr. G Seattle, WA
Jason Morris G/F Hephzibah, GA
LaQuinton Ross
SF Jackson, MS
Dwayne Polee
, II WF Los Angeles, CA
Jared Sullinger
PF Columbus, OH
Julian Washburn PF Duncanville, TX
Tristan Thompson
PF Newark, NJ
Josh Smith
C Kent, WA
Evan Anderson C Eau Claire, WI
# Coach Country
Ed Schilling USA
NBA Mentor:
Raymond Felton
– Charlotte Bobcats
adidas Team Canada
# Player Position Height D.O.B Country
Tristan Thompson
PF 6'9 Canada
Junior Cadougan PG 6'1 Canada
Kadeem Coleby PF 6'9 Canada
Alwayne Bigby SG 6'5 Canada
Myck Kabongo PG 6'1 Canada
Cory Joseph SG 6'3 Canada
Dwight Powell C 6'10 Canada
Jason Calliste SG 6'2 Canada
Renaldo Dixon SF 6'8 Canada
Brady Heslip SG 6'2 Canada
Richard Armardi SF 6'8 Canada
# Coach Country
Dwane Casey USA
Roe Russell Canada
adidas College Players
# Player Position Height D.O.B College
Cole Aldrich
Kansas
Antonio Anderson
Memphis
Tyrell Biggs Pitt
Dejuan Blair
Pitt
John Bryant Santa Clara
Wayne Chism
Tenn
Darren Collison
UCLA
Demar Derozan
USC
Shaun Dumas Xavier
James Harden
ASU
Jrue Holiday
UCLA
Scotty Hopson
Tenn
Curtis Jerrells
Baylor
Dominique Jones
South Florida
Mac Koshwal
DePaul
Gani Lawal
Georgia Tech
Luke Nevill
Utah
Arinze Onuaku
Syracuse
Quincy Pondexter
Washington
Kevin Rogers
Baylor
Diamon Simpson
St. Mary's
Nolan Smith
Duke
Tyler Smith
Tenn
Dar Tucker
DePaul
Jarvis Varnado
Mississippi State
Terrence Williams
Louisville